Throwing open its typically-closed-doors to a live web audience, albeit only for those on the Mac OS or iOS platform, Apple unveiled a slew of new products and services to a capacity crowd at the Yerba Buena Center for the Arts in San Francisco. There were upgrades detailed for the iOS platform, including the iPad, a whole new line-up of iPods, a brand new arisen-from-the-ashes Apple TV and iTunes 10 going all social! In case you missed it, here's all the news you can use, list style for easy consumption, including some nuggets that the casual observer may have missed in the din of last night's news.
New iPod Touch: The iPhone4 without the phone
As we estimated, the new iPod Touch got all the hardware upgrades from the iPhone 4, including a high resolution Retina Display, the potent A4 chip and the 3-axis gyroscope for gaming. And finally, the iPod Touch gets some camera love, with a front facing camera for FaceTime sessions with other iPods/iPhones and a rear camera for casual photography. All this, while managing to lose some serious weight – the new iPod Touch is all of 7.2 mm thick (or thin) – that's significantly thinner than the impossibly thin previous gen. It makes the iPhone 4 look fat. Enough said.
The iPod Touch also adds in 720p HD video recording, but according to the tech specs, the new iPod Touch's rear camera takes photos at a disappointingly low 960×720 resolution.
On sale next week in the US, expect an early October availability in India – in time for Diwali, maybe? Pricing is at $229, $299 and $399 for the 8, 32 and 64 GB models. Significantly, even the entry-level iPod Touch gets all the fancy hardware upgrades, which makes a strong case for a no-contract-riddled device that has almost all of the stuff we love about the iPhone 4 at a seriously tempting price point.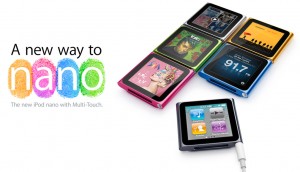 New iPod nano: Hip to be Square
Gone is the click-wheel of the hugely popular iPod nano, replaced by a square touch screen, almost like a miniature iOS device. The size reductions are so drastic that like the newly announced iPod shuffle, it has a clip that allows it to be worn. It also figures a 24-hour battery life, and a screen that can be rotated with a pinch-and-twist action. Color options are the same as the shuffle, plus a granite and red version. Availability is the same as the Touch, and it retails at $149 for 8GB, and $179 for 16GB.
Apple's added in watch-face time display, so a watch strap accessory is only a matter of time!
While VoiceOver, FM and Nike+ were retained, the size reduction didn't come without its share of exclusions – not only is the rear camera (and video recording) gone, so is video playback.
Also, while the UI looks like the nano's running iOS, with several features looking like exact duplicates from the iOS devices, the iPod Nano is running its own custom operating system, with an iOS-like skin slapped on top.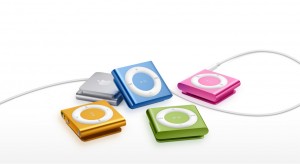 New iPod Shuffle: V2 + V3?
In an admission to failings of the last shuffle specifically in terms of the missing buttons, the new iPod Shuffle ditched the ill-received form factor and reverted to standard buttons layout that most users are familiar with, while retaining the previous gen earphone controls, belt clip and the playlists. $49 for 2GB in five colors, coming next month to India.
On an aside, the iPod Classic is still for sale but with no changes. Time for a quiet death, perhaps?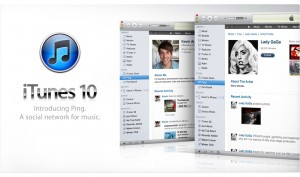 iTunes 10: Ping-alicious!
With a new logo that loses the almost-anachronistic CD imagery, iTunes 10 didn't quite make the transition to the cloud, but it did go massively social with Ping – its new social network based around music. Think twitter meets last.fm meets Facebook-sharing, and you can see where Ping is going.
Once you set up Ping with your privacy options – you can be public, friends-only or invisible – you see the recent activity of the friends and artists you are following, what music they are listening to and endorsing, and even be alerted to concert schedules! It can be accessed on-the-go from iPhones and iPod Touches.
iTunes 10 is the only launch item available today, and it's coming down as we write this. At 85 megs, it's got a lot to learn from its iPod cousins as far as losing weight is concerned!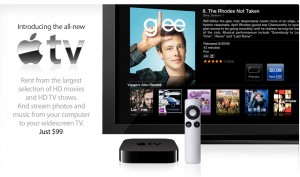 Apple TV: One More Thing Hobby
Finally coming out of the shadows of a serious hobby at Apple, the new $99 Apple TV is a fourth the size of the original, and features a dark black design – possibly for the erstwhile black sheep of the family? It loses the local storage and instead streams all of its content from the Internet and your local machines/iOS devices. It connects to your TV using HDMI for 720p output (no 1080p), and there's Ethernet and 802.11n WiFi for Internet/local access. There's also support for Netflix, YouTube, Flickr and Apple's MobileMe.
The big news really should have been the ability to rent first-run HD movies for $4.99, and HD TV shows for $.99 from FOX and ABC, with more networks on the cards. Massive pipe dream this, at least for folks in India – there is no Indian iTunes Music store in sight, leaving the Apple TV capable of only local streaming for folks in India. Fix the basic issue for us first, Apple!
Despite the fact that the new Apple TV is running an A4 processor which powers the other iOS devices, apps have been given a miss for the Apple TV. For now.
Apple's new AirPlay, which replaces AirTunes, will allow the streaming of content from an iOS device to an Apple TV. During the keynote, Jobs demonstrated streaming a movie from an iPad to an Apple TV over a Wi-Fi network.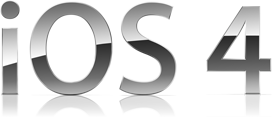 iOS updates: 4.1 and beyond…
Wink-wink-nudge-nudge numbers were laid out, especially with a focus 230,000 new activations occuring each day, which takes the total number of iOS devices out there – iPad, iPhone and iPod Touch included – to 120 million. Around 6.5 billion apps have been downloaded from the AppStore – that's almost as many human beings on the planet! The App Store hosts 250,000 apps, 10% of which are iPad exclusive apps.
The next update for iPod Touch and iPhones – iOS 4.1 – will be available starting next week, and will feature bug fixes for issues around the proximity sensor, Bluetooth and iPhone 3G performance. Also baked-in to the platform will be the capability to take high dynamic range (HDR) photographs within the default camera app. This means that for every photo you take, the camera actually three photos at slightly varying exposures and blends them together to make photographs rich in detail. Especially useful when you're taking tricky light photos, such as people or objects in the shade, or in scenes with great degrees of contrast. Game Center, Apple's play on X-Box Live-style social gaming will also finally launch with the 4.1 release, and will allow gamers to network with friends, post high scores online and get matched up with players of similar abilities while playing multiplayer games.
iPad owners finally have a date with iOS4 features, with a November date for iOS 4.2,  which will bring all the functionality of iOS 4.1 to the iPad, including folders, multitasking, and in a first, wireless printing to networked printers on the iPad. In saying so, Steve Jobs also possibly let slip of an iPad feature – he mentioned that 4.2 would give the iPad all of the new features the iPhone is getting from 4.1, including HDR photography. A camera on the way in the iPad, possibly as early as November? We think so!
Apple Retail Stores update
Impressive stuff this. In the larger scheme of things, it should not make big news when Apple opens three new stores internationally, bringing their total tally of Apple run stores worldwide to 300. Cast a glance at the three latest entrants – Paris, London and Shangai – and prepare to be floored! Hit the links if you haven't seen these already!
The numbers are equally impressive – Apple stores occasionally have single days when 1-million customers visit their stores worldwide, and more than 50% of their customers walk in to buy their first Mac.