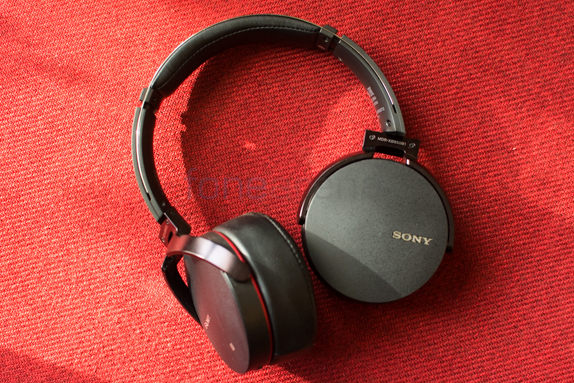 Sony has been a champion of the Extra Bass line of audio products for quite a few years. We might be guilty of grossly generalising popular music but looking at music charts it is easy to see that bass heavy pop and EDM music dominates and for obvious reasons, Sony has been targeting this massive user group with their audio products. At CES, the company introduced a few more products in this line up. Called the MDR-XB950B1, these wireless headphones predictably carry a massive punch on the bass side of things but also introduce niceties like app control which as you'll find out, comes very handy.
Design
The Sony MDR-XB950B1s are full size headphones that have equally large earcups. The massive earcups are designed to go around your ear instead of sitting on top and this makes the entire headset predictably large. The size errs on the side of bulky and while we won't say that they are ugly, the design is certainly utilitarian. The MDR-XB950B1 won't look out of place anywhere but they sure won't stand out like the stunning Sennheiser Momentum or the Bower & Wilkins P3 headphones.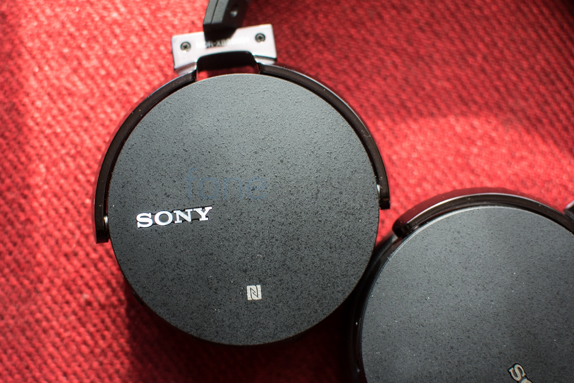 The headphones are made of hard plastic with a matte finish and subtle Sony branding. An inner red band separates the outer ear piece from the plush leatherette cups. The thick ear cups are comfortable and provide a surprisingly good amount of passive noise cancellation. In terms of comfort levels, the MDR-XB950B1 proved to be rather exceptional. Personally, despite having a somewhat large collection of headphones on hand, i usually end up going back to my earphones for long term listening. The clamping pains associated with full size and even on-ear headphones usually makes them a non-starter for me.
The Sony MDR-XB950B1 is perhaps the first headphone i've been able to wear for a couple of hours straight without throwing them off because of a headache. The right ear cup has a single button that can be used for Play / Pause as well as to answer phone calls. Long pressing the button activates Google Assistant which comes in quite handy. The volume rocker is easy enough to press but some additional feedback here would have been appreciated. Meanwhile the left side includes the power button, 3.5mm headphone jack, microUSB connector as well as the Extra Bass button.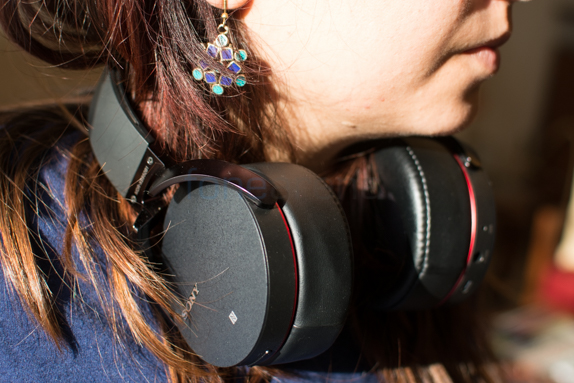 The plastic headband runs halfway through before the exposed metal band shows up. It looks fine and more importantly, holds up well. The headphones do not fold and carrying them is quite a hassle. Similarly, hanging them from your neck is an exercise in frustration since the swivel action is quite limited. We really wish the MDR XB950B1 could fold down since they simply occupy too much space for transportation.
Audio Performance
The MBR-XB950B1 has 40 mm drivers with a frequency response rating of 3Hz – 28000Hz. Hardware specifications aside, it is easy to define the niche that these headphones excel in. If pounding bass and deep lows are what you prefer and EDM is your choice of music, you'll definitely enjoy the XB950B1.
At the default setting, the sound signature is warm with highs that roll over and don't cause fatigue. The mid section experiences a bit of a suck out and so the vocals seems a bit distant and not quite immediate as you might prefer. This proved unappealing for vocal centric tracks which would often get overshadowed by the boomy bass. Rock music is a bit of a hit or miss with these headphones since vocals and even the guitar tracks can get masked by the heavy drum playing.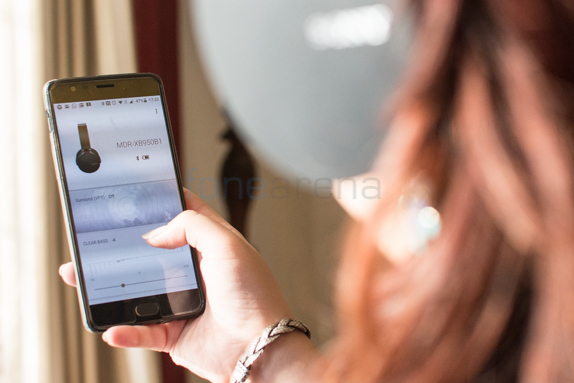 All of the above might have made us discount the headphone altogether but the good thing is that we live in a much more connected and smarter world. It is possible to adjust the sound quality of the headphones using an app on your phone and the end results can be astonishing.
Our test tracks included the excellent post-rock album, Pirohia by Kerretta. We also referenced tracks like The Funeral of Hearts by His Infernal Majesty as well as Of The Night by Bastille, Monarchy of Roses by RHCP and Starboy by TheWeeknd.
In all of these, bringing the bass down to the -4 or even the -9 mark had a profound positive impact on the sound quality. By effectively cutting down on the bass, the output erred towards neutral with just enough warmth and bass undertones. These are not reference grade headphones, not by a wide margin but playing around with the app settings has a huge impact on the audio quality and transforms them from ho-hum headphones to some of the most fun we've had the pleasure of trying out in recent times.
The issue here is that none of these settings can be accessed directly on the headset nor can they be adjusted if you are using a laptop for playback. Once set up using the app on your phone, the last setting is saved and can be toggled on or off using the Extra Bass toggle key on the left ear cup. Sony rates the MDR-XB950B1's for about 18 hours of audio playback and we found this more or less accurate. In two weeks of testing and extensive listening, we just topped off the headset once. Should the battery die out while listening, you can always pop in the included headphone cable and continue listening. In terms of wireless range, we could easy walk around a large room without any drop outs.
Conclusion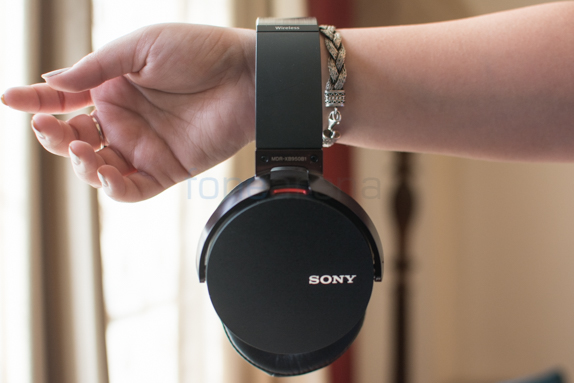 The Sony MDR-XB950B1 is priced at Rs. 12,990 which most definitely makes them a premium pair of headphones. Over the last few years, we've seen quite a few headphones in that price range, headphones that have a much more neutral sound. The MDR-XB950B1 doesn't really compete with those. Out and out, these aren't that competitive in terms of audio quality. The MDR-XB950B1 is clearly targeted at the Beats generation that cares all about the bass. It sure does excel on that front. Cranked up, it has the potential to make your skull rattle. What redeems it though is its ability to tone down all that excess and behave like a very fun sounding pair of headphones.