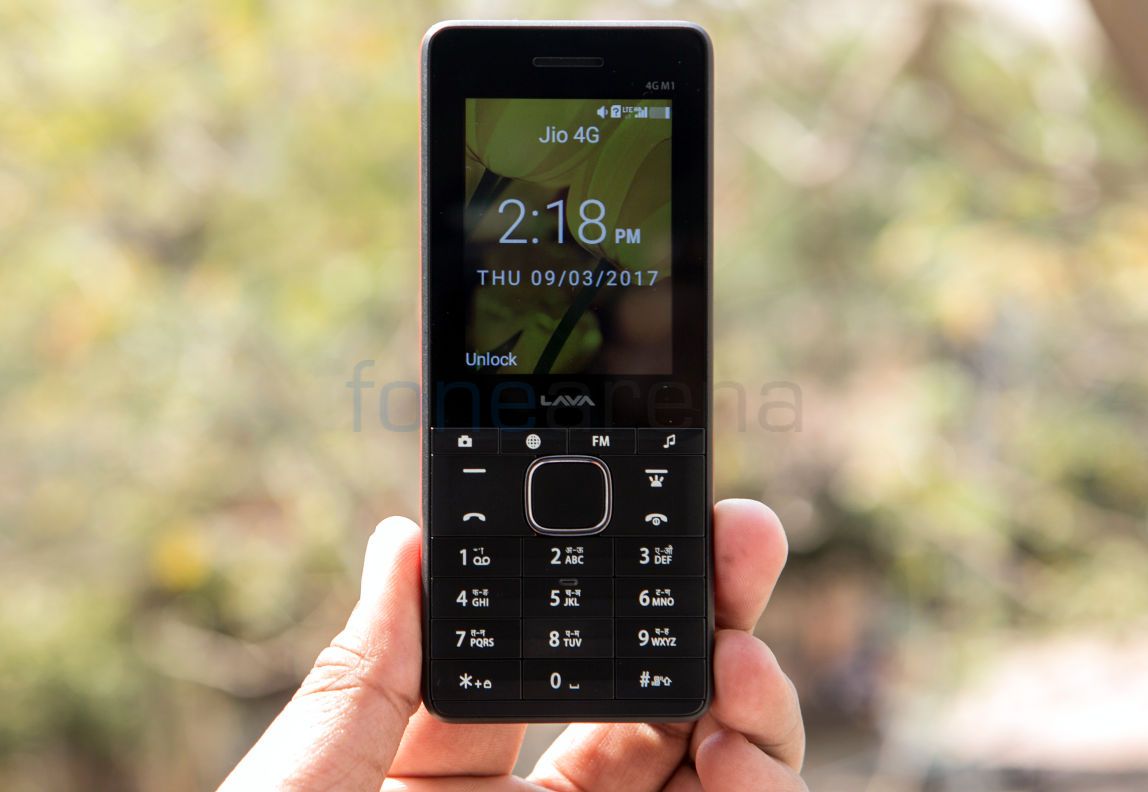 Lava launched the 4G Connect M1 as India's first 4G VoLTE feature phone last month. When there are a lot of 4G VoLTE smartphones with full touch screen, this one is unique with a keyboard that would impress elders who don't want to go for a touch screen phone. Is the smartphone worth the price of Rs. 3000? Let us find out.
Unboxing
We unboxed the smartphone recently, check out the video below.
Box contents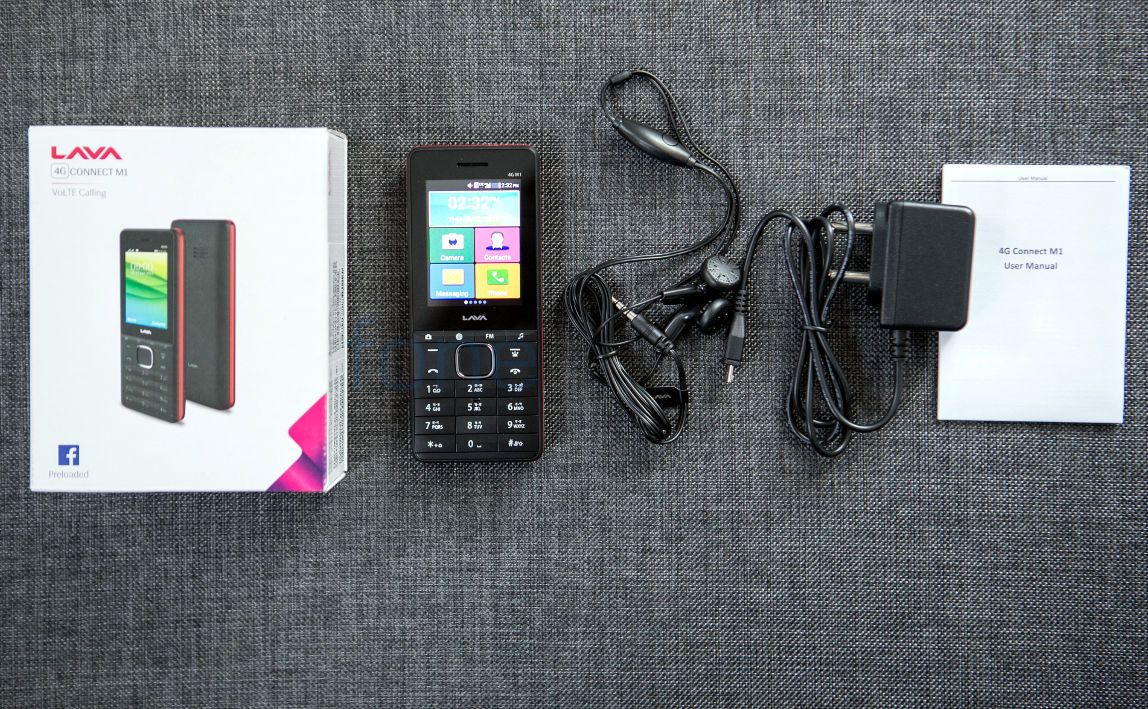 Lava 4G Connect M1 phone in Black with Red color
1750mAh Battery
Headset
2-pin charger (5V-700mA)
User manual
Display, Hardware and Design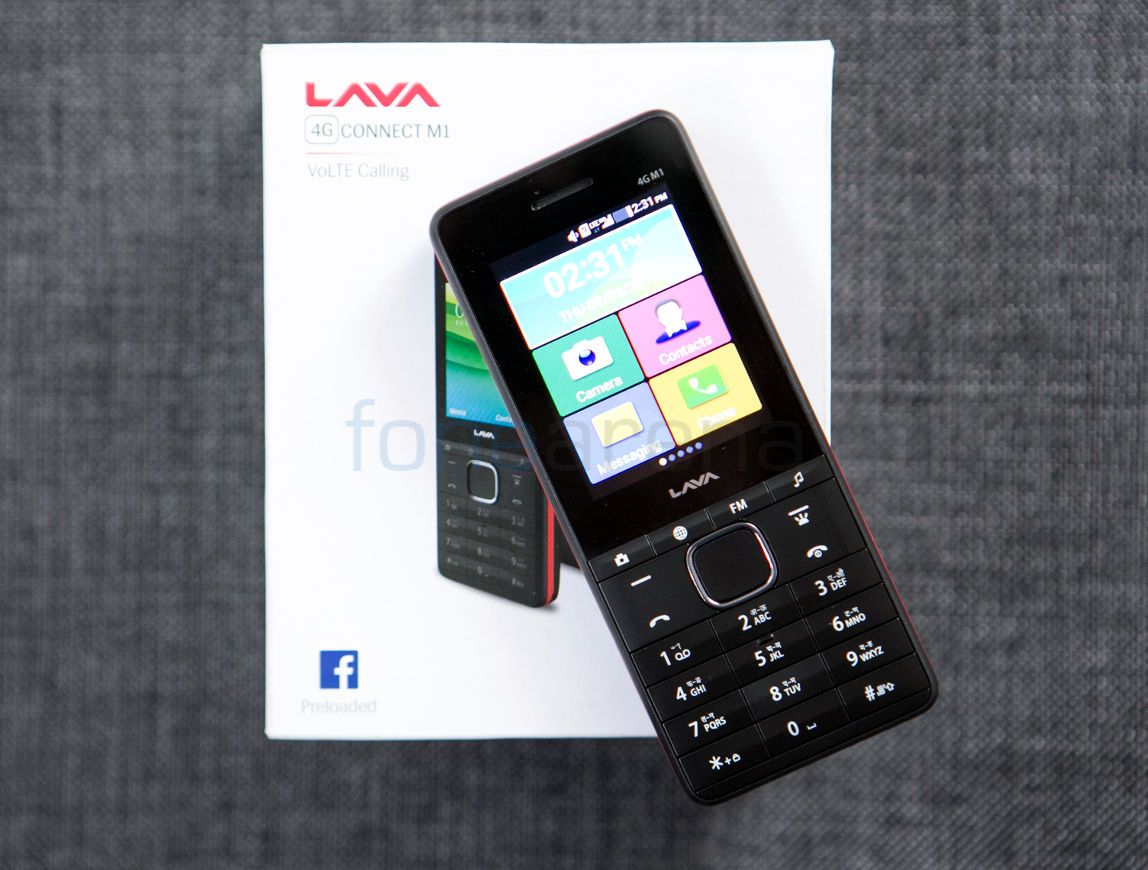 Coming to the design, this has a familiar design that we had seen in most of the feature phone. It is huge, has a small 2.4-inch (320 x 240 pixels) display with huge bezel around it. The display is good and the sunlight legibility is decent.
You can adjust display sleep time, and the keyboard is also backlit, and you adjust the backlight time. There are also three font sizes to choose from – Small, Normal and Large. The earpiece is present above the screen, on the bezel there is 4G M1 branding. There is also a Lava branding on the bezel, below the display.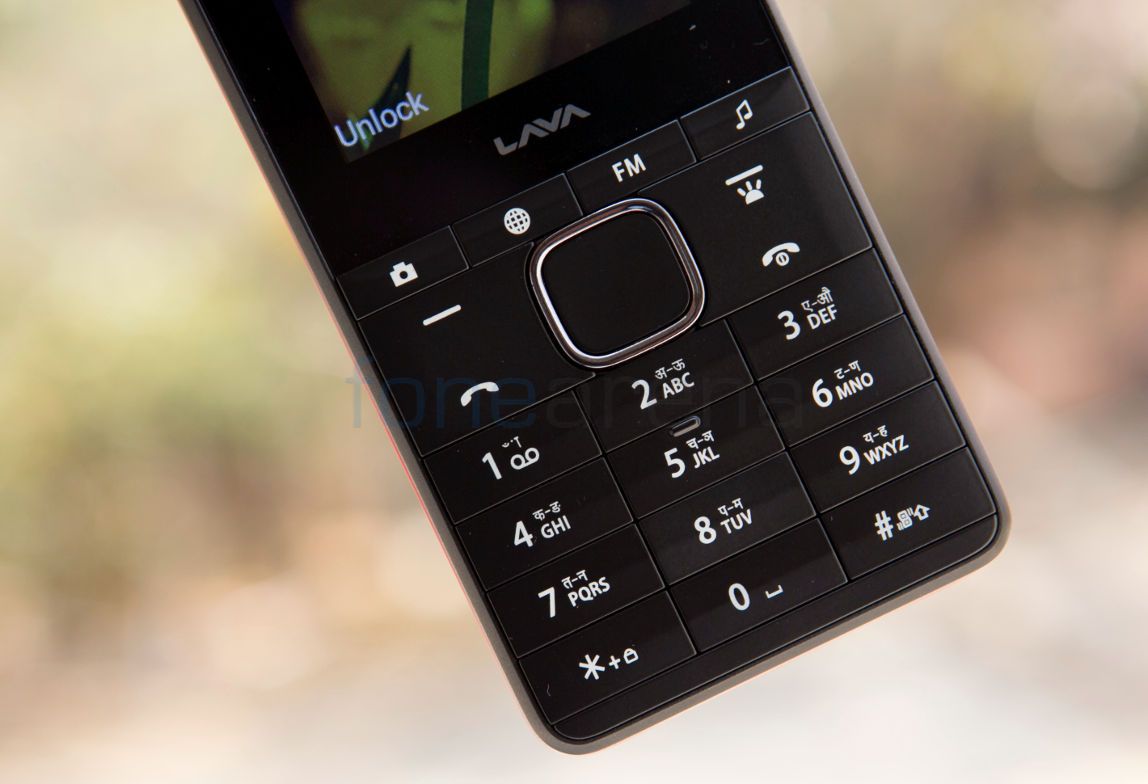 The phone is made of plastic, including the T9 keyboard. Lava could have provided a rubberized keyboard since the plastic keyboard doesn't give enough tactile feedback when pressed. Sometimes you need to press the keys hard to register input. On the top there are shortcut keys for camera, browser, FM Radio and Music player. Below that there is a OK key and Dial key on the of the D-Pad, and Right / Torch key along with End / Power Key on the right. Since these set of shortcut and other keys are crammed into a small space, it might be hard to press for people who have large fingers.
On the top there is a torch light, which is useful. On the bottom there is a microphone, 3.5mm audio jack and a micro USB port for charging and data transfer.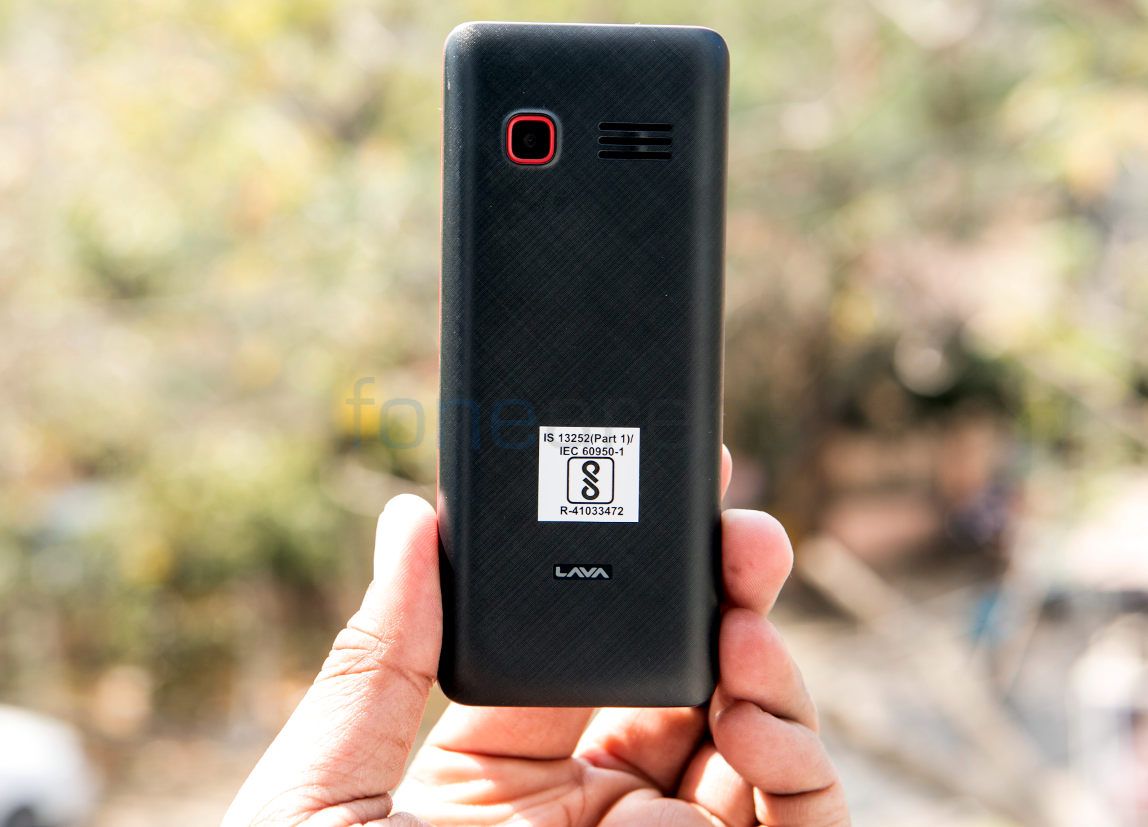 The phone has a 1.3-megapixel fixed-focus camera, even though Lava says it has a VGA camera. There is a nice red colored circular design around the camera module. The loudspeaker grill is present next to it. The plastic back cover also has a Lava branding.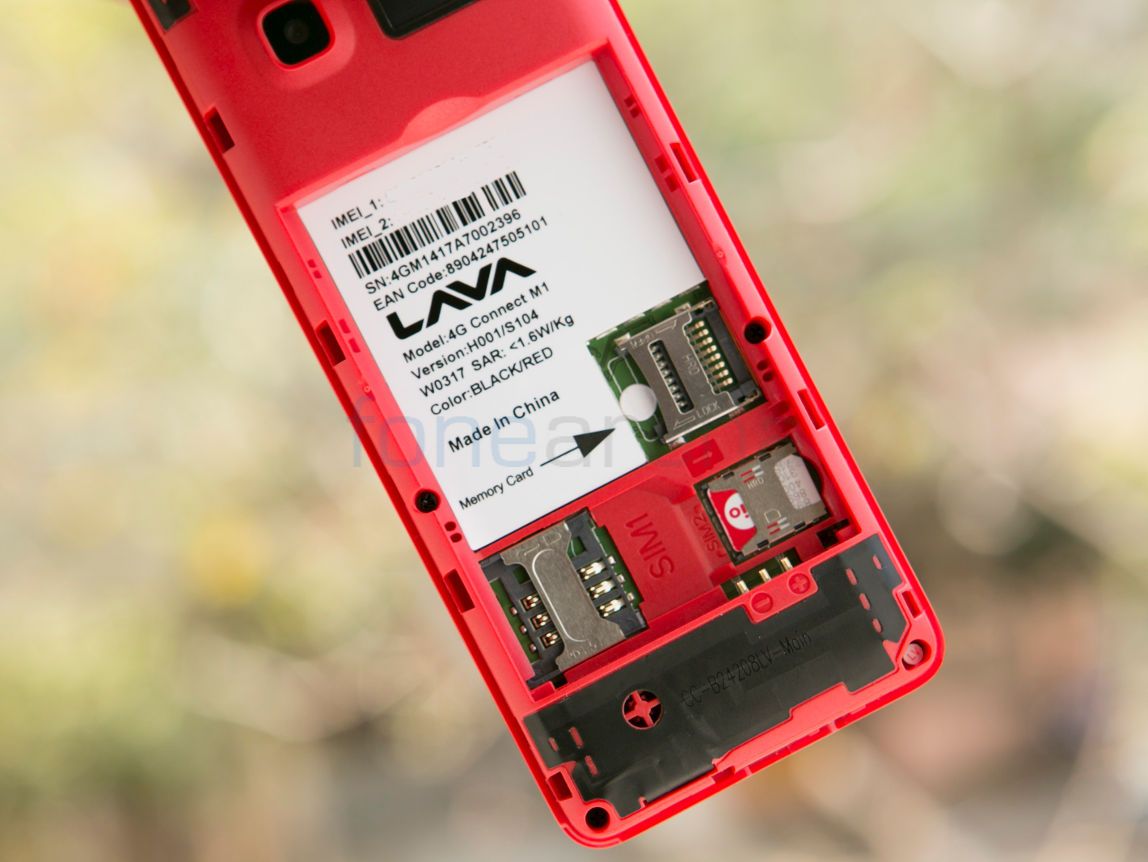 Removing the back cover reveals a 1750mAh battery. You need to remove the battery to insert SIM and microSD. The first slot is a full SIM slot that supports 2G, while the secondary nano SIM slot accepts 4G SIM cards. Both the SIM cards support 4G, but only one supports 4G at a time and other goes to 2G. The microSD slot accepts cards up to 32GB Overall the phone has a decent build quality for the price.
Camera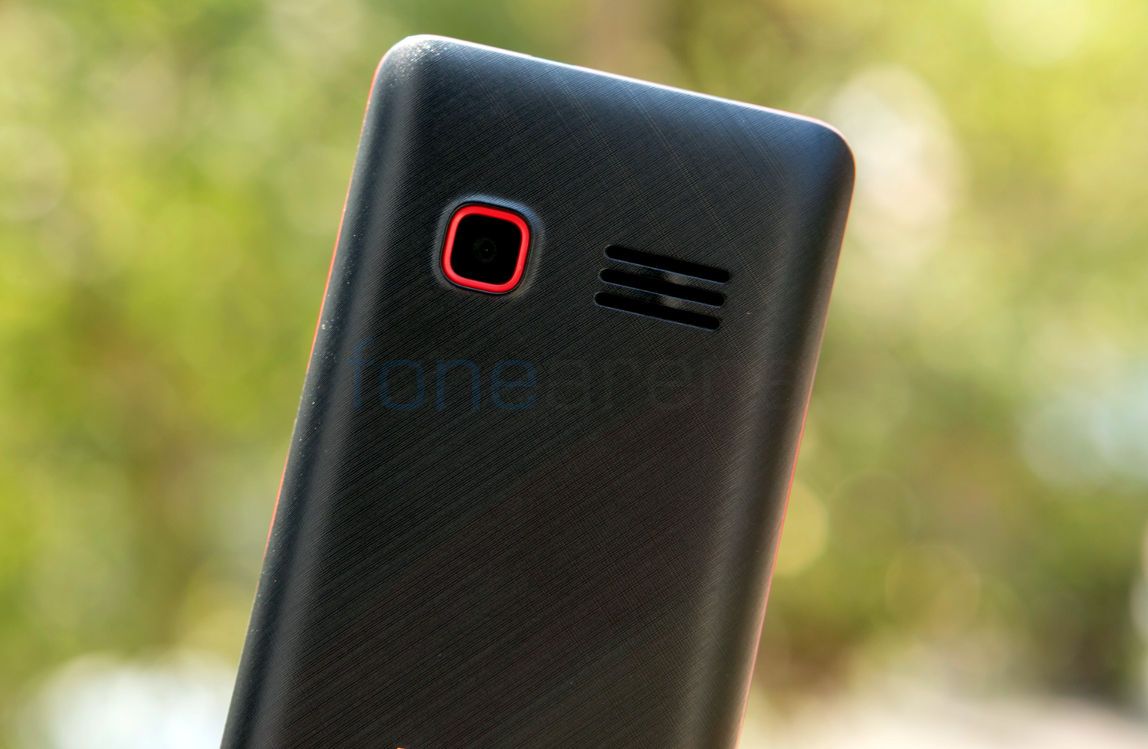 You can't expect anything from a 1.3-megapixel fixed-focus camera. Most shots end up blurry. The phone even supports video recording up to 720p, but the video quality is poor since the sensor is small. Check out a couple of camera samples.
Software, UI and Apps
Coming to the software, the phone runs on MocorDroid 6.0, which is the stripped down version of Android 6.0 (Marshmallow), even though the phone is called a feature phone. It also supports USB debugging and OEM unlocking, which is great. It also receives OTA updates. The phone received a 11MB over-the-air (OTA) update that got downloaded in seconds over 4G. It is good that some companies are providing updates even for entry-level phones.
Even though the base is Android, lack of touch screen is a disadvantage. You can press and hold the OK key when you are in the homescreen to view notifications and clear them, instead of sliding the drop-down shade on Android smartphones. This is called 'Notify'. There is another tab next to it called 'Switch' that is the Quick toggle menu that has toggles for Bluetooth, Data, Airplane mode, Audio profile, flash light and option to adjust display brightness.
The phone doesn't have a homescreen to customize. All the apps are present on a screen with large grid style and the time and date on the top grid. The phone doesn't have a recent apps key so you will have to manually go to Cleaner app and run it once to clear background apps. Out of 512MB RAM, 421MB of RAM is usable, out of which there is 237MB of RAM when the default apps are running in the background. Out of 4GB of internal storage, 2.47GB of storage is usable.
Coming to apps, it has the usual set of utility apps such as Calendar, Clock, Calculator, File Explorer and Tools that has SOS, CallFireWall, and Note along with Facebook Lite, YouTube and a web browser. There is also a separate tab that lets you add contacts for hot-dial.
The browser is very basic and the d-pad can act as mouse input to click something or use it as a scroll option to scroll through a web page. We installed Opera mini successfully, but the scroll option doesn't work on other browsers so you can't scroll down a webpage, making the app useless. Since it supports side-loading apps, we managed to side-load apps with APKs, including WhatsApp which worked fine without any issue. Installed apps are shown in a separate AppFolder. Since the phone doesn't have a separate app store, you can manually side-load third-party app stores like Getjar. Google Play didn't work properly, but maybe if you spend time to find the correct version, it might work.
Music Player and FM Radio
The music player can play different audio formats. It also has wireless FM Radio that doesn't require you to insert your headset to play FM. You can also record FM in .amr or .3gpp formats. Thanks to the Box speaker and K class amplifier, audio is loud and clear.
Calling and Messaging
Dialer shows names in contact as you type the number. It also has option to turn on torch light when there is an incoming call. There is also automatic call recording option. Call quality is good, and we did not face any call drops.
Finding contacts are easy. It also has option to import or export contacts as .vcf.
The T9 keypad is easy to type messages. Even though it supports several languages, input support is only available in English and Hindi.
Performance
Coming to the performance, the phone is powered by a Dual-core Spreadtrum SP9820A Processor with ARM Cortex A7 cores running at 1.25GHz per core along with 512MB RAM is more than enough for this phone. Performance is smooth without any lags.
Connectivity
It supports 4G LTE with VoLTE on the primary SIM. You can set any SIM as a primary card that will support 4G and the second SIM goes to 2G. You can also set a SIM for data and a SIM to make calls with as default or ask every time when you call.
It has Bluetooth, but doesn't have WiFi or WiFi hotspot, so you have to rely on 4G for downloading something from the internet, but it has USB tethering so you can use the 4G on PC. It also has USB PC internet sharing to use internet from PC on the phone.
Battery life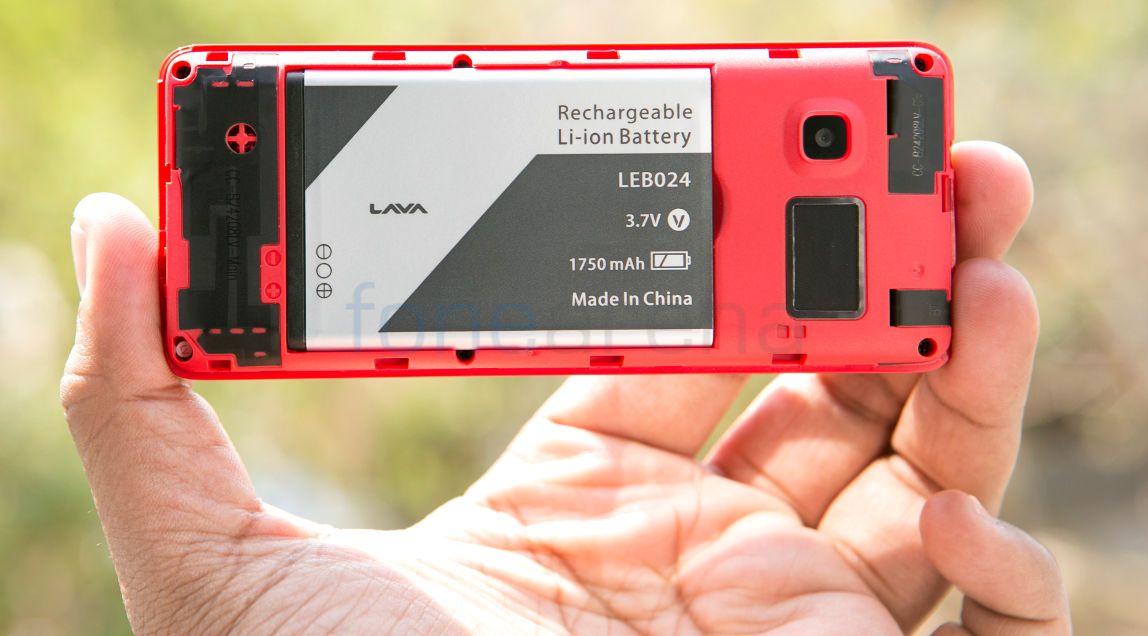 Coming to the battery life, the 1750mAh battery offers brilliant battery life since the small 2.4-inch screen doesn't consume a lot of power. Even with 4G enabled on Jio SIM and a secondary SIM, it lasts for more than a day. Without much internet use, it will last easily for over 2 days. If you are use only one 2G SIM to make calls, it will easily last for 3 or even 4 days with minimal use.
Conclusion
The Lava Connect M1 is mainly targeted at entry-level mobile phone users like elders who want to try out Reliance Jio's service and VoLTE. The T9 keypad is a good addition but the keys are not comfortable to use. Even though the phone doesn't look good and is a bit bulky, the build quality is good. If you are don't want a large screen Android phone and need a handy VoLTE phone with a T9 keyboard, this is definitely a good choice. It is priced at an MRP of Rs. 3599, but it is available for as low as Rs. 3000 from stores in select cities. It is not available through online retailers yet. To summarize, here are the pros and cons of the smartphone.
Pros
4G VoLTE support with USB tethering
Good battery life
Good loudspeaker
Cons
No WiFi and WiFi hotspot
Keypad is not comfortable for people with large hands
Doesn't come pre-loaded with app store