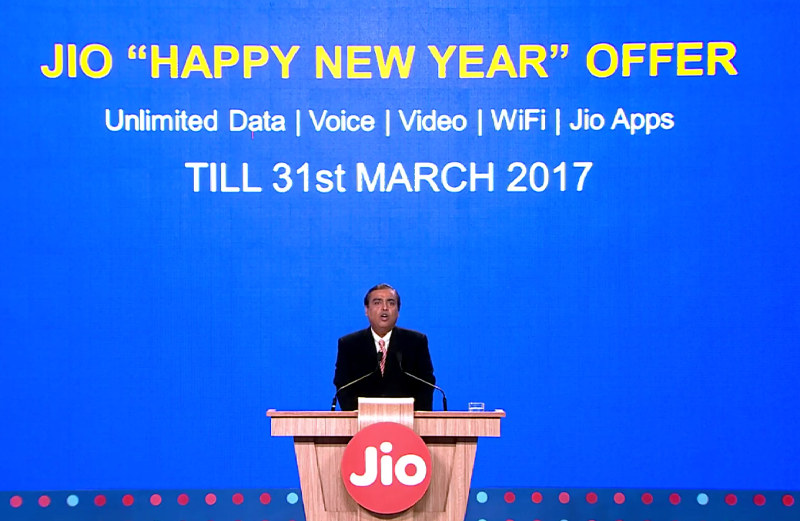 Telecom Regulatory Authority of India (TRAI) has questioned Reliance Jio to explain why extension of its free voice and data plan should not be seen as violation of existing regulations requiring promotional offers to be limited to 90 days. Reliance Jio has sought additional time till December 29 to respond to TRAI's query.
The telecom company had announced free data and voice calls for existing and new customers under the 'Happy New Year offer', days before the 90-day inaugural welcome plan ended on December 3. Reliance Jio has also been asked to clarify why its promotional scheme should not be treated as "predatory." Jio, in a meeting with TRAI said that the latest Happy New Year offer is substantively different from the Jio Welcome Offer (that commenced on September 5) as in the initial offer it had provided 4GB of free data per day, and in the new offer the same was capped at 1GB under Fair Usage Policy.
Earlier this week, Airtel challenged TRAI's decision to allow Reliance Jio to continue the free services offer. The telecom company in a petition before the Telecom Disputes Settlement and Appellate Tribunal (TDSAT), asked the quasi-judicial body to direct TRAI to ensure that Reliance Jio does not provide its free voice and data plan beyond December 3.
Source: 1,<a href="http://economictimes.indiatimes.com/tech/internet/reliance-jio-seeks-time-till-december-29-to-respond-to-trais-queries/articleshow/56205138.cms" rel="nofollow"2