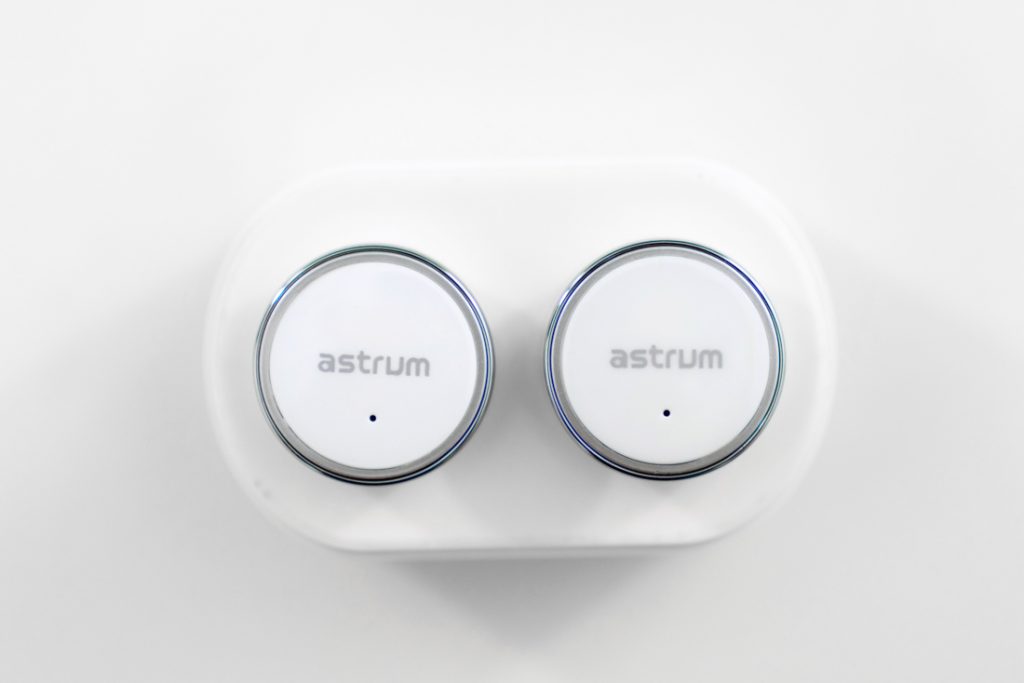 Astrum is a Hong Kong based company which deals in mobile devices accessories and IoT products. We have got our hands of ET300 Bluetooth headset. Let's check out the review to see if this is the wireless headset you are looking for.
The ET300 Bluetooth headset box contents:-
ET300 Bluetooth headset
Earphone Charging Dock
Earbuds x 3 (S,M,L)
Ear hooks x 2
Micro USB cable
User Manual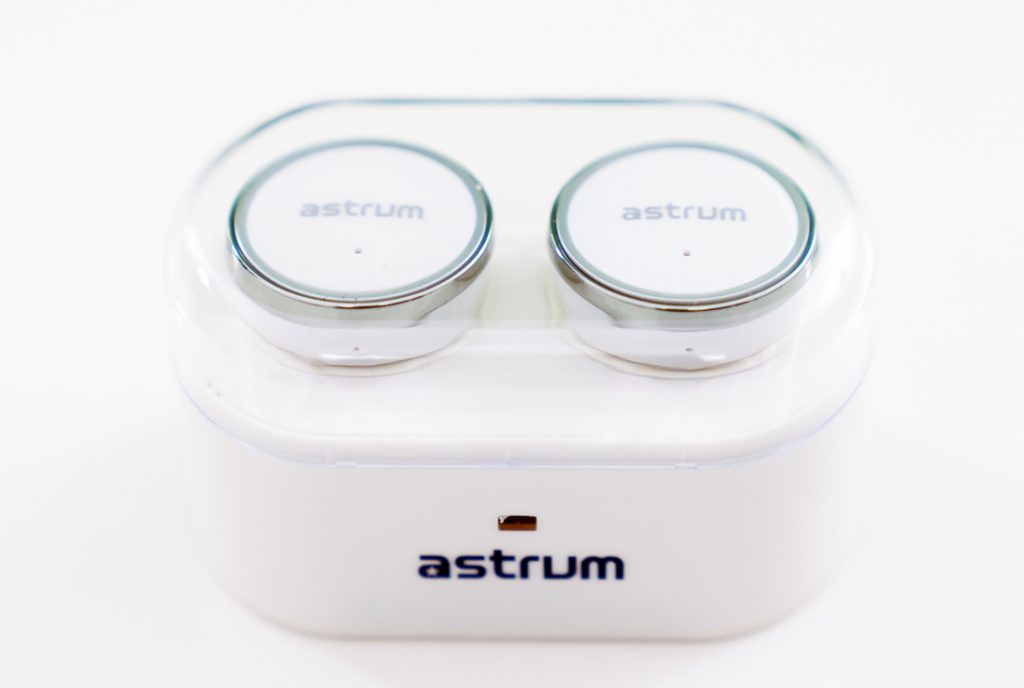 Design and Hardware
The ET300 Bluetooth headset has a circular design with in-ear plug. It is made of plastic but has a metal ring at the top which offers a nice look. The build quality of the headset is also solid and does not feel cheap. I think the circular design makes the headset quite big and it could have been a bit small. All the controls of the headset are present on the circular top. We will get into the controls a bit later in the review. Astrum branding and LED notification light are present on the top. The earbuds do not have right/left ear indicator on them so you need to take a moment to figure it out. However, once you put them on a voice will prompt you about right/left earphone and you can adjust them accordingly.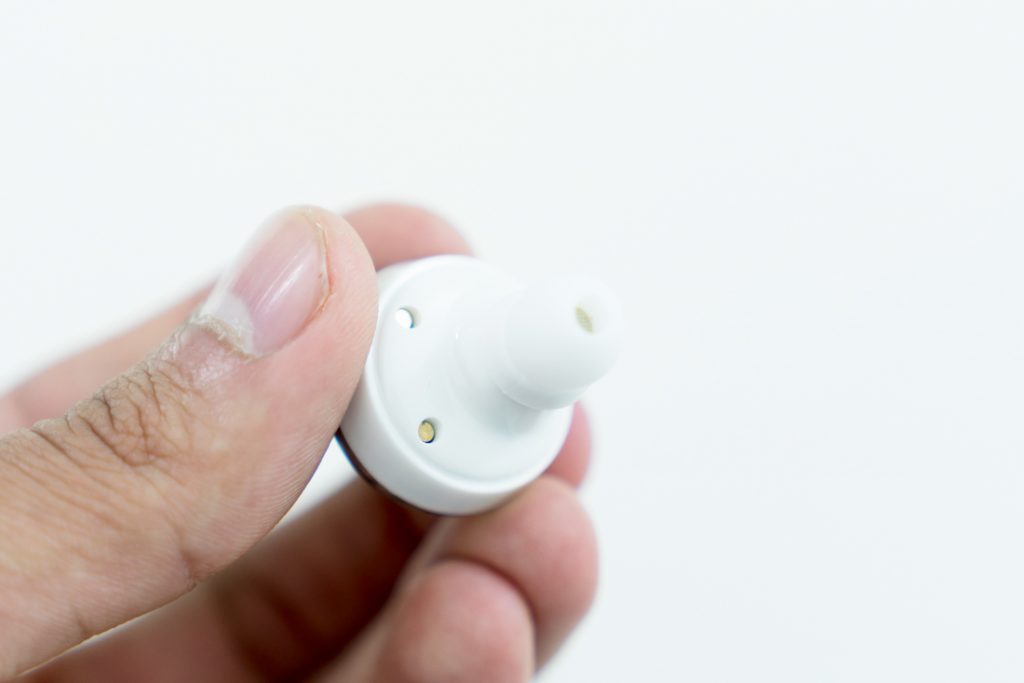 Although the in-ear buds are small and comfortable to wear, the headset in whole looks quite odd when you wear them. It measures 26 x 30mm. The circular design pops out of the ear and looks odd especially you have small ears. Also my major concern during the testing period was using them to control music, take calls etc. as you have to press the circular part on the top. When you press the top, the earbuds get pushed further inside the ear and that is painful. So in order to control the headset you have to hold it with other fingers and then press it with one finger while taking it out of the ear a bit. I felt the whole control process too cumbersome and not smooth.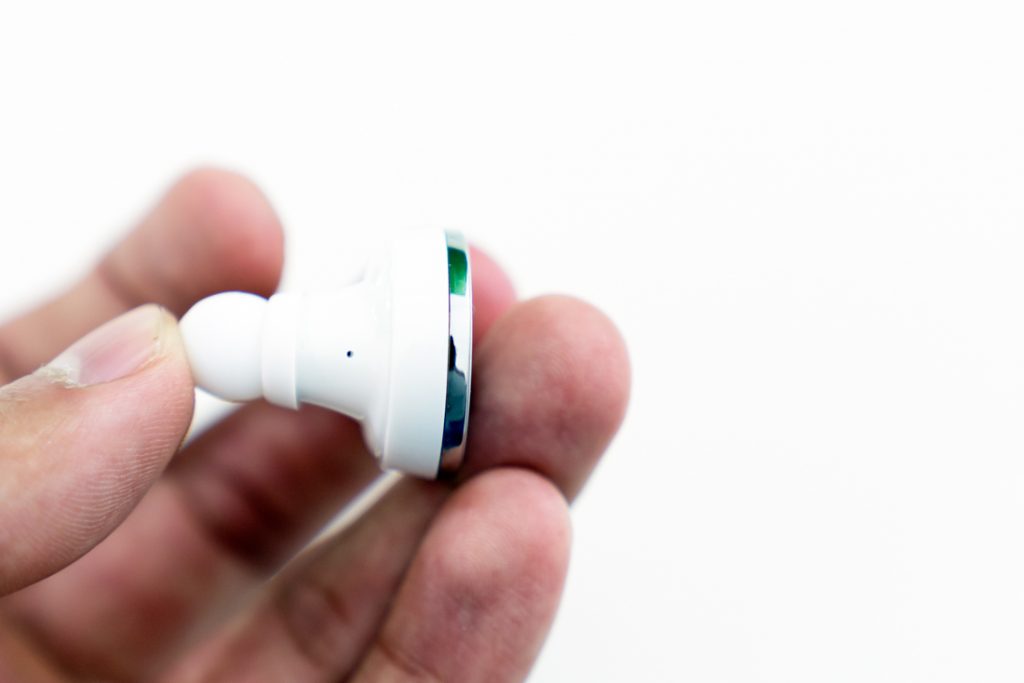 The microphone is present on the side in between the in-ear buds and circular top. In order to power on the headset you will have to press the earphone button for 4-5 seconds following which it will flash a blue light. You can keep pressing the button to pair it with a Bluetooth enabled mobile device. A voice prompt from the earphones will then indicate that the devices are connected. The pairing process is smooth and we did not face any glitches during this time.
You can use the ET300 for listening music and use the button to play and stop it. The headset also lets you answer and reject calls. You can even dial last number, mute and cancel calls. We tried all the above features and they worked fine without any hiccups.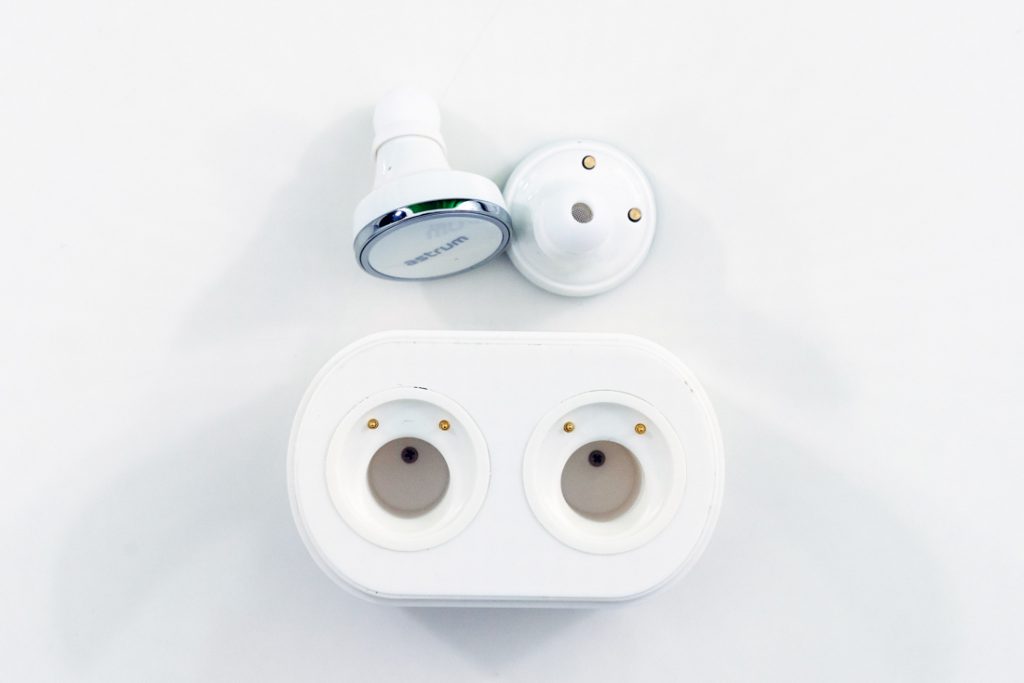 The ET300 Bluetooth headset comes with a storage box that also acts as a charging case. The charging case has two magnetic docks for charging that holds the headsets. It has a micro USB port at the center and needs an hour to charge.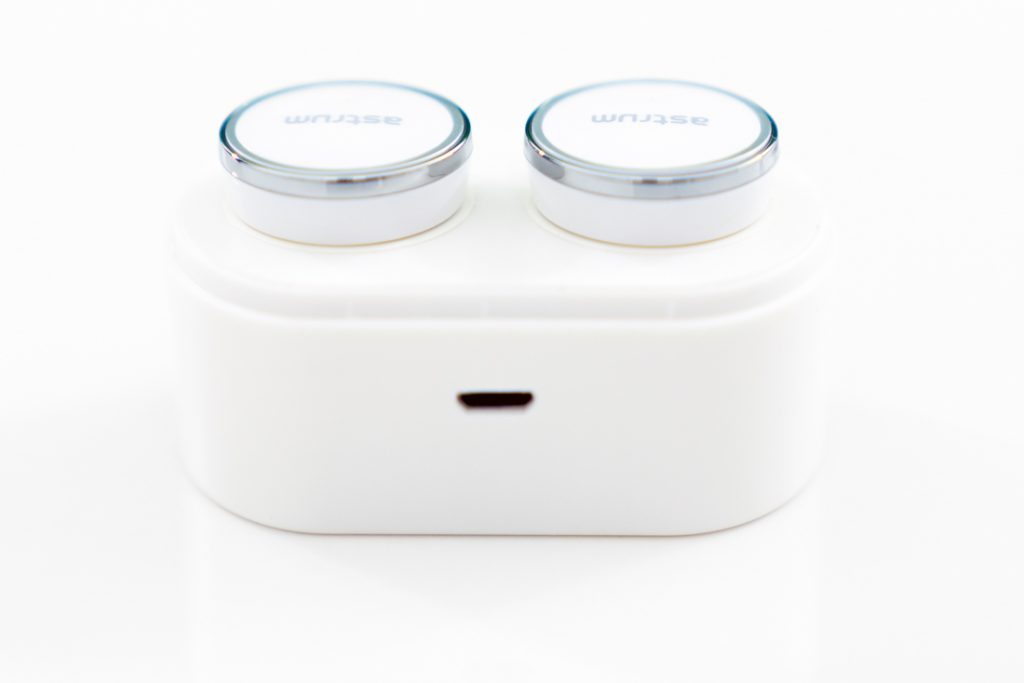 Audio Quality
The ET300 offers good if not great audio quality. We tried different types of songs and the audio output is decent however it would have been great if it offered stronger bass. In case of calls, you can hear other person clearly and vice versa.
Connectivity and Battery Life
The Bluetooth headset supports 4.1 and is compatible with Android, iOS devices along with MP3 players with Bluetooth support. It has a battery capacity of 40mAh and claims to offer up to 3 hours of talk time. The headset support range up to 10m.
Conclusion
Astrum ET300 Bluetooth headset is a decent device that has a solid build but is a let down when it comes to the design. It scores in terms of offering good functionality and audio quality. Although the earbuds are small in size the design is odd-looking. They are also small in size and could be easily misplaced. Also, I am not sure if I want to use them during every day jogging or even when I am at the gym. Astrum ET300 Bluetooth headset comes in white and black colors and is priced at Rs. 5990. You can buy it from Paytm here.
Pros
Good Build
Decent Audio quality
Smooth performance
Cons
Odd looking design
Cumbersome to access controls
Priced slightly on the higher side
Images by Sandeep Sarma