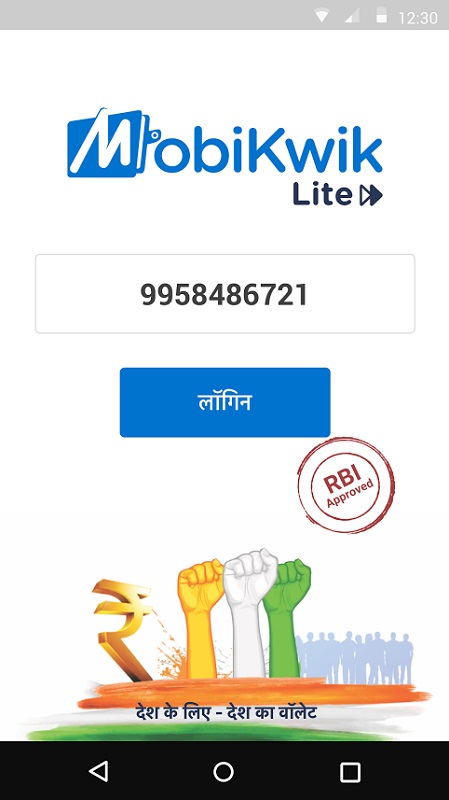 MobiKwik has launched a 'Lite' version of its mobile wallet that will cater to users with poor internet connections. The app which weighs under 1MB and can be downloaded within 30 seconds.
The MobiKwik Lite app currently supports Hindi and English and the company plans to add more regional languages by the end of this week.  Users can download this app with just one missed call and sign up with their mobile number only without the need of an email.  Any shopkeeper or retailer can download the app by giving a missed call to 80971-80971 from any Android smartphone following which they will receive a link to download the app. Once a user clicks on this link, they will be taken to the download page, where the app can be downloaded from within 30 seconds, even on a 2G/EDGE connection.
The app is compatible with Android v2.3 (and later) and iOS. It supports receiving payment, bank transfer, P2P transfer, bill payments and recharges.. The company will also be launching an offline version of this app. According to MobiKwik, the app works on EDGE connection as well, allowing users in areas with slower connections to make digital payments easily.
Bipin Preet Singh, Co-founder of MobiKwik said,
Majority of Indians do not have access to digital payments due to connectivity issues. With 250 million smartphones and less than 50% net penetration, India is highly underserved and the adverse impact of this reality is being observed by masses given the recent demonetization. To bridge the gap between India & Bharat, we have launched MobiKwik 'Lite'. By end of this week, the app will be available in all major Indian languages and soon, MobiKwik Lite will work without any net connectivity too, therefore addressing all the challenges being faced by masses in accessing wallet payments, be it language, connectivity or quality of smartphones.