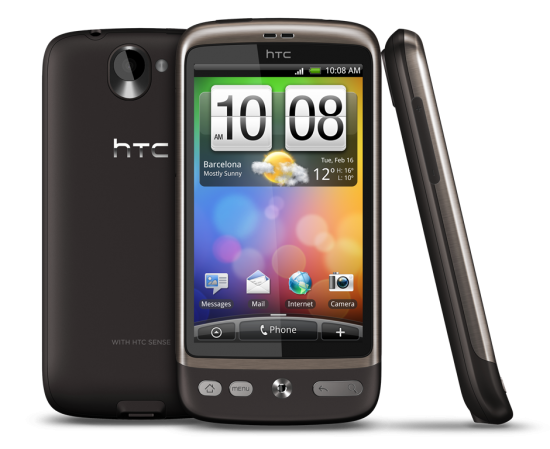 Recently, HTC Desire received FCC blessings, and its 3G bands were compatible with AT&T, Rogers, Telus, and Bell. When we sawthat, we were 100% that it's making it's way to Canada or USA. And yes, the predictions were right. The first mobile carrier to bring the HTC Desire to North America is the Canadian carrier Telus. Telus has announced that they will be launching the HTC Desire soon, and they added the phone in their " Back to school" group of phones. The HTC Desire features:
Android 2.1 ( Eclair) with new version of HTC Sense UI
Access to over thousands of apps from Android Market
Seven homescreen panels to customize with tons of prealoaded live widgets, apps and live wallpapers
HTC Friend Stream app and widget to get consolidated updates from Facebook, Twitter and Flickr
3.7" , WVGA 800 x 480 capacitive touchscreen
5 megapixel camera with flash and video capture
Expandable memory up to 32 GB (8 GB microSD card included)
Bluetooth 2.1
Wi-Fi 802.11b/g/n
Well, Telus finally got it, and they will be launching it later this Summer, no further words on release date and price.
What about USA? I hope AT&T will be showing some interest in the HTC Desire, because they are very busy with iPhone 4 at the moment, but they can give other high end devices a chance. If AT&T want to compete with carriers like Verizon and Sprint, then they can't compete them only with iPhone 4. They need to add devices like HTC Desire and other high end devices to make it possible, and AT&T is considering on it, we heard today that Dell Streak is coming soon, and Samsung Captivate is coming out on July 19th, so these high-end phones will make a great combination with Apple iPhone 4.
via Telus