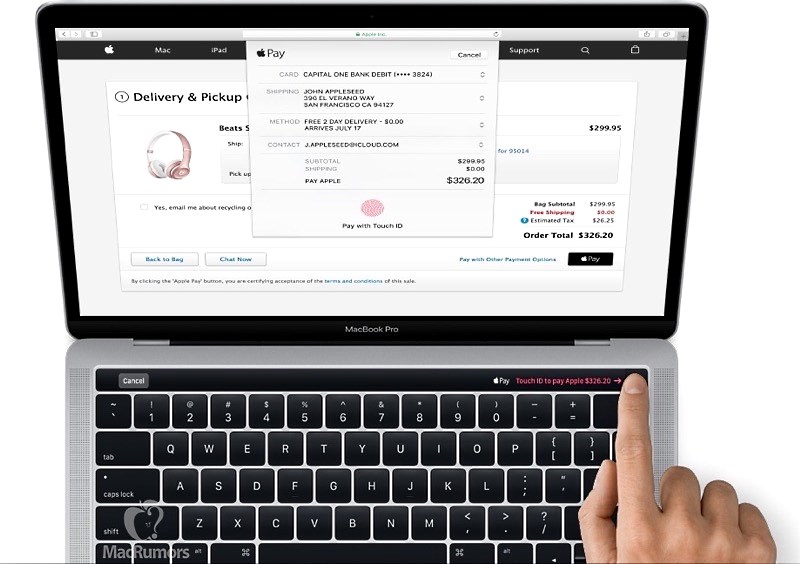 Apple's much awaited upgrade of the Macbook Pro has been up in rumours from quite some time. The Cupertino giant has even scheduled an event for this Thursday, October 27th, where it is expected to officially launch the new notebook. But before we could get to the launch day, the purported renders of the anticipated Apple Macbook Pro have been leaked on the web.
The leaked images of the Macbook Pro by Macrumors reveal the rumoured OLED touch panel located on top of the keyboard replacing the row of function keys. It suggests that the touch panel is expected to be called the "Magic Toolbar". The alleged image also suggests that Touch ID is built into the OLED panel as it shows a finger placed next to the Apple Pay sign with a message written "Touch ID to pay Apple $326.20".
Also from the image, we can see that the speakers are located at the side of the keyboard as it was rumoured for the 13-inch Macbook, but we cannot determine the screen size from the images, so this could also be a 15-inch Macbook Pro.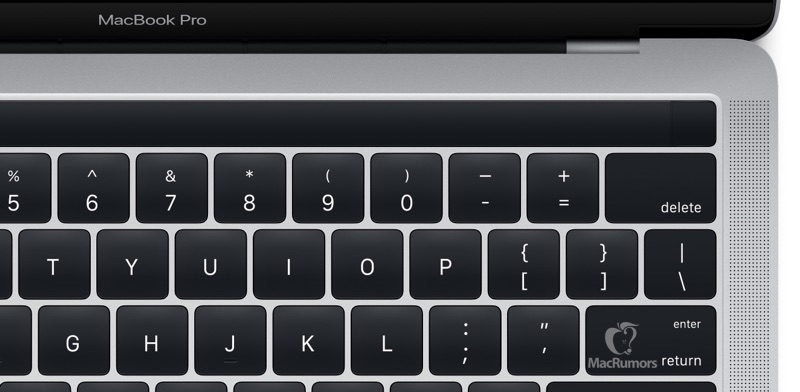 Previous rumours for the 2016 Macbooks had suggested that these will be thinner and lighter, and Apple will ditch the support for traditional USB ports, as well as for MagSafe and Thunderbolt 2.  In case of the MacBook Air, it is said that Apple plans to kill the 11-inch variant in favor of the 13-inch. In terms of design of the MacBook Air, not many changes are expected except for USB-C support. Finally, Apple is expected to refresh the iMac lineup as well and also introduce a new 5K (5120 x 2880) external display which comes equipped with a built-in GPU.
The Apple event is scheduled for Thursday, October 27 at 10:00 am PT (10:30 PM IST).  As usual it will offer live stream for iPhone, iPad, or iPod touch users with Safari on iOS 7.0 or later, Mac users with Safari 6.0.5 or later on OS X v10.8.5 or later, or a Windows 10 users with Microsoft Edge. The live stream will also be available for Apple TV (2nd generation or later) users with software 6.2 or later.