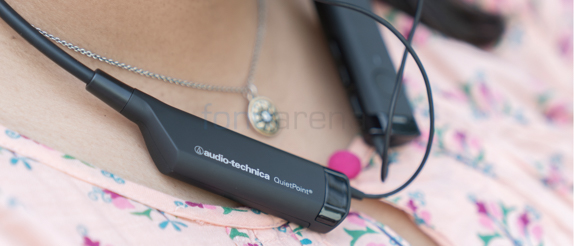 Noise cancelling earphones are nothing new. There have been countless different iterations from various manufacturers over the years but not all have been impressive. Many have been too bulky to be considered as true earphones and others skimp out on noise cancellation or the audio quality. However, the ATH-ANC40BT from Audio Technica seems to be an exception to this rule. We take a look at the headset in detail to see what it offers and whether it solves the issues that plague most other noise cancelling earphones.
Box Contents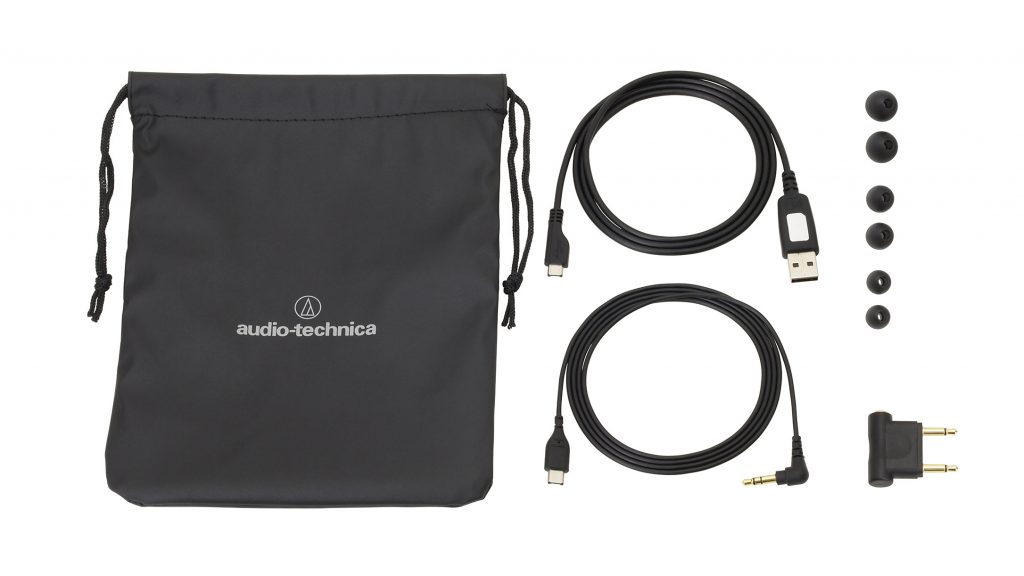 In the box the user gets:
ATH-ANC40BT Earphones
microUSB to USB Type-A Cable
microUSB tyo 3.5mm Audio Cable
Airplane Adapter
Eartips
Leatherette Travel Pouch
Design
The ATH-ANC40BT features an around the neck design with earphones that extend out of both the sides. The entire device is made up of plastic and rubberized materials. The band that goes around the neck is made of rubber and the rest of the parts are made of plastic or rubberized plastic. It doesn't exactly give a premium feel but is well built.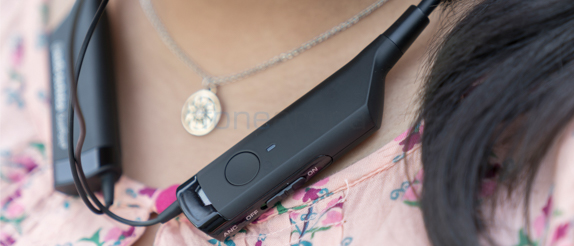 You do feel like it can be used daily in most situations without it giving up on you too soon. The only part that feels a bit flimsy is the neck band which is rubber but that is a feature of the material itself and is necessary to facilitate wrapping around your neck. The combination of matte black finish and glossy black tips gives a stealthy yet catchy look.
The right side of the headset is pretty much empty and just leads to the right earpiece while the left side houses all the controls and ports. You have the power key at the top of the left module along with an LED indicator. To the left side, you have the ANC switch and at the right, you have the Play/Pause as well as Volume buttons. The bottom houses the microUSB port for charging which is concealed behind a plastic protector flap. It also houses the microphone.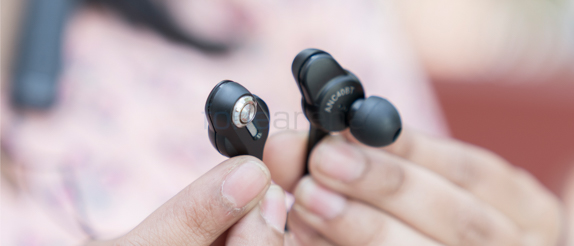 The earphones extend from both the sides via a thin cable that seems quite brittle but hasn't frayed yet in our case. The left earphone cable also features a clip that can be used to keep the two earphones together.
Comfort
I'll start by saying that I am not a fan of around the neck or around the head designs but this headset is definitely an exception. My main gripe with around the neck headphones or earphones is the fact that they constantly irritate your skin and also weigh you down over extended duration of use. My neck may perhaps be more sensitive than most but with the ATH-ANC40BT, I never had any issues with extended duration of use.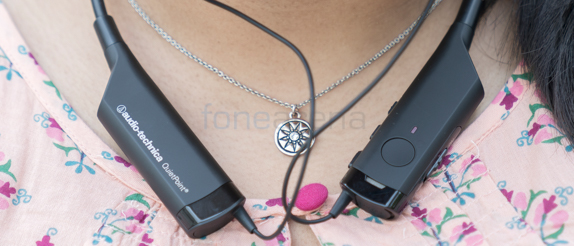 One of the main reasons is that the only portion that goes around the back of your neck is the rubber band and the main components are at the side and front so it doesn't weigh your neck down and cause fatigue. Even then, weighing in at approximately 35 grams (without eartips) means it is definitely really light considering all the tech that it has to pack inside it. This also makes it quite useful for people who like to run or hit the gym. Once worn, you don't really notice it. However, do keep in mind that these aren't really moisture or sweat resistant so you'll need to keep it quite clean afterwards.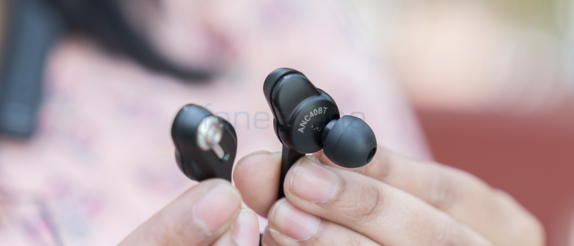 You also have multiple eartips included in the package that help you get the comfort possible and for different ear canal sizes. You can also purchase 3rd party ear tips such as foam or silicon to customize your headset.
Connectivity
The ATH-ANC40BT connects using Bluetooth and the pairing can be initiated by holding down the power button for around 10 seconds. Once it is in pairing mode, you simply head over to your Bluetooth settings and click on the device and you are paired. In the event that your headset battery gets depleted or you can't or don't want to use Bluetooth, you can use it as a wired headset by making use of the micoUSB to 3.5mm audio cable.
Audio Quality
Audio quality is good on the ATH-ANC40BT, the dynamic range is quite good and so is the clarity. It also has a pretty decent lower end with the bass kicking in when needed but don't expect anything head thumping. The volume is a bit on the lower end and while that is something that usually doesn't affect too many noise cancelling headsets, it affects this one.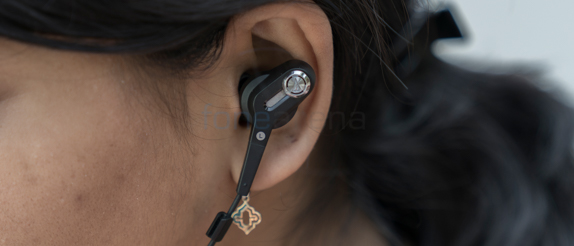 The reason for that is two fold. Firstly, most in-ear canal earphones isolate a lot of the outside noise as soon as your put it in and even further when you play something. On the ATH-ANC40BT however, the isolation is pretty minimal and there are sound leaks as a result. I thought that this was probably an issue with the ear-tip size I was using but turns out that the other tips were either too small or too big so the issue was with the leak itself.
The other issue is the noise cancellation. The ATH-ANC40BT really goes by the book in terms of the phrase "noise cancelling". It doesn't really help isolate you and your music or tracks from the outside world but merely tries to cut down on engine sounds coming from your flight or car or other forms of automobiles. The noise cancellation effect in this headset is quite minimal and I'm not really sure whether I would like to call them noise cancelling. Some may like the fact that you can still hear the outside world a bit when it is turned on but I personally feel that it defeats the purpose.
Portability
The ATH-ANC40BT is really portable. Well, they aren't as portable as a basic set of earphones because of the additional bulk that comes along with the noise cancelling equipment but they still occupy very little space and are really light so much so that they practically don't affect your weight restrictions when traveling.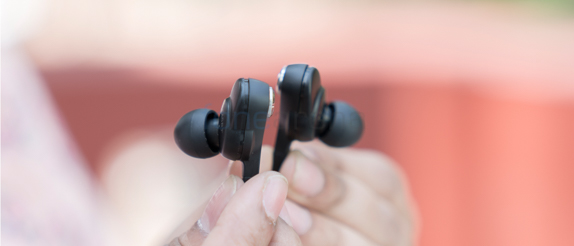 You get a leatherette pouch that you can tighten with strings and it does the job well and has room to hold the additional eartips as well as cables too. They do not fold inwards like some travel headphones do but I feel that is perfectly fine since they are small enough anyway.
Battery Life
The ATH-ANC40BT takes around 3 hours for a full 0-100% charge. The battery life is rated at around 8 hours with both Bluetooth and Noise Cancellation, 13 hours with just Bluetooth and 24 hours with just Noise Cancellation. It also has a standby rating of upto 100 hours.
Practically speaking, I was able to extract around 6 hours + with Bluetooth and Noise Cancellation both turned on during a trip that I had and that itself is pretty good in my books. You could perhaps extract a bit more based on the volume you use as well.
Conclusion
The ATH-ANC40BT is a pretty neat set of earphones especially for travel since they are comfortable and portable. However, they do provide a less than stellar experience with their primary selling point which is noise cancellation. So I would advise you to try one out before purchasing it because the noise cancellation might be a bit feeble for your needs just like I felt so too. If it isn't, then you would probably be quite happy to part with US$ 179 (Around Rs 11,900) to get the headset that comes with one year warranty.
Pros
Very Comfortable
Good Audio Quality
Great Battery Life
Quite Portable
Cons
Volume Output is a tad bit on the Lower Side
Noise Cancellation Effect is Minimal