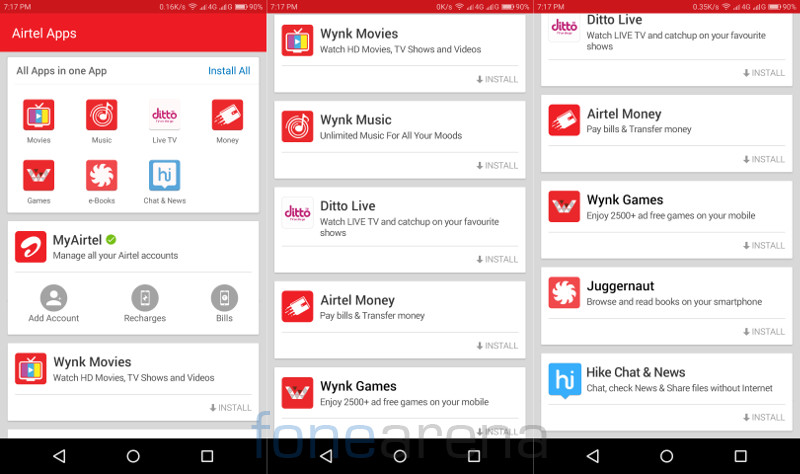 Airtel has relaunched a new version of its My Airtel App which comes with a 'Airtel Apps' section that will have a collection of top apps under a single interface.
The app is offering Ditto TV with 100+ LIVE TV channels and popular TV shows without any subscription charges. Hike Messenger app, Wynk Music, Wynk Movies, Wynk Games, Juggernaut are some of the apps available within 'Airtel Apps'.
The list also includes Airtel Cloud and Airtel Dialer apps.  Airtel Cloud provides 2GB of free cloud storage and back up and currently there are no data upload charges for the scheduled overnight backups for prepaid customers and this benefit will be made available to postpaid customer soon. Airtel Dialer offers 50 minutes of free Airtel-to-Airtel calling benefits, in addition to its call management feature. Customers who already have MyAirtel App on their smartphone can update to receive the new features.
Harmeen Mehta, Global CIO & Director – Engineering, Bharti Airtel said in a statement,
As part of our Digital Airtel initiative we are excited to bring you the new avatar of the MyAirtel App, which now offers a unified interface to the entire suite of our popular mobile apps and several new ones. All these apps have been curated to ensure customers are offered the best of the web, with more exciting apps and partnerships coming in the near future. We would love everybody to experience the new version of myAirtel app and join us in making it better and better.
Srivatsan contributed to this post.