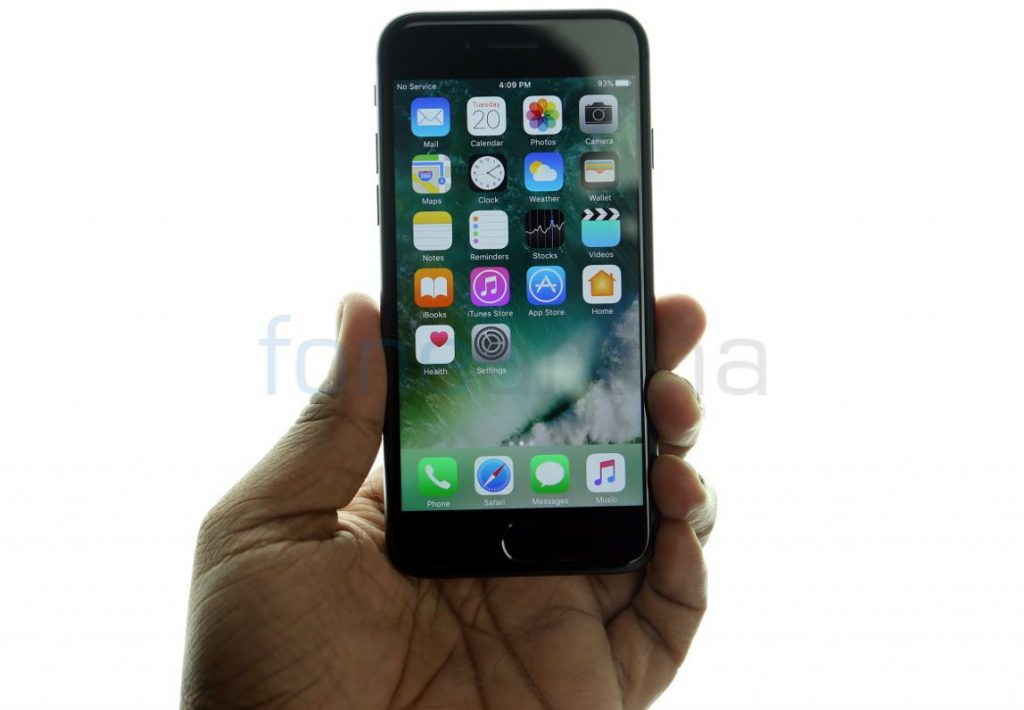 Airtel has announced that it will offer iPhone 7 and iPhone 7 Plus through retail shops and online starting today. It offers iPhone 7 and iPhone 7 Plus users 10 GB free 4G/3G data per month for one year with any Airtel Infinity postpaid plan, in addition to plan benefits. So, over the duration of one year these users get additional 120 GB 4G/3G data.
It will also offer both the phone on contract for postpaid customers. For the iPhone 7 32GB version you will have to pay Rs. 19,990 as down payment and choose one of the monthly infinity plans.
Airtel Infinity postpaid plans offer unlimited voice calling – local, STD, and on national roaming – along with bundled 4G/3G data, SMS and free subscription to Wynk Music and Wynk Movies. The 1999, 2499 and 2999 plans with iPhone 7 or 7 Plus offer 5GB, 10GB and 15GB free data, respectively.
Model
Billing Price (Rs.)
Down Payment (Rs.)
Monthly Plan Options (Rs.)
Balloon Payment (Rs.)
iPhone 7
(32 GB)
59998
19,990
1999/2499/2999
24000
iPhone 7
(128 GB)
69998
29,490
1999/2499/2999
24500
iPhone 7
(256 GB)
79998
35,990
1999/2499/2999
28000
iPhone 7 Plus
(32 GB)
72000
30,792
1999/2499/2999
25200
iPhone 7 Plus
(128 GB)
82000
37,292
1999/2499/2999
28700
iPhone 7 Plus
(256 GB)
92000
43,792
1999/2499/2999
32200
Regarding the remaining payment and choose new iPhone after the contract, Airtel said:
As part of subscribing to the Plan, you shall be signing up for BFL to finance the device value over and above the Minimum Initial Payment at 0% rate of interest. You need to come back any time during the 13th month to return the device. In case you wish to retain the device, a 'Balloon Payment' will be auto-debited from your account by BFL.
Thereafter, BFL will debit the remaining outstanding amount ('Balloon Payment') from your account and your contract with Airtel for the Plan will terminate and your loan with BFL will be closed.

At the end of 12 months, you can come back, return the device and upgrade to the latest iPhone subject to the terms and conditions of Airtel.
Regarding the offers, Ajai Puri, Director Operations (India & South Asia), Bharti Airtel, said:
We are delighted to roll out this exciting data offer for our users to allow them to get the most out of the amazing iPhone 7 and iPhone 7 Plus. Customers can now enjoy the latest iPhone on India's leading mobile broadband network with bundles of data and unlimited voice calling with our Infinity plans.
Update: Airtel has removed the iPhone 7 on contract page from the site. It says that the lease plan is piloted for select enterprise customers and is not available for all yet. In a statement Airtel said:
We understand that there is some confusion regarding two separate offers from Airtel on iPhone 7 and iPhone 7 plus. There is a special 10 GB per month free additional data offer with any Airtel Infinity plan with iPhone 7 and iPhone 7 plus. The offer is open for all customers and is very much active. There is also a device lease plan, which is being piloted for employees of select enterprise customers, and this offer is also very much active. In the interest of customers and to avoid any further confusion, relevant changes are being made to the website. These will reflect shortly.