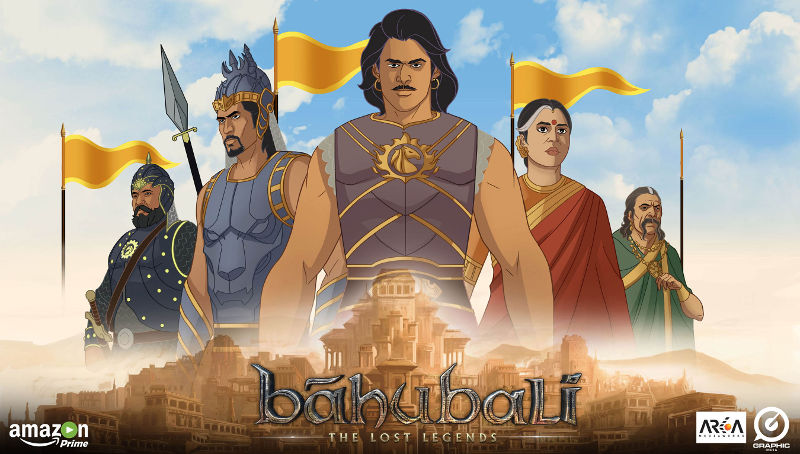 Amazon is all set to launch its Prime Video service in India soon. Amazon Prime Video today announced that it has singed a deal with acclaimed filmmaker SS Rajamouli, Graphic India and Arka Mediaworks for a multi-episode animated series titled – Baahubali: The Lost Legends based on the popular movie Baahubali, which will premiere first on Amazon Prime Video India in 2017.
It recently signed a video licensing deal with Dharma Productions and also said that it will be exclusive subscription streaming partner for future film titles from T-Series.
Baahubali: The Lost Legends is set before the Kalakeya invasion depicted in the movie, when Baahubali and Bhallaladeva are still both young princes of Mahishmati. The animated series will feature new, never before revealed stories about the characters from the film including Prince Baahubali, Bhallaladeva, Kattapa and Sivagami as well as dozens of new characters.
Exclusive teaser trailer of Baahubali: The Lost Legends, the animated series will be released exclusively on Amazon.in on October 1st.
Commenting on the partnership, Nitesh Kripalani, Director and Country Head, Prime Video India, said:
S.S. Rajamouli is one of the most visionary movie minds in current times and we are thrilled to have him launch this exclusive series, Baahubali: The Lost Legends. The animation series will allow our customers to discover hidden stories and legends from the Baahubali world. And now for the first time, customers can watch the exclusive trailer first on www.Amazon.in.
Director S. S. Rajamouli, said:
What we managed to showcase in the film was just the tip of the iceberg. From the minute I started working on this story, I knew the world of 'Baahubali' can't be encompassed into a film or two, simply because there's so much more to tell and animation is another way to do that. We are happy to be collaborating with Graphic India and Amazon to bring the 'Lost Legends' to audiences through Amazon Prime Video.