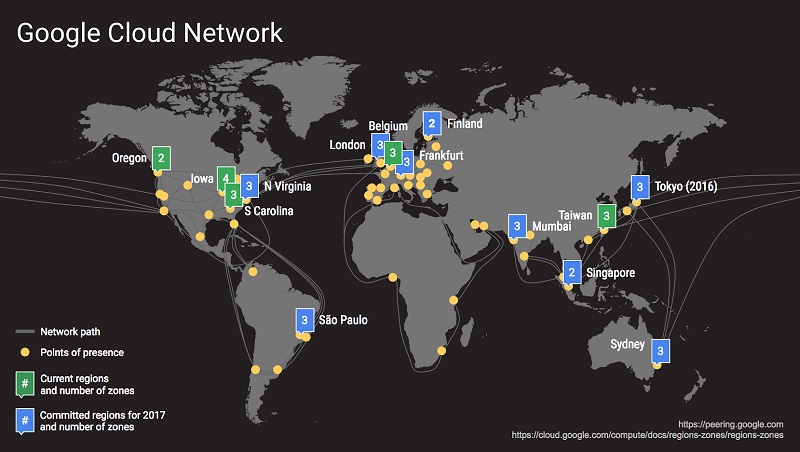 Google today announced that it will open a new India Cloud Region in Mumbai by 2017. The India cloud region is aimed at offering Google Cloud Platform services to Indian developers and enterprise customers.
Google made the announcement about the India Cloud Region at an event in San Francisco, called Horizon. The local region will help make Google Cloud Platform services even faster for Indian customers. Google Cloud has gained significant traction in India and across the world with more than one billion end users. Google says Google Cloud Platform is currently used by Snap Inc (formerly SnapChat), Niantic Labs (Pokemon Go), Telus International, and Evernote. In case of India Google Cloud Platform has customers including major brands like Wipro, Ashok Leyland, Smartshift by Mahindra & Mahindra, Dainik Bhaskar Group and INshorts.com.
Brian Stevens, Vice President, Google Cloud,
By expanding to new regions, we deliver higher performance to customers. In fact, our recent expansion in Oregon resulted in up to 80% improvement in latency for customers. We look forward to welcoming customers to our new Cloud Regions as they become publicly available throughout 2017.
In addition to its focus on Indian customers, Google is continuing to build its partner ecosystem to support customers as they move to the cloud. In India, Google already has deep partnerships with a multitude of born-in-the-cloud partners including Searce Co-Sourcing, Cloud Cover, PowerUp Cloud and MediaAgility as well as global partners like Wipro, TCS, Tech Mahindra, PwC and Cognizant. The opening of the cloud region opens up newer opportunities for several new cloud partners who will benefit from building their services on Google Cloud.