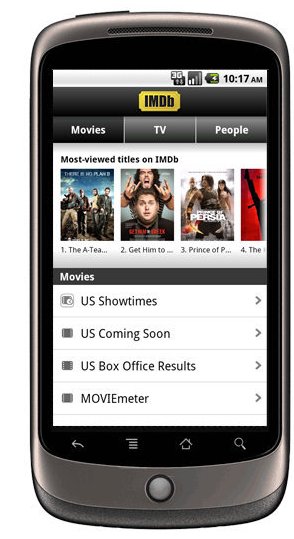 IMDb or the Internet Movie Database is one of the best sites for all movie buffs especially Hollywood flicks. The IMDb iPhone and iPad apps are one of the best apps for the iPhone OS. Now Android users can download the IMDb Android App from the Market for free. All you need is a phone running Android 1.6 or above.
IMDb for Android Features
Search the world's largest collection:
Over 1.5 million movie and TV titles
Over 3.2 million celebrities, actors, actresses, directors and other crew members
View:
Movie trailers
User reviews for movies and TV shows
Critics reviews for movies and TV shows
Quotes, trivia and goofs about movies and celebrities
Your browse and search history on IMDb
Look up: (US only)
Movie showtimes at local theaters near you
TV listings for your local time zone
Recaps of TV shows from previous night
Upcoming movies
Explore popular charts:
Best Picture – award winners
Top rated movies of all time (IMDb Top 250)
Most popular movies of the day on IMDb (MOVIEmeter)
Most popular celebrities of the day on IMDb (STARmeter)
Lowest rated movies of all time (IMDb Bottom 100)
Most popular movies listed by genre (Action, Horror, Romance, Comedy and many more)
Most popular TV shows
US Box office results
Celebrity birthdays
Shop:
DVDs and Blu-ray discs for any movie or TV show from Amazon.com stores
Configure your default Amazon store to one of these international sites:

Amazon.com
Amazon.co.uk
Amazon.de
Amazon.fr
Amazon.co.jp
Amazon.ca
Share:
Share showtimes and movie info with friends via email, Facebook, Twitter and other sharing apps.
Availability:
IMDb is available worldwide in English (US/UK), Spanish, German, French, Portuguese, Italian and Japanese.