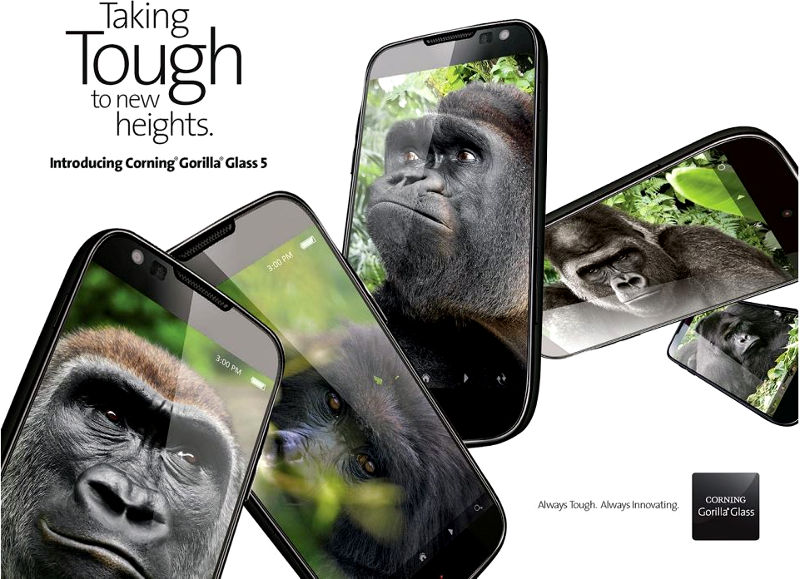 Corning Incorporated today announced the Gorilla Glass 5, successor of the most popular Gorilla Glass 4 that was introduced back in 2014. "The Gorilla Glass 5 can survive up to 80% of the time when dropped facedown
from 1.6 meters onto rough surfaces, far outperforming competitive glass designs," says Corning. The Gorilla Glass 4 can survive only from 1 meter height in its lab tests.

With improved drop performance, it also preserves optical clarity, touch sensitivity and damage resistance. Corning Gorilla Glass has been used on more than 4.5 Billion devices worldwide, including more than 1,800 products across 40 major brands.
Highlights of Corning Gorilla Glass 5
Up to 2x improvement in damage resistance over Corning Gorilla Glass 4, and up to 4x improvement over alternate glasses
Up to 1.8x improvement over Gorilla Glass 4 in drop performance on
rough surfaces
Survives up to 80% of the time from drops at 1.6 meters
The Corning Gorilla Glass 5 is now in production and is expected to be available on devices later this year.
Commenting on the new Gorilla Glass 5, John Bayne, vice president and general manager, Corning Gorilla Glass, said:
With each successive generation of Corning Gorilla Glass, we have taken cover glass technology to new levels. Gorilla Glass 5 is no exception, extending Corning's advantage in drop performance over competitive glasses. With many real-world drops occurring from between waist
and shoulder height, we knew improving drop performance would be an important and necessary advancement.

Corning has a 165-year history of delivering life-changing innovations. Gorilla Glass 5 is the latest example of Corning applying its material-science expertise to solve tough consumer challenges in a way that impacts people's everyday lives.