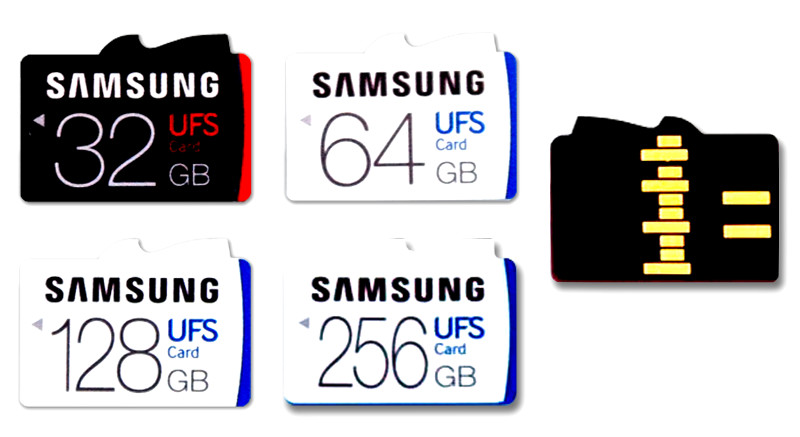 Samsung already moved from eMMC flash storage to UFS storage for its high-end smartphones, now it has introduced world's first memory card based on the Universal Flash Storage (UFS) 1.0 Standard. These are aimed at mobile shooting devices such as DSLRs, 3D VR cameras, action cams and drones and come in 256GB, 128GB, 64GB and 32GB capacities.
The card offer sequential read speed of up to 530MBps compared to 95MBps sequential read speed in a typical UHS-1 microSD card and has 170MBps sequential write speed, two times faster than a microSD card. The random read rate of a 256GB UFS card is 40,000 IOPS, compared to approximately 1,800 IOPS in a microSD card.
The 256GB UFS card has random read rate of 35,000 IOPS, 350 times higher than the 100 IOPS of a typical microSD card. The UFS card supports multiple commands with command queuing features and enables simultaneous reading and writing through the use of separately dedicated paths, doubling throughput.
Even though the design of the card is similar to microSD, the UFS card have a different pin layout. Devices released in future might support this. Samsung did not reveal the pricing or when it would ship the UFS memory cards.
Commenting on the announcement, Jung-bae Lee, senior vice president, Memory Product Planning & Application Engineering, Samsung Electronics , said:
Our new 256GB UFS card will provide an ideal user experience for digitally-minded consumers and lead the industry in establishing the most competitive memory card solution. By launching our new high-capacity, high-performance UFS card line-up, we are changing the growth paradigm of the memory card market to prioritize performance and user convenience above all.