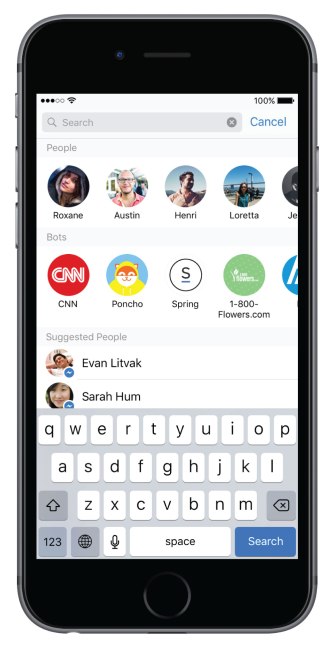 Facebook had introduced bots for Messenger Platform in April this year. Now the social network has announced that within since over two and a half, more than 11,000ots have launched on Messenger.
Moreover, over 23,000 developers have signed up for Wit.ai's Bot Engine. Going forward Facebook has announced new features to the Messenger Platform that will help developers add new functionality to their bots and improve the experience for their users. For those unaware, a bot offers information and answers to Messenger user queries such as weather, news and traffic updates, provide shipping notifications  and so on, from inside Messenger.
First up, users can now offer star ratings and feedback for developers for these bots similar to apps. Secondly, with the new quick replies feature that are buttons which refer to bot's recent messages resulting into faster conversations.
Bots will also be able to send and reply with GIFs, audio, video, and other files. There is a Persistent menu option for bots that displays available commands at all times so users don't have to remember them.  A new account linking option will let businesses connect their customers' accounts with their Messenger accounts.
Facebook says it is launching a secure protocol for businesses to connect their customers' accounts with Messenger accounts. People can choose to mute a bot just like they can mute a conversation with their friends and they can also provide a star rating and feedback for bot developers. Ratings and reviews are currently shared with only the bot developer through a dashboard in developers.facebook.com