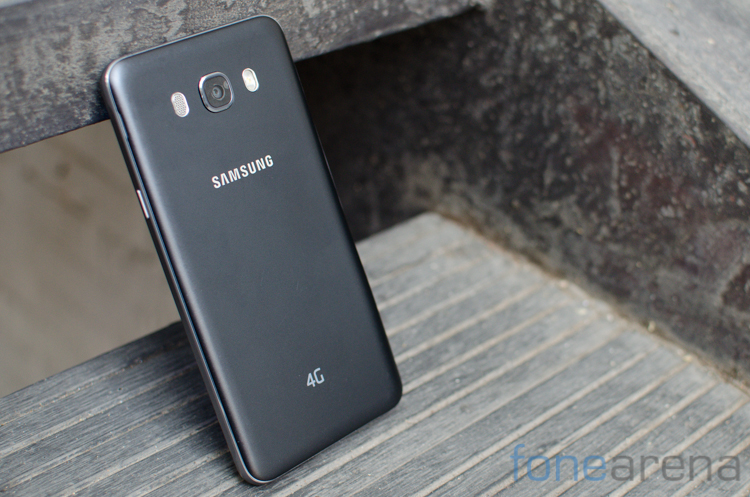 More than 15.8 million 4G devices were shipped in the first quarter of 2016, according to the CMR's 1Q CY report of India LTE Devices. Of these, 97.9% were smartphones, 1.5% were DataCards and the remaining 0.6% were tablet PCs. This amounts to 63% of the cellular devices shipped through the quarter.
Giving insights about top 4G LTE smartphone vendors, CMR revealed that Samsung grabbed the top spot with 32% market share followed by Lenovo and LYF with 14% and 13% respectively. Chinese smartphone maker LeEco makes an impressive entry in first quarter with 2.4% share in 4G smartphones. In case of tablets, Samsung, Apple and iBall are the three leading brands with 58%,16% and 12% market shares respectively.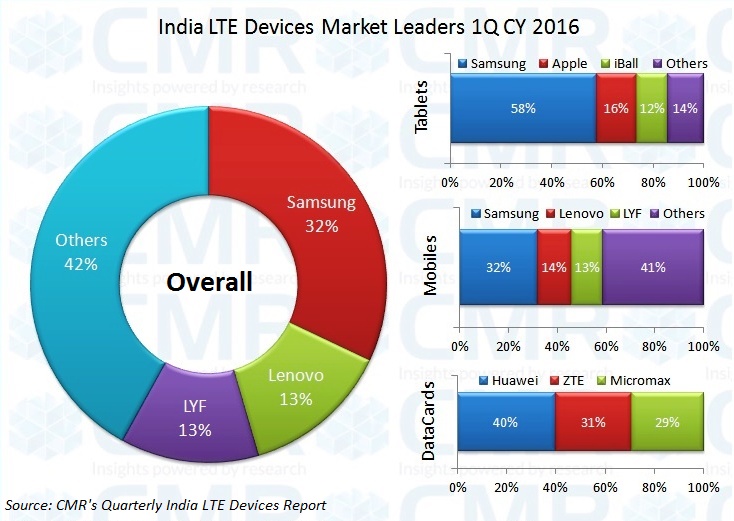 The report says that a total of 42 brands shipped Smartphones, DataCards and Tablets with LTE support. Moving over to datacards, Huawei, ZTE and Micromax were the only three players shipping 4G devices in the 1Q of 2016 with a market shares of 40%, 31% and 29%, respectively.
Faisal Kawoosa, Lead Analyst for Telecoms at CMR, said,
The smartphone industry was the first to bank upon the 4G wave. Now as the services go live with multiple operators, it is the time for other devices to ride on the growth path. DataCards have already started showing this trend as in the first quarter of 2016, itself, we saw 0.5% increase in its contribution to the overall LTE devices compared to 1% of CY 2015.  We see this strengthening more as the year progresses.  However, tablets are lagging behind and they need to ramp up at the earliest.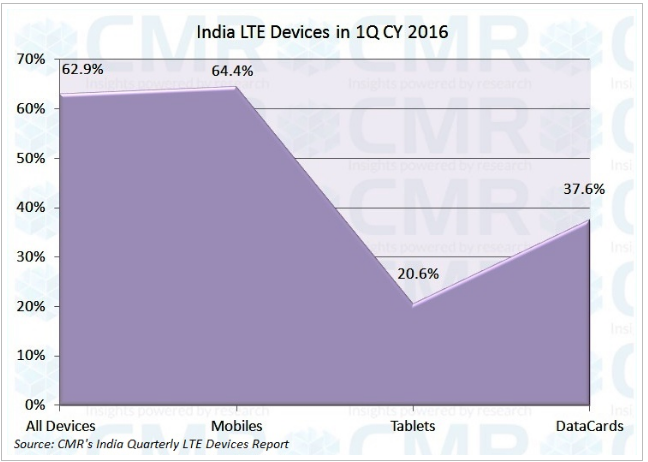 Commenting on the 4G brands in India CMR analyst for Telecoms, Krishna Mukherjee, said,
While every emerging devices brand in India prefers Smartphones for obvious potential growth reasons, we see number of brands shipping Tablets and DataCards on the decline.  This is leading to the lesser option for consumers in Tablets and DataCards in particular. There's headroom for growth for other 4G devices as well and it is time for India brands to emerge strongly in these device categories too.