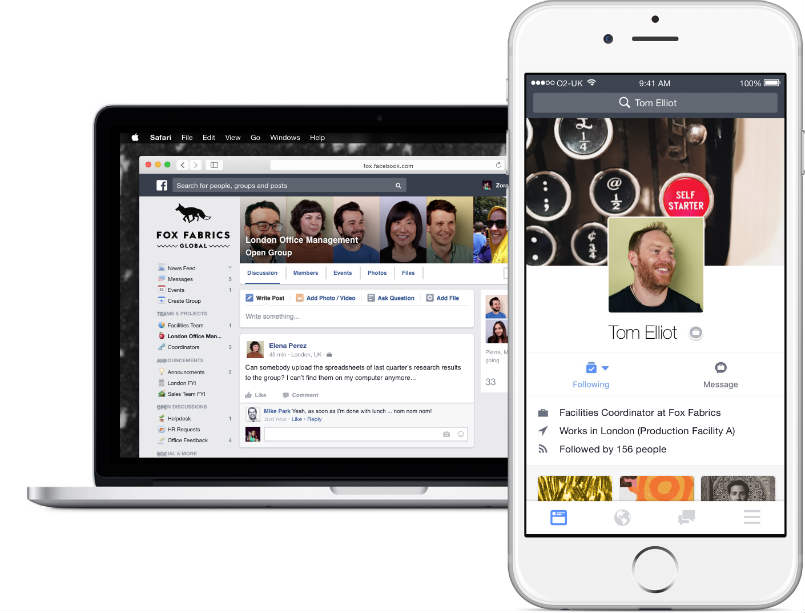 Facebook has launched Facebook at Work service that aims at enterprise and businesses in India. It allows employees to collaborate and connect with co-workers.
The service enable enterprise users to check out newsfeed, comment and share posts, create groups and chat using Work Chat. Facebook at Work which is currently in beta mode is already being used by 450 companies including Godrej, YES Bank Paytm, Zomato and Delhivery, L&T Infotech and others in India. It is said that over 60,000 companies across the world are looking forward to start using the service.
The main difference with Facebook at Work is that users cannot use their personal accounts to log in and the access is managed by the organisation. Security features, single sign on, dedicated support channels and analytics which highlight top influencers, contributors and groups of the companies are some of the features present on the service. The global launch of 'Facebook at Work' is still a few months away.
Julien Codorniou, director of 'Facebook at Work' told,
Rolling out 'Facebook at Work' to companies in India is a significant milestone. We are excited at the high rate of adoption globally and I look forward to working with all businesses in India.
Ramesh Gopalkrishna, Facebook at Work Asia-Pacific head said,
Facebook at Work is not a social networking solution, but a productivity solution. India is one of Facebook at Work's top countries and our teams will start testing the solution with more companies… Facebook is focusing on adding companies with 5,000-10,000 employees before opening the platform.
Facebook at Work will compete directly with the likes of Slack, Yammer and others. There are currently more than 1.62 billion global Facebook users out of which over 142 million come from India.