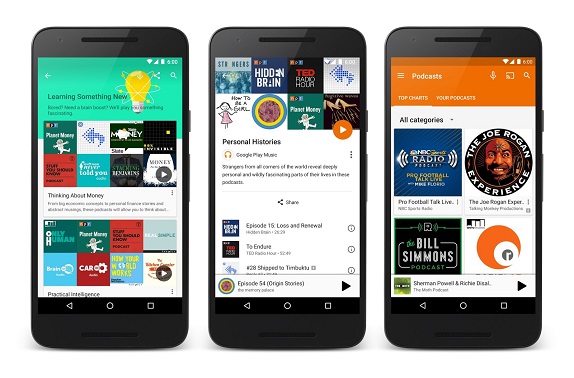 Google has officially launched Play Music Podcast, as expected. Available on Android and Web, users can collect and stream podcasts.
Podcasts also works on the same lines as Play Music and learns from your likes and preferences. It creates a contextual playlists and Google says you can can listen to podcasts "based on what you're doing, how you're feeling and what you're interested in".
Currently, podcasts are grouped in sections like "Learn Something New," "Get Lost in a Story," and "Laugh Out Loud." The service offers an ability to subscribe to a show to download the last several episodes automatically on your device or choose to be notified every time a new episode comes out. Creators who want to make their podcast available on Play Music Podcast can check out the page here for more details.
Google Play Music Podcast is currently available only in the U.S and Canada. It is not when it will rollout to iOS