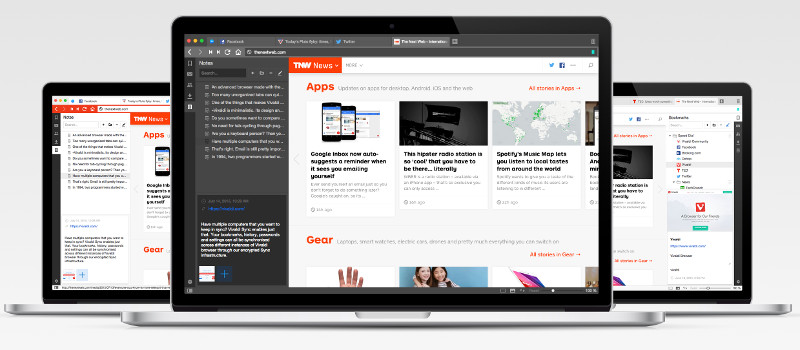 Vivaldi today released Vivaldi 1.0 browser, after more than one year in public development. It is developed by a founding team of browser pioneers, lead by Jon von Tetzchner, who co-founded and led Opera Software. The core of the browser uses Chromium, supports Chrome add-ons and the UI uses React and JavaScript, as well as Node.js. "The browser adds several features and powerful personalization options targeted at demanding users to increase their productivity and efficiency," said the company.
Highlights of Vivaldi browser

Tab Stacks: Drop tabs on top of each other to create a stack. It's the fastest way to reduce clutter and keep organized.
Tab Stack Tiling: Tile tab stack and see multiple pages at the same time! With multiple tab stacks, it is like having multiple desktops.
Sessions: Save your favorite set of tabs as a session for later retrieval.
Notes:  Vivaldi can remember which site you were browsing at the time, and allow you to take screenshots as well.
Quick commands: Access open tabs, bookmarks, history, settings and more through a command interface.
Mouse gestures and keyboard shortcuts: Mouse gestures turn a flick of the wrist into almost any action in the browser. Keyboard shortcuts do the same with simple key combinations.
Speed Dial: Your favorite sites and bookmarks easily accessible from any blank tab. Include Groups and Folders for even more Speed Dials!
Better bookmarks: Access your bookmarks from the bookmarks panel, bookmarks manager, bookmark bar and of course Speed Dial.
Web Panels: View websites in your Vivaldi sidebar. The perfect way to browse tweets, Facebook posts, or chat alongside your primary browsing window. We like to say it's the next best thing to a "Boss button" for the web.
Vivaldi browser is available for Windows, Mac and Linux and can be downloaded from vivaldi.com