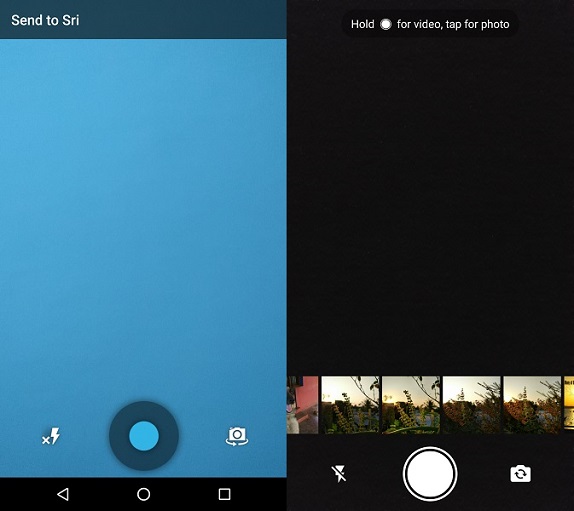 WhatsApp has rolled out another update for its Android app and this time it is related to the in-app camera UI. The built-in camera UI is getting a new look which is more sleek and clean.
As you can see in the above image, the blue camera shutter button (left image) has been replaced by a smaller white one (right image). The white buttons is now in line with the general theme of the app. In additions, the icons for flash and camera switch have also been overhauled. In the latest version, you will see your most recent images from the camera roll and it also removes the Send to contact box at the top which is now replaced by a small note that tells you to hold the shutter button to record and tap it to click photos.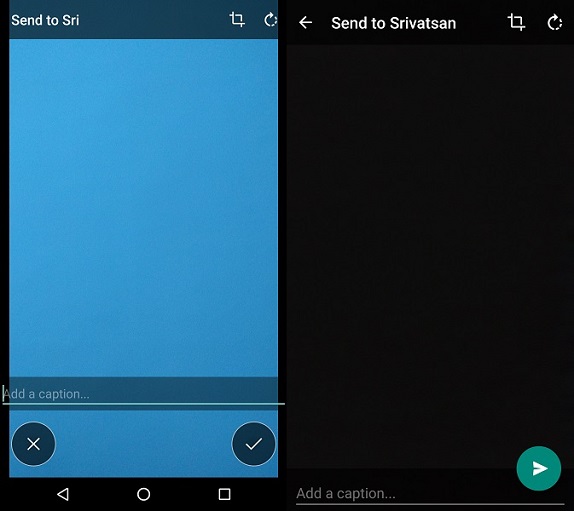 While sending an image from the built-in camera app, the older version had cancel and send icons below the add a caption option. The newer version chucks these options and simply features the add a caption option with the send button. The latest update bumps the app to version 2.16.5 and is now rolling out for some users.
WhatsApp recently added new updates to the app like adding quick replies for notifications, sharing PDFs and other documents and bold and italics formatting.
Play Link – WhatsApp