Paytm has signed a strategic partnership with PVR to sell latter's ticket on its mobile payment platform. In its first year, PVR targets to sell tickets worth Rs .2.5-3 billion in terms of revenue.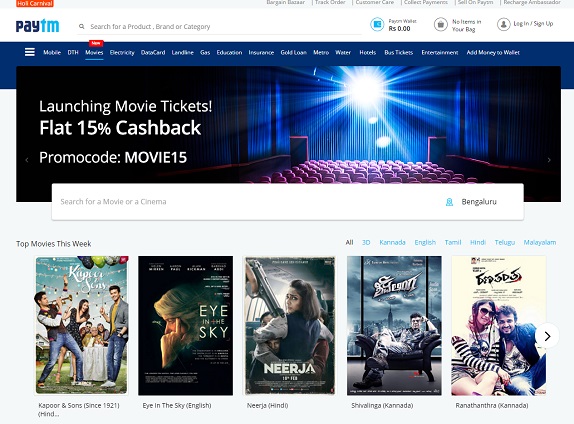 The latest deal is as part of Paytm's Rs. 120 cr investment in the online ticket market. Starting from this month, PVR tickets and food and beverage offerings will be sold and marketed on Paytm's web portal, mobile apps and other affiliate channels. The company is entering into the online ticketing space which is currently dominated by BookMyShow.
Vijay Shekhar Kumar, CEO of Paytm.
Today online platforms penalise customers for paying in advance digitally as they are asked to pay a fees and surcharge. We will eradicate this practice and also enable customers to purchase popcorn and other confectionaries online thereby reducing queues as well. We plan to launch movies with upto 100% and other weekday special promotions to encourage users to try booking movies on the Paytm app. We have a collaborative approach with cinemas and other brands and aim to offer consumers incentives to drive the currently low online penetration from less than 15% to more than 50% in the next 3 years. We have budgeted Rs. 120 crore this year alone for this.
Sanjeev Kumar Bijli, Joint MD of PVR.
With Paytm, we envision to touch millions of new movie goers who may now experience the joy of watching films at a PVR Cinema near them. This is another initiative to augment the box office revenues by reaching out to more consumers and achieving better penetration into micro markets