Twitter is helping you blend in with the ongoing fervor of the ICC T20 Worldcup. The micro blogging site has teamed up with ICC to offer its users an array on interactive features and emojis in order to make the WT20 experience more fun.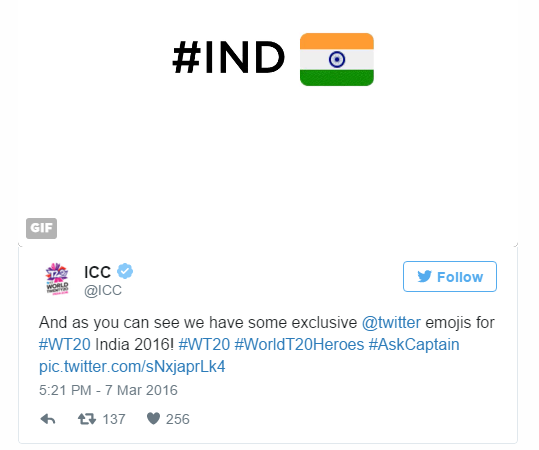 First up, Twitter is bringing emojis to the platform which will help users spice up their pool of tweets about the T20 World Cup. When fans Tweet with #WT20 or #AskCaptain or #WT20Heroes, they will see an emoji appear next to the hashtag. For example, the #WT20 wil have the world cup emoji after the hashtag or the #AskCaptian will have a mic emoji and so on. In addition to these three emojis, Twitter is bringing back the country flag emojis that were popular during the 2015 World cup. Fans can show support and cheer for their favourite team by Tweeting with any of the 16 hashflag codes and having the flag appear next to them. For example, #IND, #AUS, #SA and others.
Besides the emojis, Twitter is also bringing other features like Twitter Trump Cards which lets cricket fans get a digital Trump Card of their favourite player with his statistics. They can collect Trump Cards of all players from across the 16 teams playing in the ICC World T20 by simply tweeting to @ICCLive with #WorldT20Heroes. This interactive experience will be live for fans from the 13-19 of March and from 29 March-4 April. Next up, by tweeting to @ICC with #AskCaptain, Twitter users can participate in the live post-match interviews where one Tweet containing a question will be picked up by the commentators and asked to the winning captain live on global TV.
And as you can see we have some exclusive @twitter emojis for #WT20 India 2016! #WT20 #WorldT20Heroes #AskCaptain pic.twitter.com/sNxjaprLk4

— ICC (@ICC) March 7, 2016
Just yesterday, Reliance Jio announced that it will offer free unlimited WiFi service at 6 stadiums during the upcoming T20 WorldCup. Check out Twitter's latest blog post for further details about how to follow the T20 World Cup on its platform.