Qualcomm has announced a brand new Snapdragon X16 LTE modem, which is capable of supporting Cat.16 download speeds of up to 1 Gbps and upload speeds of up to 150 Mbps.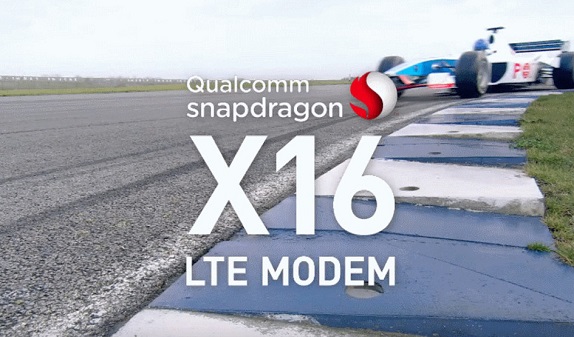 The X16 LTE modem is built on a 14nm FinFET processor and the Qualcomm RF Transceiver, WTR5975. Qualcomm says it is the first Gigabit Class LTE chipset designed to deliver fiber-like LTE Category 16 download speeds of up to 1 Gbps, supporting up to 4×20 MHz downlink Carrier Aggregation (CA) across FDD and TDD spectrum with 256-QAM, and 2×20 MHz uplink carrier aggregation plus 64-QAM for uplink speeds up to 150 Mbps. The Gigabit Class LTE speeds will allow users to take advantage of features such as live streaming 360-degree VR content and faster access to cloud-based apps and services.
The Snapdragon X16 LTE modem also supports Licensed Assisted Access (LAA), the global standard for LTE in unlicensed spectrum. According to Qualcomm, by using carrier aggregation and 4×4 MIMO, the Snapdragon X16 LTE modem can receive 10 unique streams of data using only three 20 MHz carriers. Its support for 256-QAM boosts the peak throughput of each stream from ~75 Mbps to ~100 Mbps, with additional gains possible with modem data compression. Along with the modem, the company has also announced the WTR5975 RF transceiver which is the first single-chip RF IC supporting Gigabit Class LTE as well as LTE-U and LAA (with 5 GHz unlicensed band support).
Cristiano Amon, executive vice president, Qualcomm Technologies, Inc., and president, QCT said in a statement
In addition to serving as a significant milestone for the mobile industry, the Snapdragon X16 LTE modem is a powerful testament to Qualcomm Technologies' continued technology leadership in all things wireless," "Not only does the Snapdragon X16 blur the lines between wired and wireless broadband, but marks an important step toward 5G as we enable deeper unlicensed spectrum integration with LTE and more advanced MIMO techniques to support growing data consumption and deliver an even faster and smoother user experience.
Snapdragon X16 LTE modem, WTR5975 and QET4100 samples are available now while the first commercial products expected in second half of 2016.