Lenovo has announced an array of new laptops in its ThinkPad T and L series. The company had unveiled T460s, T460, T560 and T460p in the T series while L460 and L560 in the L series ahead of CES 2016.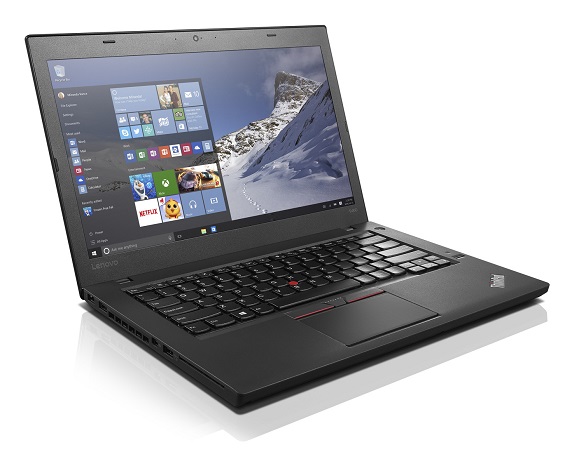 The ThinkPad T460 and T560 sport 14 inch and 15 inch display respectively. Both the laptops can be configured with upto an Intel 6th Gen Core U Processors, up to Core i7. They come with the new PCIe SSD storage and 2GB vRam graphics option. The laptops have Intel Integrated or NVIDIA GeForce 940MX and offer up to 32GB of memory, 1TB (5400rpm), 500GB (7200rpm), 512 SSD, PCIe SSD (265 GB). Battery life for the T460 is is upto 14 hours while that for the T560 is upto 16 hours. T460 measures 13.35″ x 9.15″ x 0.83" inches and weight starts at 3.8 lbs. It has 3 USB 3.0 ports, mini DisplayPort, HDMI and Ethernet connectors. Other specs include SD Card Slot and Bluetooth 4.1. The T560 measures 14.98″ x 10.16″ x 0.88" inches and weight starts at 5 lbs. It has ports like RJ45, Mini DisplayPort, HDMI, 4-in-1 Card Reader, Headphone / Microphone.
The ThinkPad 460s is slimmer version of the the ThinkPad 460. It sports a 14 inch display WQHD display with a resolution of 2560×1440 pixels and can be configured with up to an Intel Core i7 Skylake processor. It comes with 24GB memory, 512GB PCIe SSD and discrete Nvidia GeForce 930M graphics. It measures 13.0 x 8.9 x 0.74 inches and weighs 3 lbs (1.3kg) which is 0.8 pounds lighter than the T460. Battery life on the laptop is claimed to be 10.5 hours. It has 3 USBs, full size HDMI & LAN, mDP while optional features include Smart Card Reader, Touch Finger Print Reader, WWAN, WiGig and bottom mechanical docking. The ThinkPad 460p features a 14-inch display and is available in the option for WQHD IPS display with a resolution of 2560×1440 pixels. The ThinkPad T460p can be configured with Intel Skylake Core i 7 processor with up to 32GB of memory.
Finally, ThinkPad L460 and L560 laptops in the L series sports 14 inch and 15.6 inch IPS display respectively at 1920×1080. Both the laptops that fall in the entry level series can be configured upto Core i7 processors. The L460 supports 32GB memory while the L560 supports 16 GB. Lenovo has also announced the ThinkPad X260 business notebook that features a 12.5 inch Full HD display. It can be configured upto an Intel Core i7 processor with integrated graphics and comes with 16 GB of DDR4, and 512 GB of SATA or PCIe storage options. Lenovo claims that the battery on the X260 lasts up to 21 hours on a charge with the PowerBridge swappable battery. There are 3 USB 3.0 ports, mDP, HDMI, SD card reader, a full sized RJ-45 port.
Pricing and availability 
ThinkPad T460 starts from $909 (Rs. 60,557 approx.) and ThinkPad T560 from $969 (Rs. 64,523 approx.), available starting February.
ThinkPad T460s starts $1,059 (Rs. 70,527 approx.) and ThinkPad T460p from $1,249 (Rs. 83,208 approx.) available starting February.
ThinkPad L460 starts at $749 (Rs.49, 874 approx) and ThinkPad L560 starts at $779 (Rs. 51,880 approx), available starting February.
ThinkPad X260 starts at $929 (Rs. 61, 870 approx.), available starting February.