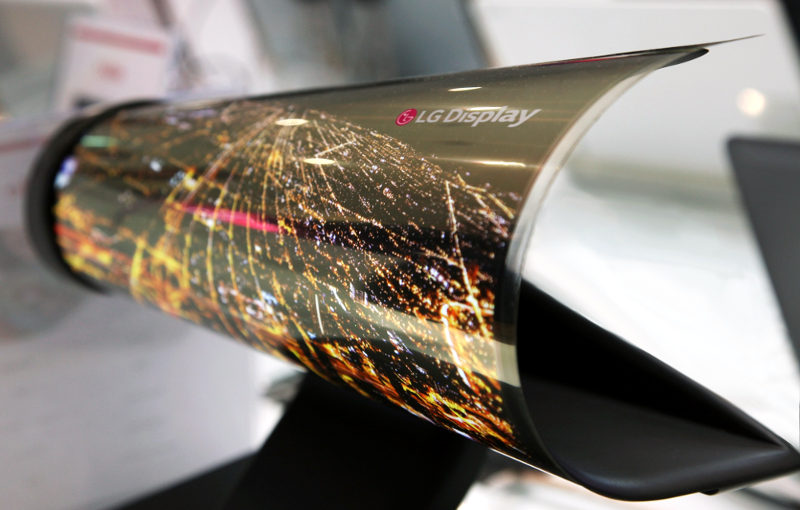 LG Display introduced its 18-inch flexible OLED panel that is rollable, along with 18-inch transparent OLED panel back in 2014. At that time it said that it will develop an Ultra HD flexible and transparent OLED panels of more than 60 inches by 2017. Today the company has announced that it will showcase the world's first 18-inch rollable display along with other latest OLED and LCD products at the CES later this week.
As we already know, the flexible 18-inch OLED panel has a 1200 x 810 pixel resolution and the curvature radius of it is 30R. It can be rolled up to a radius of 3cm without affecting the function of the display.
LG also said that it will show off a paper-thin 55-inch design concept OLED TV display since the electric circuits are installed separately, 65-inch extreme-curve concave/convex OLED displays, 55-inch double-sided display, which shows different video images on each side for signage and a 139-inch Vertical Tiling OLED (VTO) display that is made of eight double-sided 65-inch OLED panels that are connected together to form a S-shape pattern. This VTO display also shows different video images on each side.
There is also a 25-inch "waterfall" curved LCD that fits into car interiors, and a 10.3-inch "Advanced In-Cell Touch" LCD that can respond to the touch of drivers wearing gloves. All the new display technologies from LG Display will be showcased at CES 2016 in Las Vegas from January 6th to January 9th.