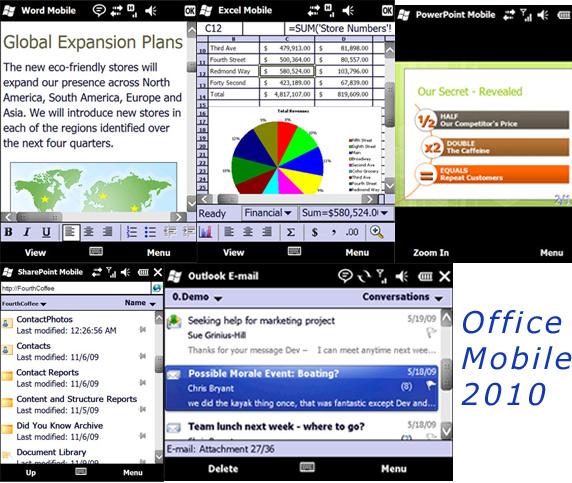 If you are using a Windows Mobile phone running on WinMo 6.5 and have a version of Office Mobile installed you  can get a free upgrade to Office Mobile 2010 which is now available as a part of the Office 2010 roll-out.
You can download the new software from Windows Phone Marketplace and work with your Office documents such as Word , Excel and Powerpoint on the go. Sharepoint is supported and Outlook Email too.
Effective today, Office Mobile 2010 will be available for free via Windows® Phone Marketplace for all Windows Mobile 6.5 phones with a previous version of Office Mobile. People using Office Mobile 2010 can perform lightweight editing of Office documents and take notes on the go. With Office Mobile, people can work with Office documents stored on their phone, attached to an e-mail, and can browse, edit, and update documents stored on a Microsoft SharePoint 2010 site. SharePoint intranet sites and communities also help people collaborate, regardless of location.
via Microsoft