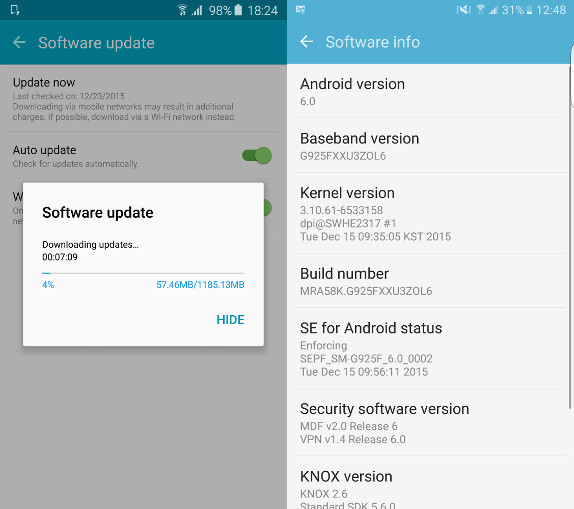 Samsung has rolled out Android 6.0 (Marshmallow) beta update for the Galaxy S6 and Galaxy S6 edge users in the UK. This update is available only for those who have joined the beta testing. In addition to Android 6.0 changes, this update also brings some changes to Samsung's own UI.
[HTML1]
The Android 6.0 update concentrates on App Permissions, Web Experience, App Links, Mobile Payments, Fingerprint Support and Power & Charging. It also brings new Doze battery saving feature that uses motion detection to cut off background activity when the phone is in standby, but it will still wake up for important events like alarms.
The Android 6.0 (Marshmallow) beta update for the Galaxy S6 edge is 1.18GB in size, as you can see in the screenshot and the build is dated December 15th. Samsung UK asks owners of the S6 and S6 edge smartphones to sign up for Samsung account here, download 'Galaxy Care' app from the Galaxy Apps store and register for 'Galaxy Beta Program' if they wish to beta test Android Marshmallow on their smartphone. No details when the final version of the Marshmallow update would roll out for all the users.