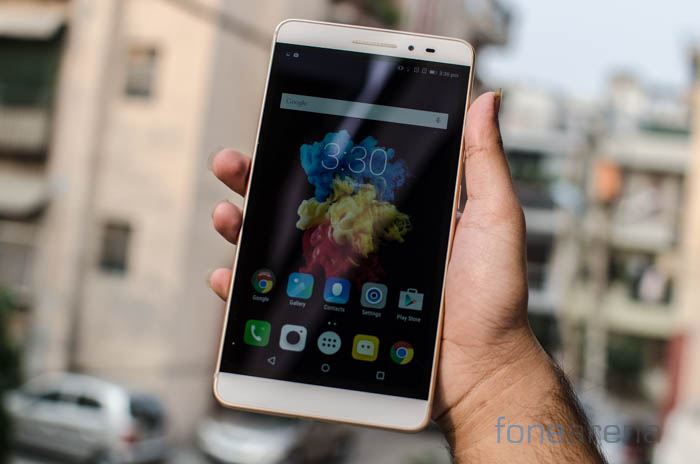 With the launch of the Lenovo Phab Plus, we've clearly reached peak phablet. A phablet too has a reasonable limit to the size and the Phab Plus clearly surpasses that. Lenovo launched its bizarre smartphone – tablet hybrid a while back and here's our review.
Lenovo Phab Plus specifications
6.8-inch (1080 x 1920 pixels) Full HD display
1.5 GHz Octa-core Qualcomm Snapdragon 615 (MSM8939) processor with Adreno 405 GPU
2GB LPDDR3 RAM, 32GB internal memory, expandable memory up to 64GB with microSD
Android 5.0 (Lollipop) OS with Vibe UI
Hybrid Dual SIM (second nano SIM slot can also be used as microSD slot)
13MP rear camera with dual-tone LED Flash, f/2.2 aperture, 5P lenses
5MP front-facing camera
Dolby Atmos
Dimensions: 186.6 x 96.6 x 7.6mm; Weight: 220g
4G LTE / 3G, WiFi 802.11 a/b/g/n/ac (dual band), Bluetooth 4.0, GPS
3500mAh battery
Design
We can't really mince words here. The Lenovo Phab Plus is a gigantic device that is entirely too big to fit into any reasonably sized pocket. The screen alone measures 6.8 inches and add to that the not so subtle bezels and you end up with a phone that measures 186.6 x 96.6 x 7.6mm.
Beyond the display, the front packs just the essentials in the form of the earpiece, front facing camera up top. Over on the right side is the volume rocker and the power button below it. Owing to the size of the device, it is quite impossible to have a very ergonomically sound solution for this. That said, the tactile feedback is quite good. The left side of the phone is where you'll spot the microSD and SIM card slots.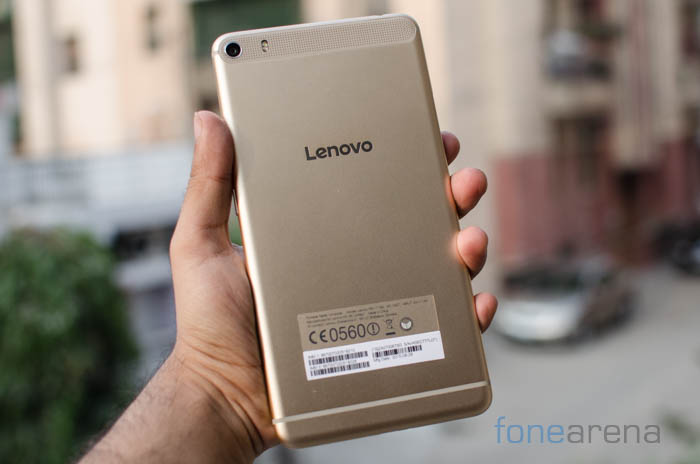 Flip the phone over and we wouldn't be surprised if you spotted something very familiar here. The back is very reminiscent of the iPhone 6 Plus. Similar antenna lines, similar flat back and very similar colors too make this a pretty solid doppelgänger of Cupertino's finest. Up top is where you'll find both the camera module with its dual LED flash as well as the speaker grille. Stickering at the bottom reveals the IMEI information and more while a Lenovo logo sits loud and proud in the center.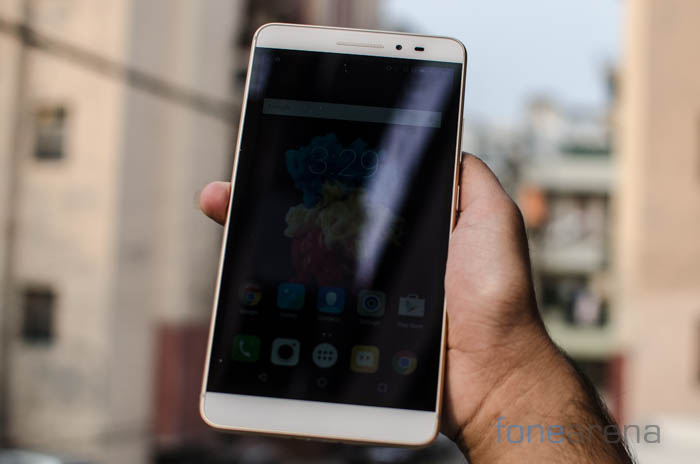 It's quite interesting to see how the Lenovo Phab Plus manages to fit an entry-level tablet sized display into a phone like form factor. Certainly not petite, the device isn't quite as big as a tablet either. We're not fond of the blatant copying when it comes to design sensibilities so would certainly have to dock points for that but Lenovo has done some decent work on the ergonomics. All in all, it's a decent effort from Lenovo but there's no design element that stands out. The size too is such that most users just won't be able to get accustomed to it.
Software
The Lenovo Phab Plus runs Android 5.0.2 with a custom Vibe UI on top which brings along custom icons and a tabbed panel in the settings menu. For all it's versatility, Android isn't a very good tablet OS and that is visible here too. Apps are just blown up to fill the large screen size and unfortunately few if any take any tangible advantage to display additional information.
The homescreen and the launcher are as generic as they come. While the former will display notifications, the latter is an iOS like grid of applications. The bigger issue however is with the apps themselves. For lack of better large screen support, the applications are pretty much stretched out over the display which leads to shoddy UI and less than optimal experience.
The Phab Plus is equipped with software additions like a single hand micro screen mode and a single hand keyboard which are meant to enhance single hand usability. This unfortunately doesn't work all that well in practice. There's also a significant amount of bloatware on the device. While the Dolby Atmos app is useful for testing sound profiles, McAfee Mobile Security and Lenovo's SHAREit and SYNCit apps are certainly not and they add to the bloat.
Performance
Powered by a 1.5Ghz Snapdragon 615 processor, we had a fair idea of the performance to expect. This is paired with 2GB of RAM which might feel a bit constrained given the competition but is quite sufficient in practice. We did face a few issues with day-to-day performance with a hint of lag with high graphic elements and occasional interface lags too which we can owe to the somewhat anemic GPU. The hardware is strictly middle of the line but it appears that Lenovo could do a lot more with the software optimization. We've included some synthetic benchmarks below to give you a comparative idea of where the handset stands against the competition.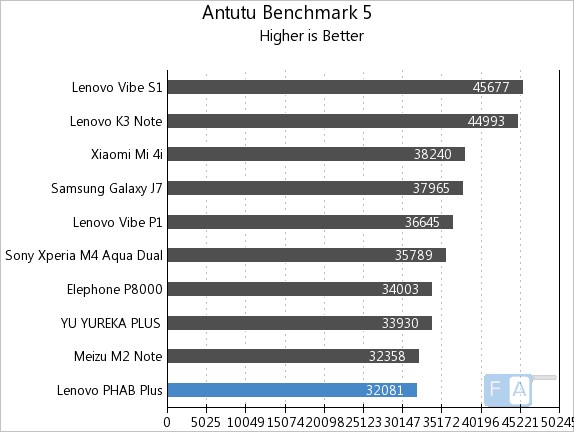 In the all encompassing AnTuTu benchmark, the phone ranks right at the bottom with a score of just 32081 points.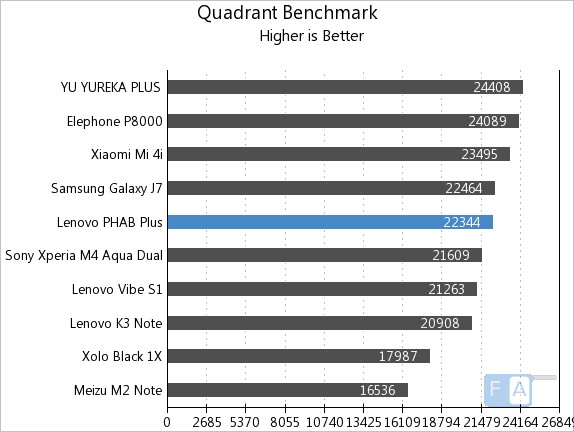 Quadrant benchmarks too place the handset right in the middle of our rankings.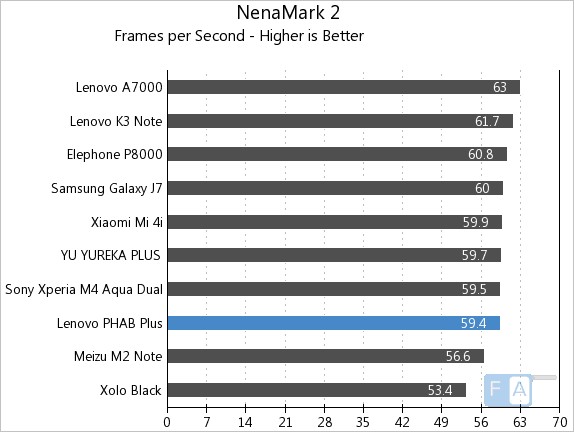 The less than optimal Adreno 405 GPU also shows up in the Nenamark results where the phone ranks low in our comparative testing.
Display
If we had one word to describe the display on the Lenovo Phab Plus, it would probably be huge. But you already know that. Quality wise, it's just about middle of the range again and isn't the best on offer by far.
While contrast levels and viewing angles are great for indoor use, its the outdoor visibility that proved to be disappointing. In bright sunlight it was nigh impossible to view the screen even with the brightness cranked up to full.The screen is quite reflective as well which makes it harder still to view. For a multimedia centric device, this is disappointing to say the least.
Camera
The Lenovo Phab Plus has fairly solid camera credentials to boast of. There's a 13MP shooter at the back with an f/2.2 lens and dual LED flash alongside. The camera takes very good if not fantastic photographs in outdoor conditions. Colors were well-balanced and the dynamic range too is solid wherein it doesn't really over blow the highlights.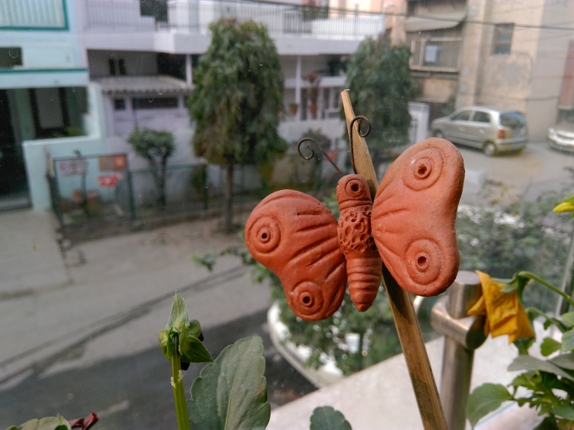 As you'll notice in the image above, the central object is nicely in focus in fading sunlight. The colors are on the cooler side but retain a natural tone to them.
As we've mentioned earlier as well, things seem to break down a bit on the software front on the Lenovo Phab Plus and as you'll see on the left image, getting a stable shot in low light conditions is very hard on this handset. Now this isn't because of some limitation in the hardware. Quite the opposite, the lack of software optimization means that the Lenovo Phab Plus has a very visible lag between pressing the shutter and taking the shot. This means that you'll need to have an incredibly stable hand if you want to take a sharp image.
Connectivity & Battery Life
Connectivity features on the handset include the regular 4G LTE / 3G, WiFi 802.11 a/b/g/n/ac (dual band), Bluetooth 4.0, GPS. While there are no surprises on the connectivity front, the Phab Plus has something that is a pet peeve of ours. Yes, the phone has dual SIM card slots and a microSD card slot, No you can't use all three simultaneously. The use of a Hybrid SIM slots is something we really dislike as you can't really get full functionality out of your hardware. In terms of internal storage, our unit had an issue where the system consumed a massive amount of the onboard storage so we can't really be sure if retail units will have this issue. Repeated resets did not fix this. For what its worth, the phone comes with 32GB of storage and we've reached out to Lenovo to figure out what's wrong here. The handset has a 3500 mAh battery onboard that delivers the goods. Battery life was never really a problem despite the large display. We could get a full day of use out of the phone and then some. With a constant video loop, we got a little over 9 hours which isn't bad in our view.
Conclusion
The Lenovo Phab Plus is a strange amalgam of a tablet and a smartphone. A device that straddles two worlds but doesn't quite fit in either, ending up in an existential crisis about its identity and purpose. Indeed, the device isn't a very good tablet nor does it serve well as a smartphone.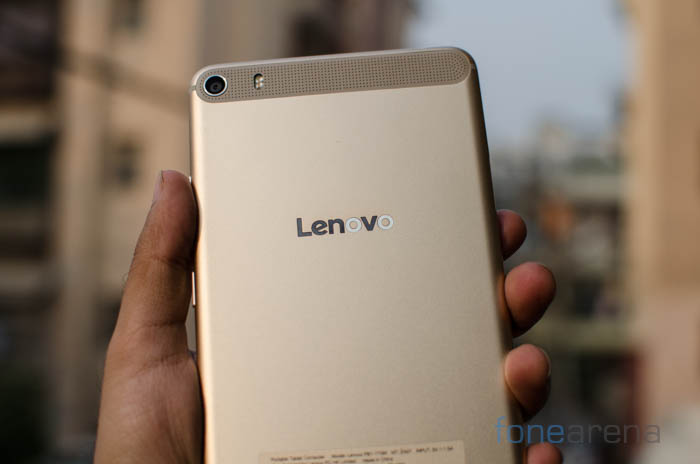 The Phab Plus has a good build, a pretty good camera and decent battery life to boot. All of these are in vain as the maligned Snapdragon 615 processor, poor software optimization let the device down. Priced at Rs. 18,490, it is hard to recommend the Lenovo Phab Plus given the standard of the competition. Still, if you really do want a giant-sized phablet, the Lenovo Phab Plus is one of the few options that you can take a look at.
Pros
Build
Battery Life
Camera
Cons
Hardware
Software Optimization
Price