Microsoft has updated Office Lens app with support for Office 365 for work and school. The latest update also improves business card scanning and storage.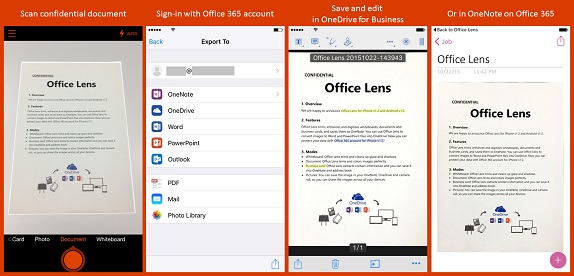 The update that bumps the app to version 1.2 will allow all Office Lens users on Android, iPhone and Windows Phone to use Business Card mode to quickly convert business card information into digital contacts in mobile address books. Office Lens for iPhone users can now share enhanced documents more securely using Office 365 work and school accounts. In addition to saving Office Lens-enhanced scans to your personal OneNote or OneDrive account, you can now sign in with your Office 365 work or school account and save documents to OneNote, Word and PowerPoint or as an image or PDF file on OneDrive for Business.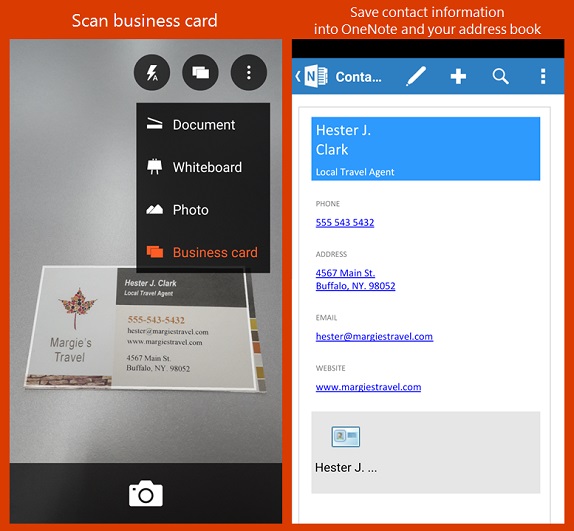 Business Card mode in Office Lens lets you save a scanned business card as a virtual contact file (VCF) directly to your tablet or phone contacts. You can also extract business card content into the "Contacts" section of OneNote for easy storage and sharing. Currently, Business Card mode works best with English, German and Spanish business cards, with more languages coming soon.
Finally, the update also allows you to use the OneNote Clipper with school or work Office 365 accounts. The OneNote Clipper lets you quickly capture any webpage to OneNote, where you can easily edit, annotate or share it. You can save the full page or a selection of the webpage to OneNote as an image, or you can clean up the webpage and send only the relevant text and images to your notebook.