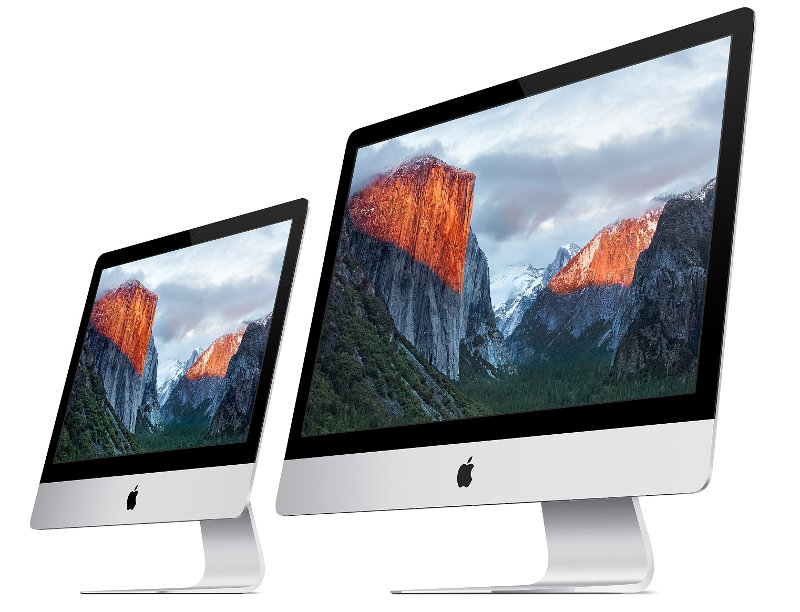 Apple has launched a new 21.5-inch iMac with Retina 4K Display with 9.4 million pixels, 4.5 times more than the standard 21.5-inch iMac display in India. It has a 3.1GHz quad-core Intel Core i5  (Turbo Boost up to 3.6GHz) with Iris Pro Graphics 6200 and 1TB hard drive, compared to the 1.6GHz dual-core Intel Core i5 processor (Turbo Boost up to 2.7GHz) with Intel HD Graphics 6000 and 1TB of hard drive on the standard 21.5-inch iMac model.
It has 21.5-inch (4096×2304 pixels) LED-backlit IPS display and also has faster 8GB 1867MHz LPDDR3 RAM. Other features are similar, including Wi-Fi802.11ac, FaceTime HD camera, Stereo speakers, two Thunderbolt ports and four USB 3.0 ports. You can upgrade to 2TB and 3TB configurations with 128GB of fast flash and up to 16GB of RAM. These run on new OS X El Capitan that was released recently.
Apple has also dropped the non-Retina 27 inch iMacs, so they feature 5K displays across the board. These also have latest AMD Radeon R9 graphics cards and fifth-generation Intel Core processor. The 27-inch iMac with 5K display comes in three models priced at Rs. 148,900, Rs. 164,900, Rs. 188,900, respectively.
The 21.5-inch iMac is available in two models starting at Rs. 91,900 and Rs. 107,900, respectively. The 21.5-inch iMac with a Retina 4K display starts at Rs. 1,23,900. These new iMacs will be available through select Apple Authorized Resellers in India. These also come with new Magic Keyboard and Magic Mouse 2 that are also available separately for Rs. 8,300 and Rs. 6,600, respectively. There is also separate Magic Trackpad 2 that is priced at Rs. 11,200.