There has been a lot of to and fro rumors about the LG G4 Pro since past few months. Now, the device has been spotted on GFXBench revealing specifications of the phone.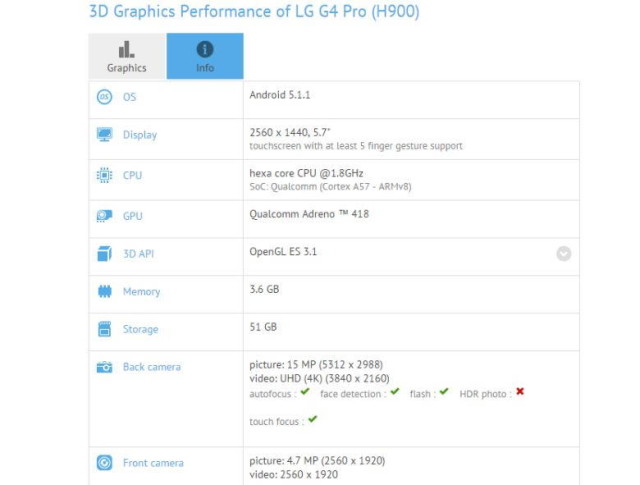 According to the results from GFXBench, the rumored LG G4 Pro appears to sport a 5.7-inch QHD display and is powered by Qualcomm Snapdragon 808 clocked at 1.8GHz. It shows 4GB RAM and 64 GB of internal storage but there is no mention of an external SD card. Other specs include a 15MP rear-facing camera that can record 4K video, a 4.7MP front-facing camera. A phablet from LG was tipped to have a dual camera setup with an always on focusing feature. We aren't sure if it the same model but odds are that it is.
The phone is listed by both its official name and model number (H900) and is running Android 5.1.1. A report earlier in June stated that the G4 Pro might sport a metal body. It is being stated that the G4 Pro is the V 10 that comes with a secondary ticker display and is scheduled for October 10th launch. But nothing is confirmed yet.