A latest report from IDC has revealed that the total India PC shipments for the second quarter of 2015 stood at 2.19 million units with quarter-on-quarter growth of 1.4% and a year-on-year decline of -14.1%.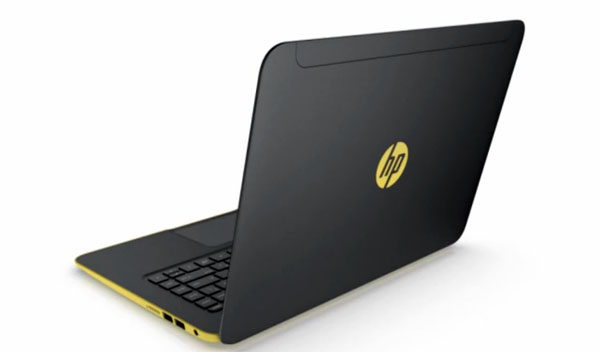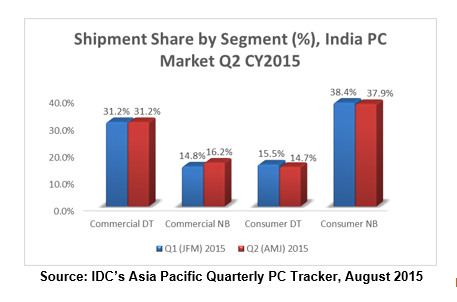 The overall consumer PC market recorded 1.15 million units, a drop of -1.3% compared to Q1 2015. The commercial PC segment recorded 1.04 million unit shipments in 2Q15, which represents 4.5% growth over the previous quarter.
"Various announcements and initiatives made by the government on boosting economic growth had positive impact on the sentiments of the business community. However, in order to sustain this buoyancy, it is vital that implementation of reforms continues at a steady pace,"

stated Kiran Kumar, Research Manager, Client Devices, IDC India.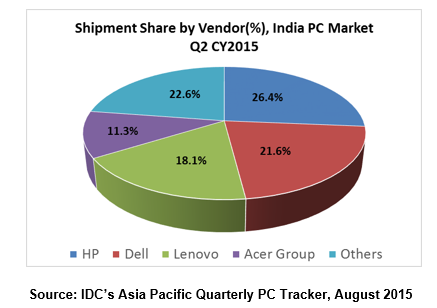 Giving insights about the PC vendors, IDC stated that HP retained its top spot with market share of 26.4% and grew by 2.6% compared to Q1 2015. The company had the highest growth rate of 17.7% quarter on quarter owing to strong enterprise engagements and spending from SMBs, which fueled their growth in Q2 2015.
"Increased access to technology for millennials, SMBs and enterprises, especially in rural cities, is helping to drive a digital and economic transformation across the country. As market leader, HP has been dedicated to supporting this transformation in 2015 by relentlessly focusing on providing differentiated experiences for our customers and introducing a range of stylish, innovative products in new form factor."

said Ketan Patel, Director, Personal Systems, PPS, HP India.
Dell came in second with a 21.6% of market share and has now recorded negative growth for two quarters in a row. IDC said that Dell is expected to bounce back by virtue of its strong channel presence and improved partner engagements in the SMB and enterprise business. Finally Lenovo took third spot with 18.1% market share in the quarter.Improved focus on mid-market accounts, maintaining a balanced inventory, and expanding coverage will help the company boost their overall growth in the coming quarters, added the research firm.