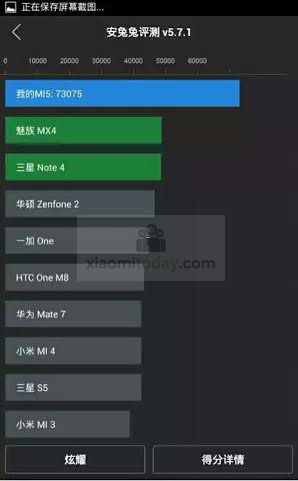 The Xiaomi Mi 5 which is the upcoming flagship product from Xiaomi is expected to pack some seriously powerful hardware and the recent benchmark score that the device posted on AnTuTu with a score over 73,000 confirms just that.
The current leaders are the Samsung Galaxy S6 and S6 Edge which score around 70k and the Mi 5 manages to outdo them with a score of 73,075. The Mi 5 is rumoured to come with a Snapdragon 820 processor on board and although the score is better than the S6 and S6 Edge, the improvement isn't as big as one would expect with a next generation processor such as the Snapdragon 820.
Perhaps it is too early for the Mi 5 to pack a Snapdragon 820 processor and Xiaomi might have very well switched to alternatives like the MediaTek Helio X20 especially considering the heating issues on the Snapdragon 810. Then again, the Mi Note Pro did a fairly good job at minimising the heat as it used a newer version of the processor that was developed to fix most of the issues.
If the smartphone will be released sometime in the beginning of 2016, there is a chance that it could come with a Snapdragon 820 processor but if it is expected to come out in the coming few months then it might not do so. Regardless of what processor it packs, it definitely is a very powerful phone and we can't wait to see what Xiaomi has planned for the smartphone. We hope to get more information soon and we will surely let you know as soon as we get it.