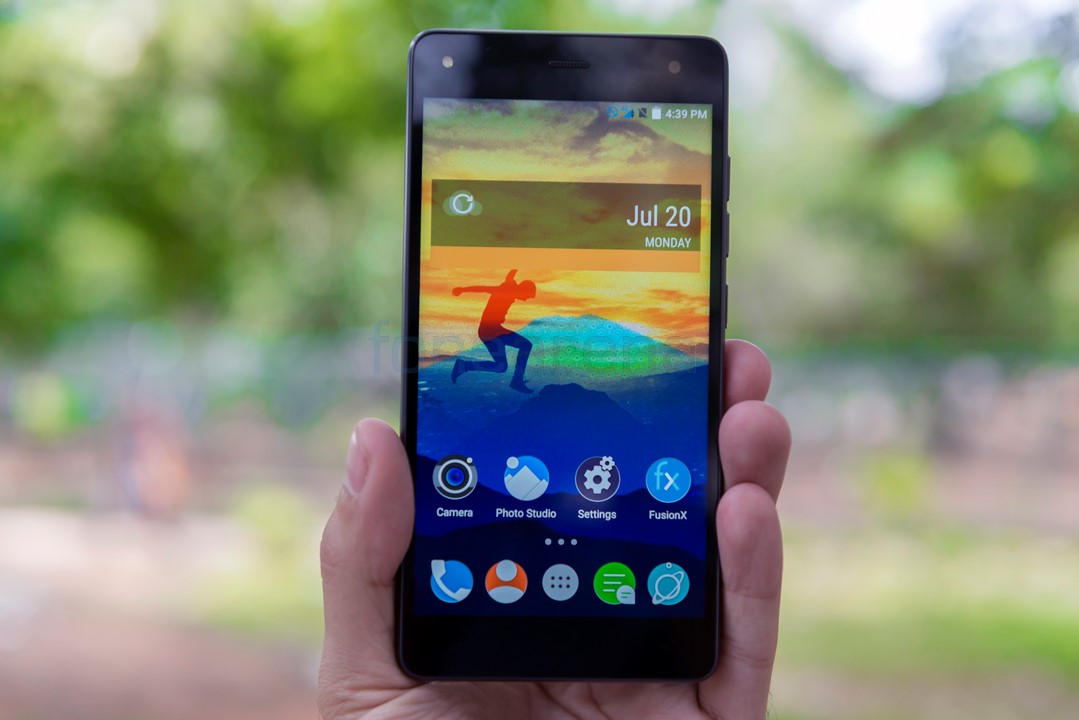 XOLO Black is the first smartphone from XOLO that is part of the Black series of smartphones that are aimed at online retail markets. Calling the series Black and the smartphone Black as well makes it quite confusing for the customer and it will become more so when it is time to launch the next phone in the Black series. That is expected to be sometime soon as the company did state that it has plans to launch around 4 devices per year. We aren't sure what naming scheme the company plans for the upcoming devices but what we do know is what the XOLO Black offers and it seems to offer plenty judging by its specifications sheet. Let's dive into the review and see if it actually does live upto expectations in real life.
Unboxing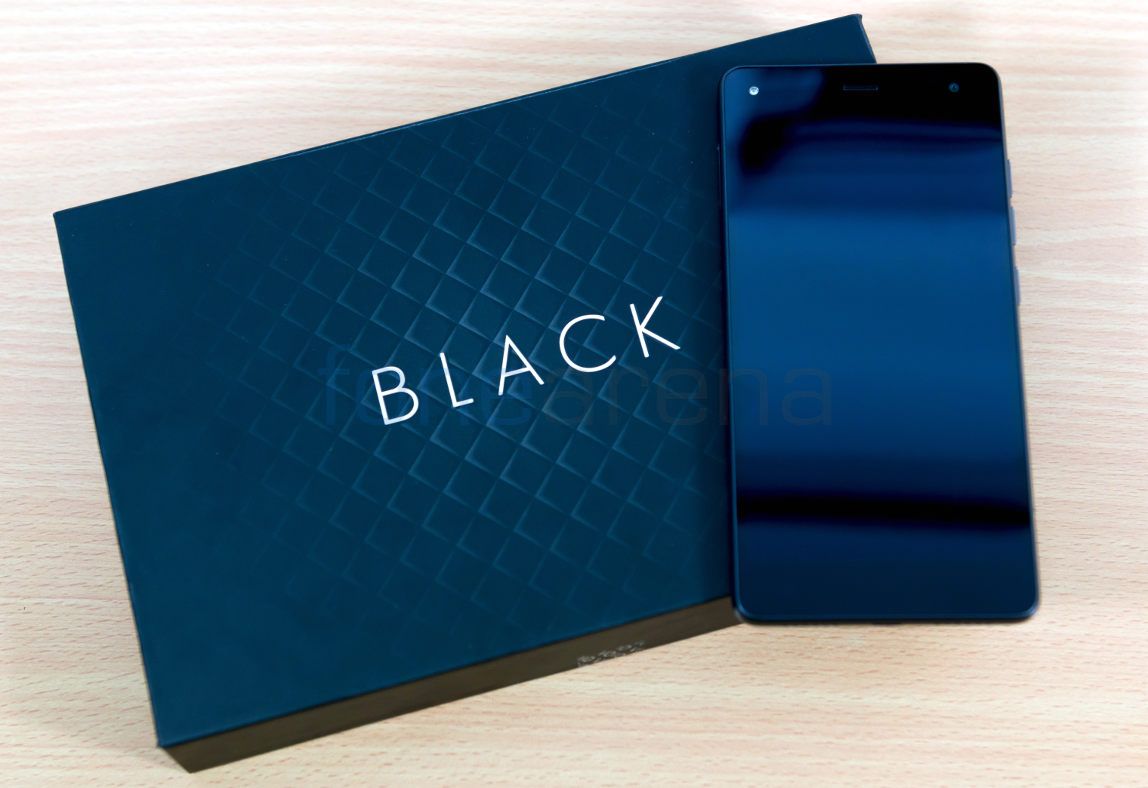 We have already done the unboxing of the XOLO Black smartphone. If you haven't seen the video yet then please check it out below.
The contents of the box are: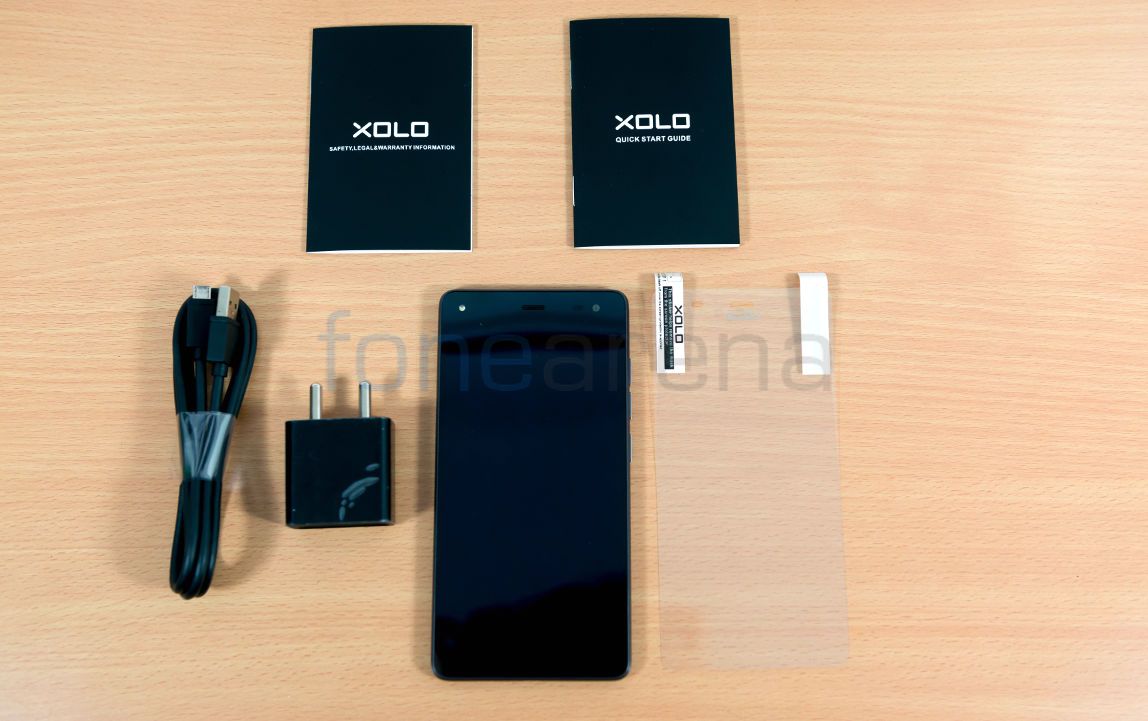 Xolo Black smartphone in Black color
2-pin AC charger
Micro USB cable
Scratch guard
Safety, legal and warranty information and quick start guide
Video Review
Design, Build Quality and Materials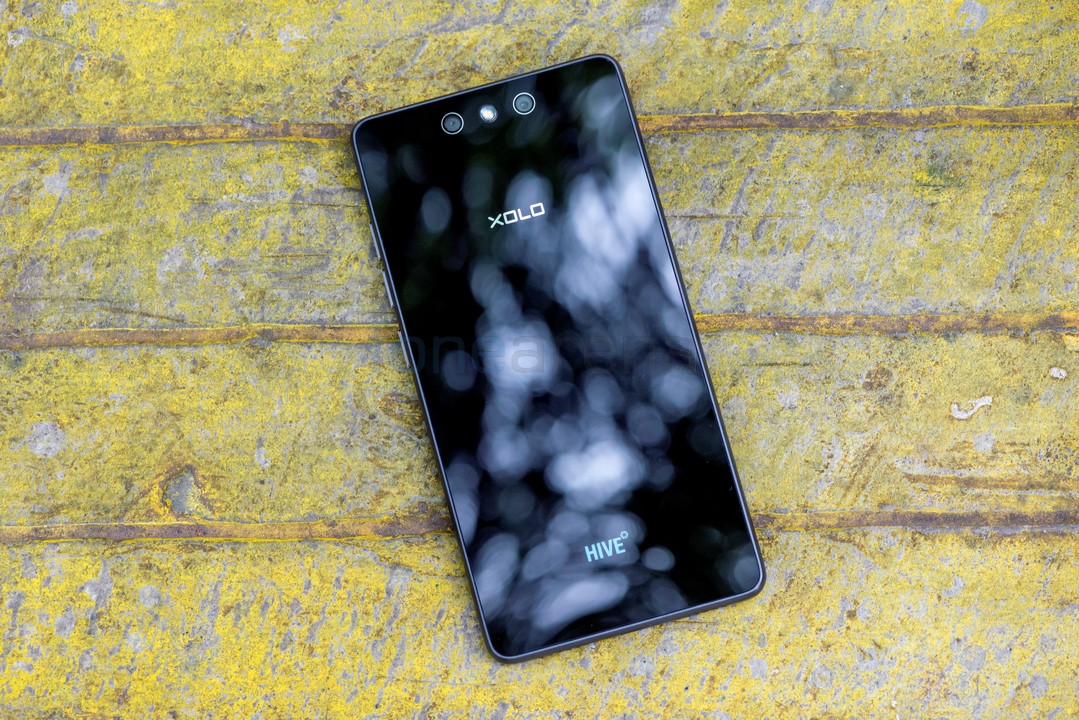 XOLO seems to have taken Batman's question "Does it come in Black" too literally as the phone comes exclusively in Black. That isn't a bad thing and we aren't complaining. It makes perfect sense to release the phone in just Black as the brand itself is known by the same name. XOLO state the main reason for choosing Black as a label and colour was because it is associated with a premium feel as compared to other colours. The smartphone has a design that is quite reminiscent of the Sony XPERIA range of devices largely because it uses glass on both the front and the back. However, you don't have to worry much about scratches, as both the front as well as rear glass is Corning Gorilla Glass 3.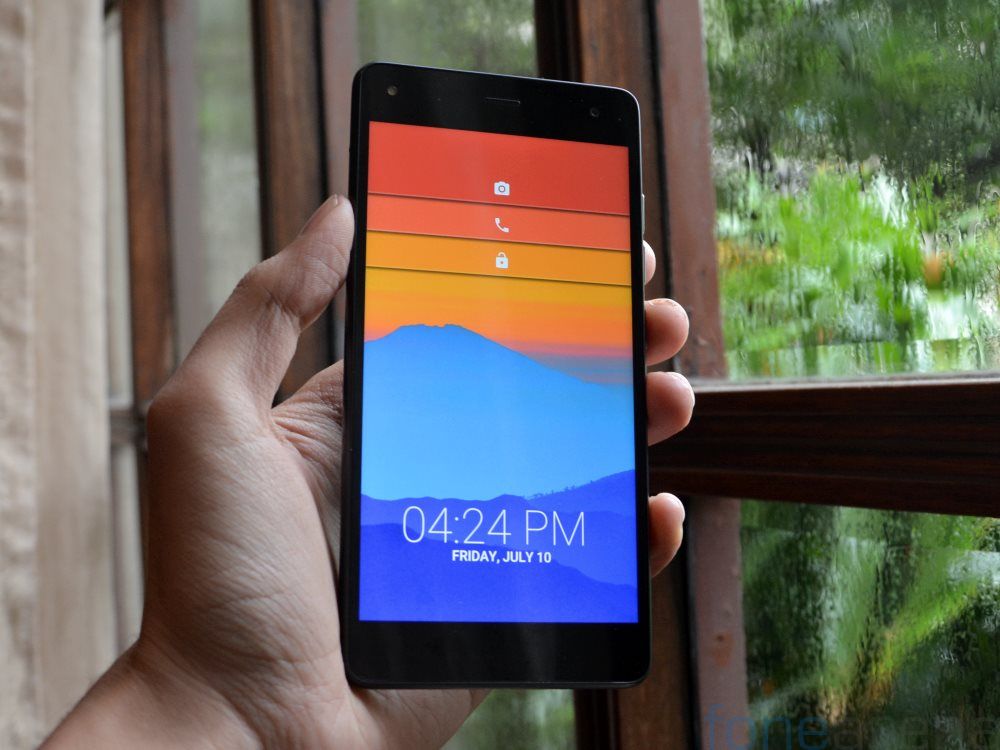 Being a 5.5" device, it is larger than most smartphones out there and while it technically is a phablet, it doesn't feel too big to handle. The smartphone measures 155.5 x 76.6 x 7.3 mm which isn't too small with 69.3% screen to body ratio and is way behind leaders such as LG G3 and G4 which have a much higher screen to body ratio. However, the handset doesn't feel that big and thanks to the curved sides, it actually feels quite easy to handle and rests well in the hand. The edges are a bit sharper than we would like however, it is something that you get used to pretty fast.
The build quality feels solid and there are no creaks or loose parts anywhere. Thanks to the metal design, the phone does have a premium feel that XOLO is aiming for. The rear panel isn't removable and neither is the battery. The sides have a matte finish that does help improve the grip and the phone never really slid out of our hands despite being made of glass on the front and back.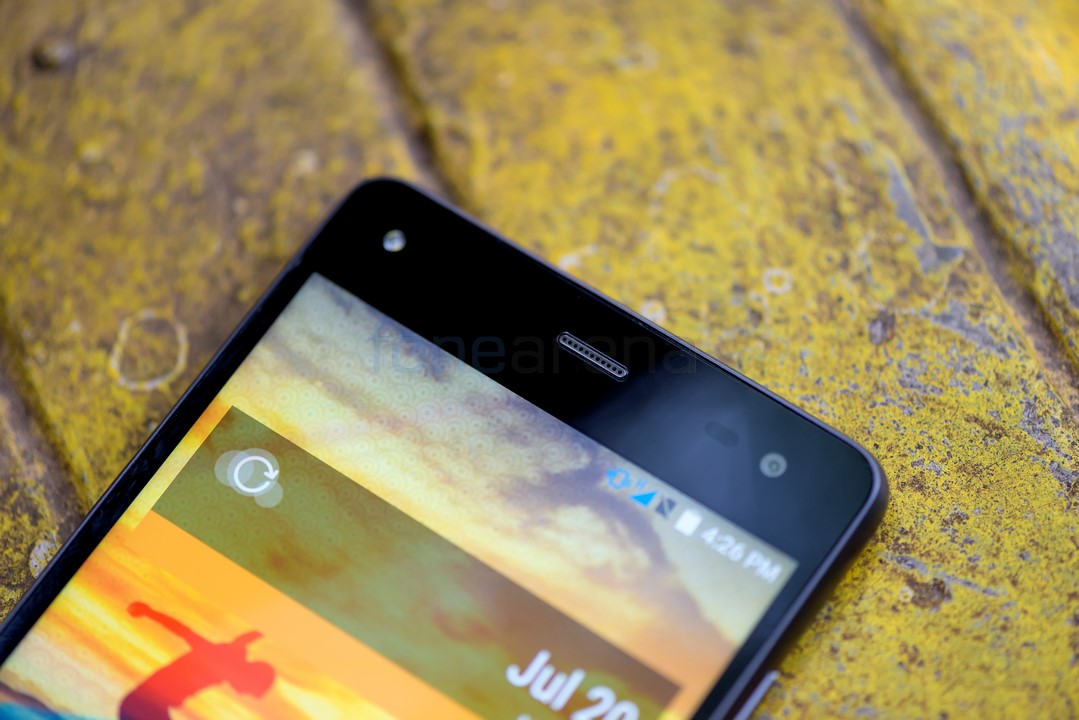 Above the display, you have the earpiece, proximity and ambient light sensors. The front facing 5 Megapixel camera is also here and it also has an LED flash to accompany it and that is another reason that justifies the larger footprint of the device.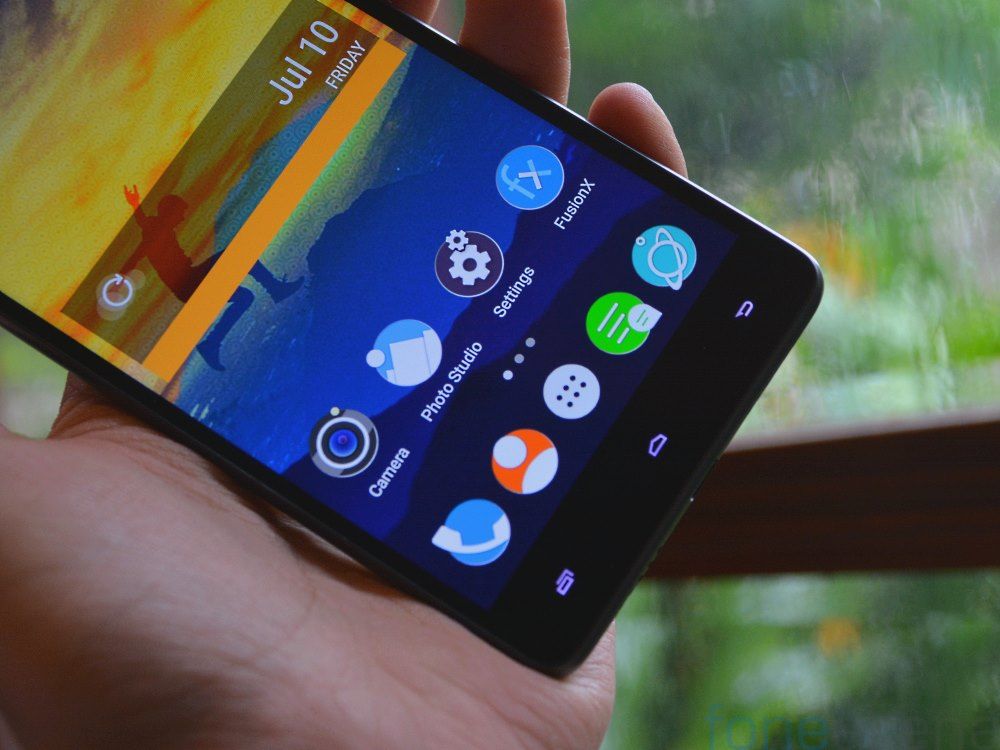 Below the display, you have three capacitive buttons that function as the multi-tasking key, home key and return key. All three buttons are backlit in white and have good haptic feedback when pressed. Unfortunately there isn't an option to adjust the timing of the backlighting for the keys and they time out after a few seconds and come back on only when you touch them or the display. However XOLO has promised the ability to customize the timing in a future firmware update as it is quite easy to implement.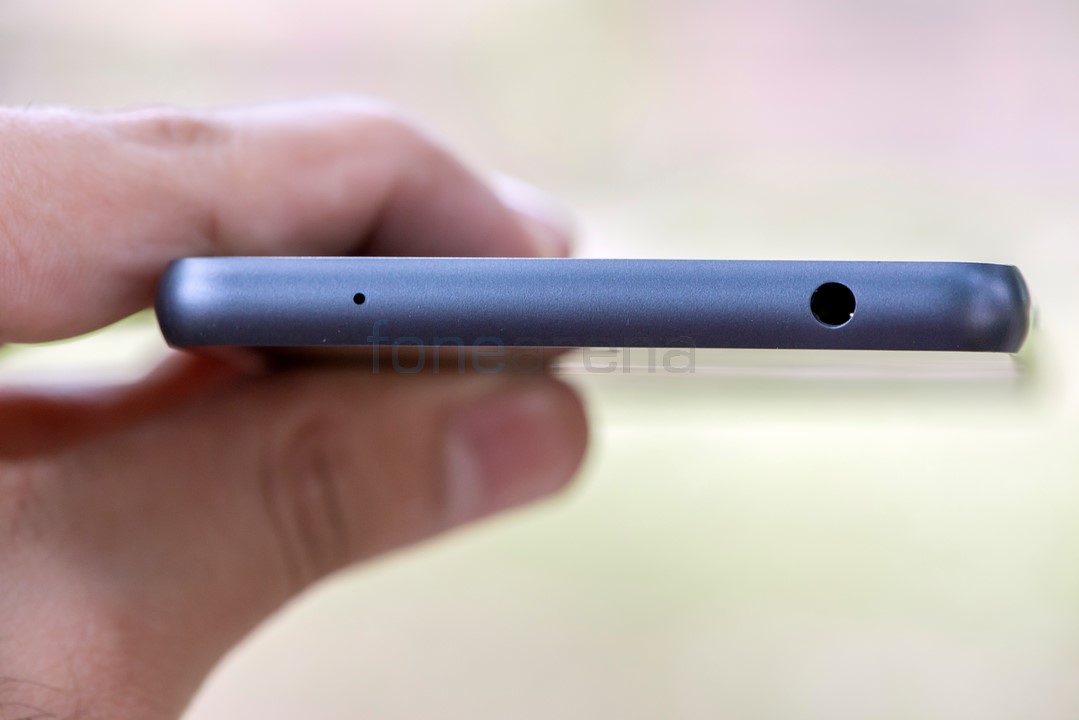 At the top, you have the 3.5mm audio jack as well as the secondary microphone.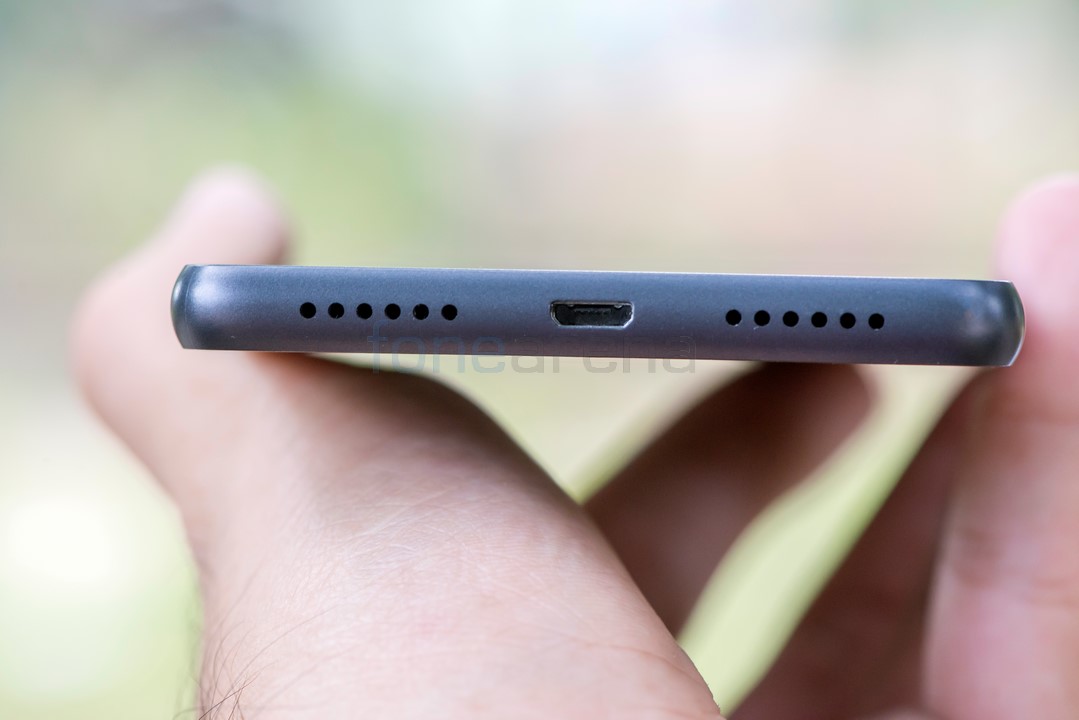 At the bottom, you have the microUSB port, speaker grill and the primary microphone which is hidden neatly in between the grills.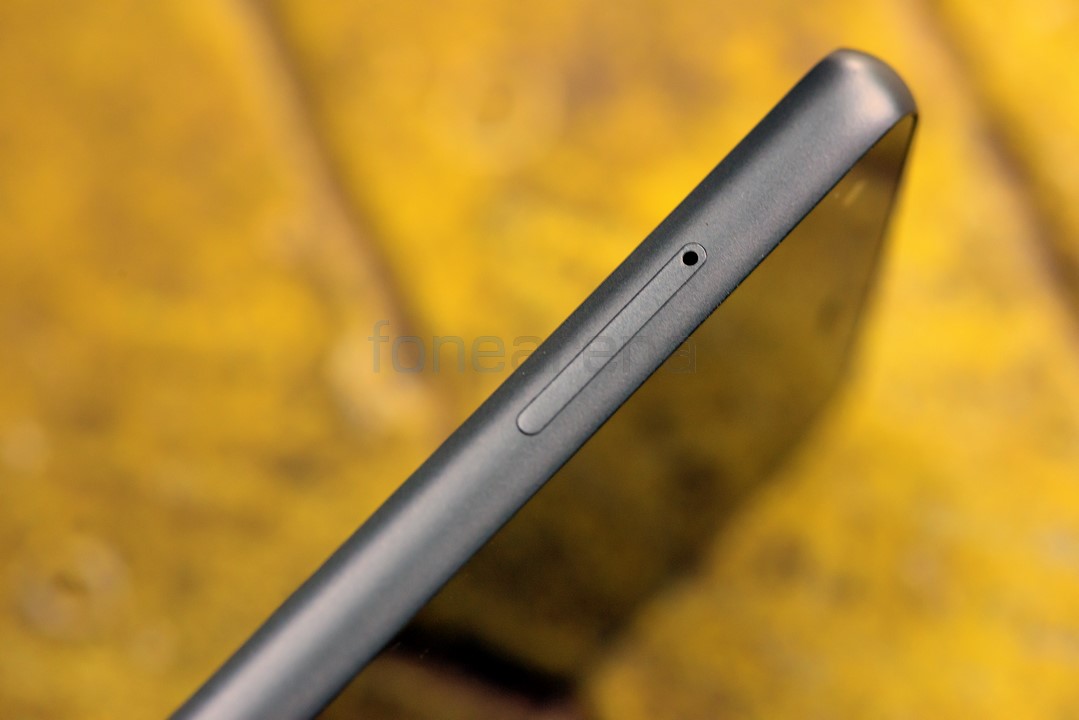 The left side houses the DualSIM slot that has a nanoSIM slot and a microSIM slot. It is a hybrid slot in which the nanoSIM slot can be used as a microSD card slot. You will need a SIM ejector pin in order to take the tray out.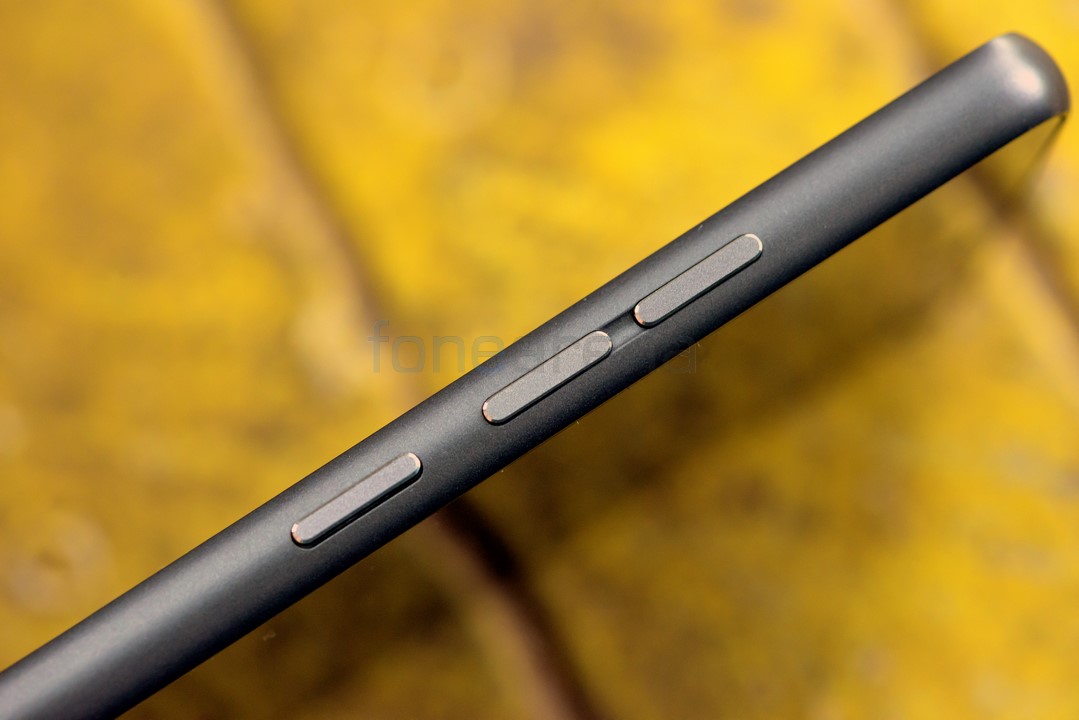 The right side of the device has the split volume up and down buttons as well as the power/lock keys. These keys are made of metal too and have good feel and feedback when pressed.  The power/lock key also features an integrated notification light.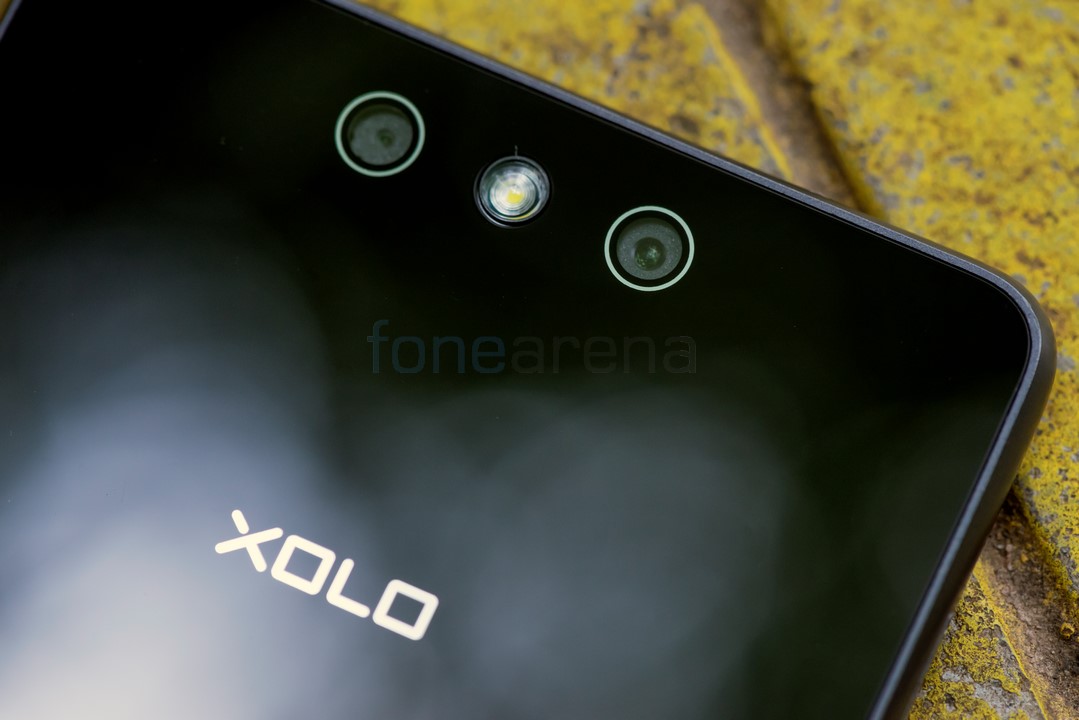 At the back, you have the Dual Lens system. There is a primary 13 Megapixel camera a secondary 2 Megapixel camera for depth sensing. Unlike the HTC One M8 and the M9+ which have the depth sensing camera above the main camera sensor, the XOLO Black has the two side by side along with an LED flash in the middle.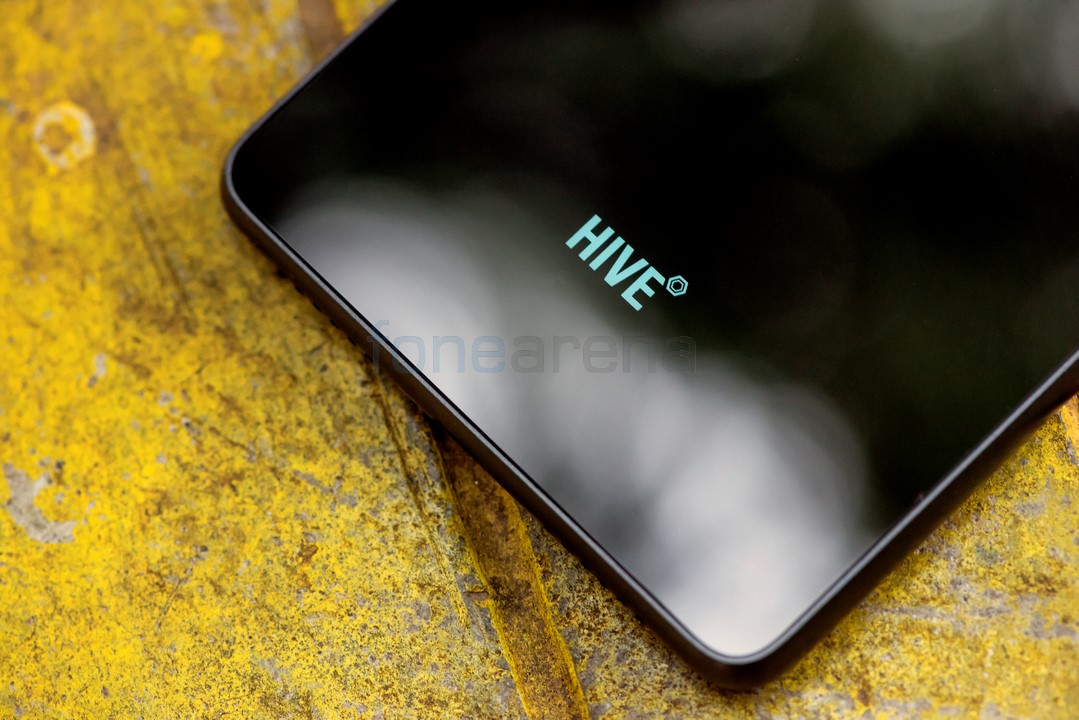 Below it, you have the XOLO branding as well as the HIVE UI branding at the bottom.
Display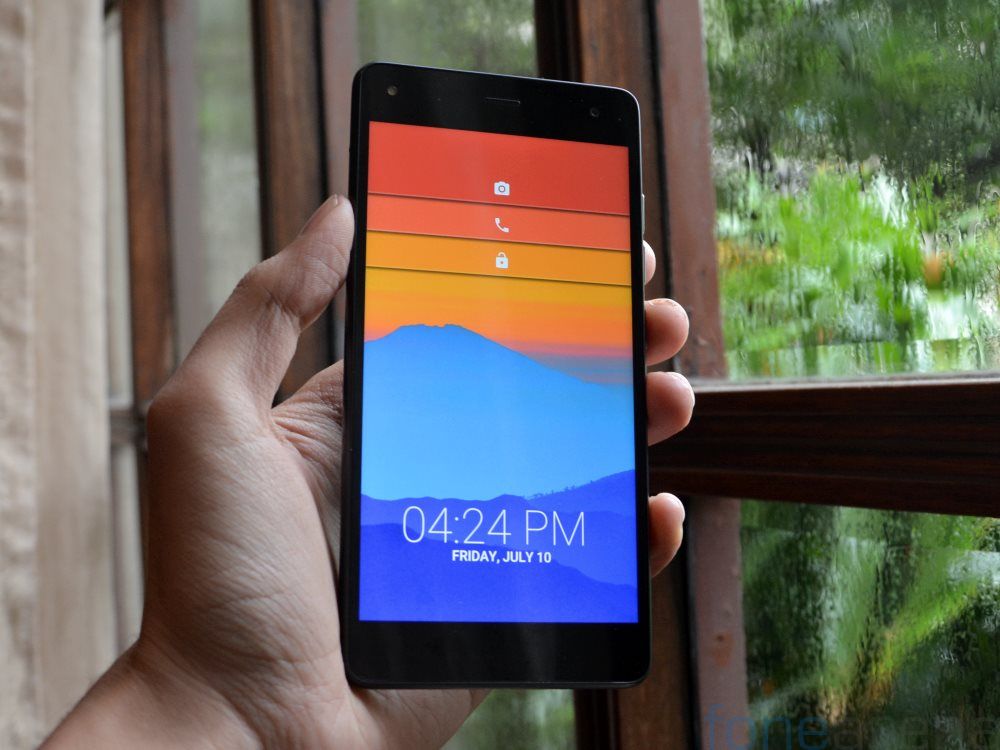 The XOLO Black has a 5.5" IPS LCD display that has 1080p resolution that results in a pixel density of 403ppi. The display is sharp and vivid and the ambient light sensor works well. The sunlight legibility is good but is impacted by the display glass which is quite reflective.
It is protected by Corning Gorilla Glass 3, which in our time of using the review is pretty good at protecting itself from scratches. The same goes for the rear glass as well. The display is quite smooth and easy to use and swipe across.
There is a notification light that is neatly hidden behind the power/lock key. It lights up as a halo around the key and supports various different colours such as Red, Green and Blue. Applications such as Whatsapp can be used to customize your notification light colours. While the location isn't as ideal as having it on the front panel where most phones have it, we still quite liked the light here. The main reason for shifting the light to the side was probably to make space for the LED flash for the front facing camera. At least they eventually did include a notification light. Some manufacturers wouldn't have bothered with one and justified the added LED flash on the front as the reason for the omission as well.
Calls and Messaging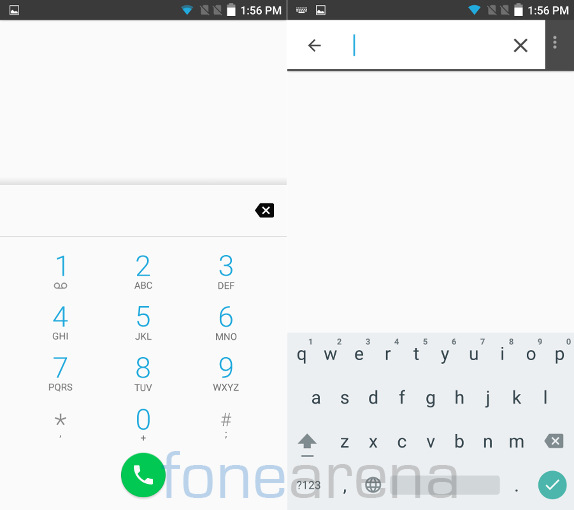 The XOLO Black has good call quality both in terms of loudness as well as clarity. The loudness is more than sufficient even in loud environments and the secondary noise cancelling microphone does a good job at cancelling out the noise and sending your clear voice to the party at the other end.
The Dialer is large and the numbers are well laid out. You can easily enter number even if you have large fingers. You can either type in a number or search for a contact. The contact app allows you to store practically unlimited entries and gives you the option of saving onto the SIM, phone or Gmail account. You can also have additional information apart from the usual email or phone numbers for every contact.
The phone comes pre-loaded with Google Keyboard and it works just as well as any phone with it. Thanks to the large screen estate, typing is fast and easy as well.
Software and Performance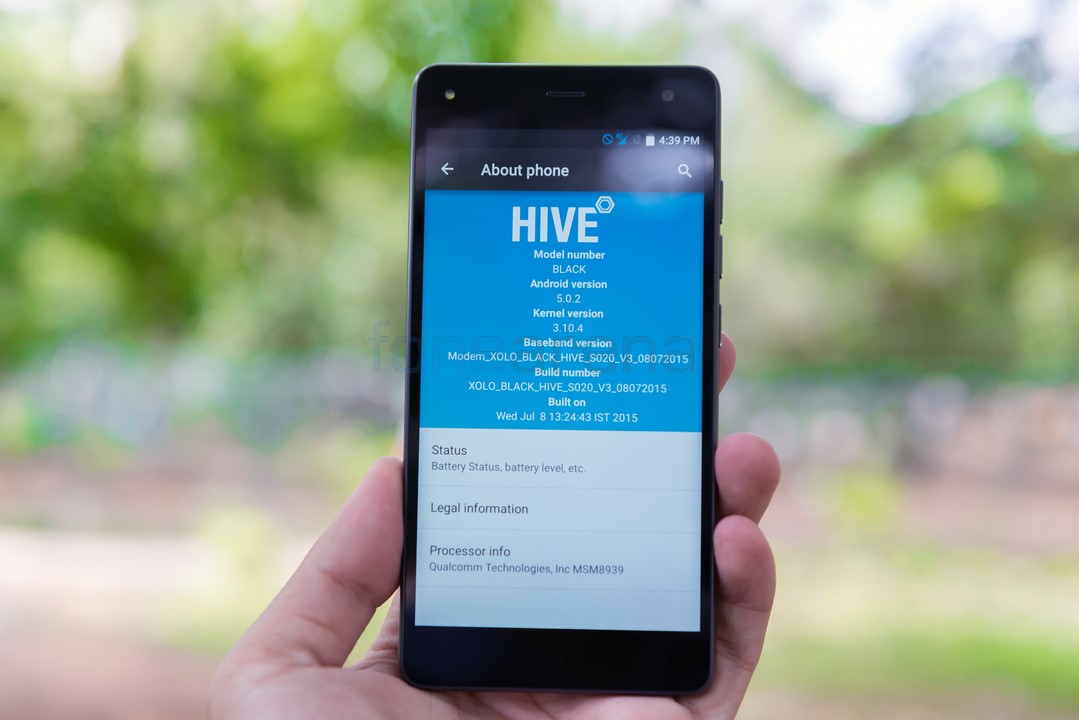 HIVE UI developed by XOLO's own design team in Bangalore was first introduced in the Xolo 8X-1000. Later it was expanded to budget Omega series that were launched last year. The new HIVE UI is called HIVE Atlas that is based on Android 5.0.2 (Lollipop) with Android's material design. There is no major change when it comes to the interface. It has similar rounded icons and color scheme. The UI was a bit sluggish at times, which could be fixed through a software update.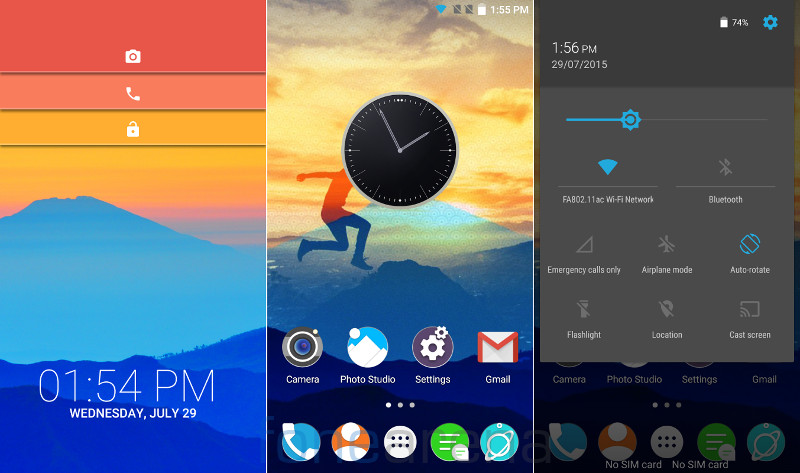 You can launch the camera, messages or dialer right from the lock screen. It also shows separate notifications in the lock screen. There is a new Underground feature that lets keep your personal apps locked so that these can be accessed only using a secured PIN. Other features include, Reading mode that turns the display to Black & White. This will offer you comfortable reading and puts less stress on the eyes, says XOLO.
Apart from the usual set of utility apps and Google apps, the smartphone comes pre-loaded with Comet Browser with data and battery saving features that is powered by Opera, McAfee and some security and privacy tools. It also comes pre-loaded with Vodafone Music app that offers unlimited access for two months.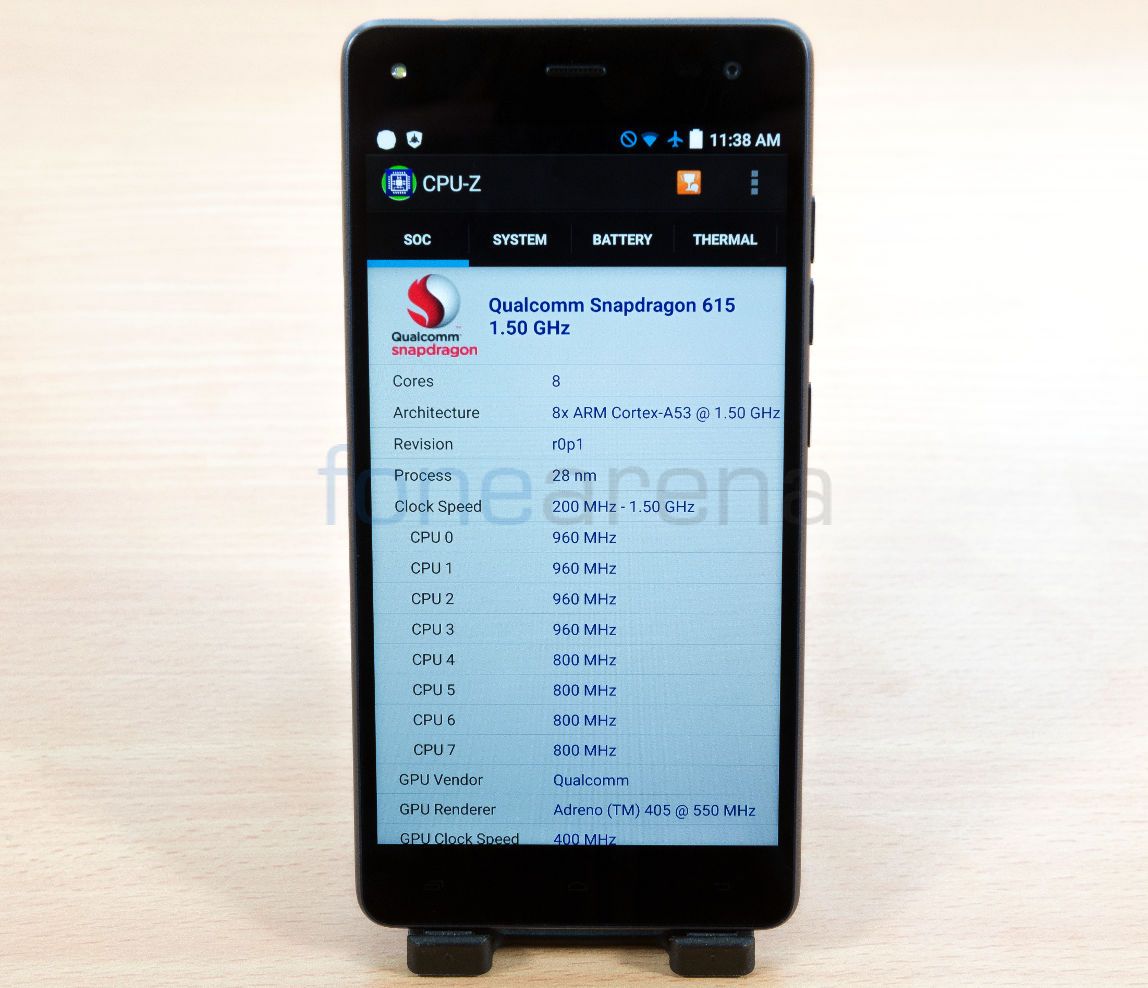 Coming to the performance, the second-generation Octa-Core Qualcomm Snapdragon 615 64-bit processor with four ARM Cortex A53 cores clocked at 1.5 GHz per core and four Cortex A53 cores clocked at 1.1 GHz per core offers decent performance, but the UI has occasional lags as we mentioned earlier. 2GB RAM handles multitasking well. With the upgraded Snapdragon 615 SoC, we did not face any heating issues. It gets warm on data usage similar to most other smartphones. Check out some benchmark scores below.
Quadrant Benchmark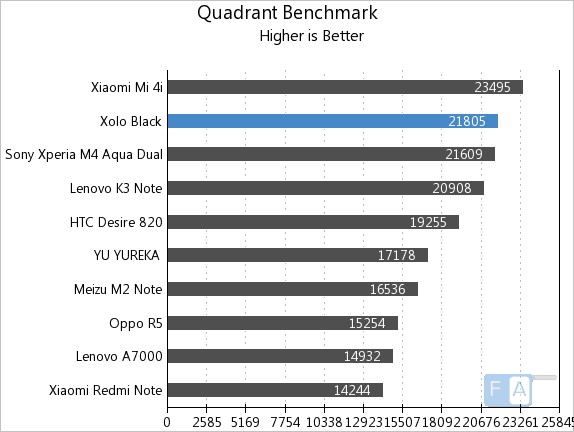 It scored 21805 points in the Quadrant Benchmark and grabs the second spot, behind the Xiaomi Mi 4i.
3DMark Ice Storm Unlimited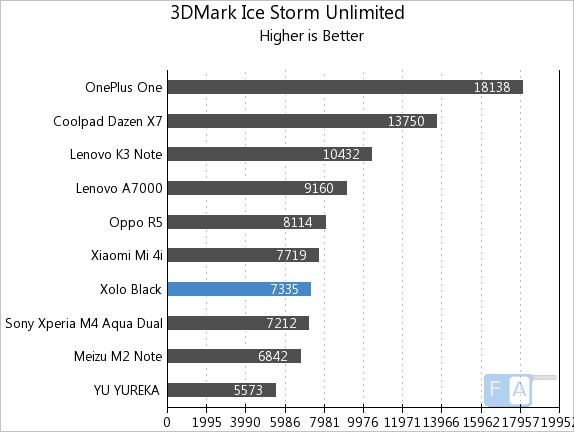 Basemark X 1.0 HD (Offscreen)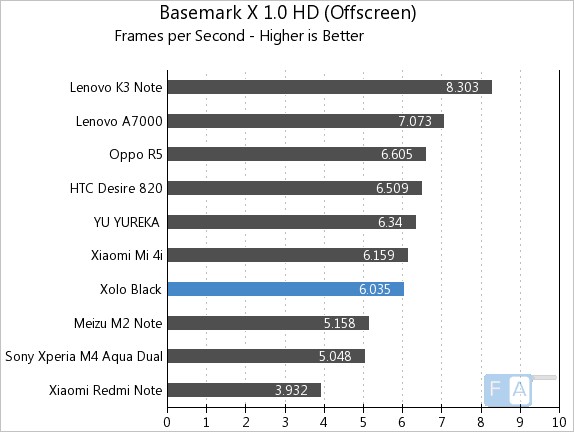 Check out the complete set of Xolo Black benchmarks here. It has a 550MHz Adreno 405 GPU. We tried several high-end games. Most games were smooth, some games did lag occasionally, but the graphics was good. It scored a rating of 3.5/5 out of 5 in the gaming review. Check out the gaming review video to know more about the gaming performance of the smartphone in detail.
Connectivity and Storage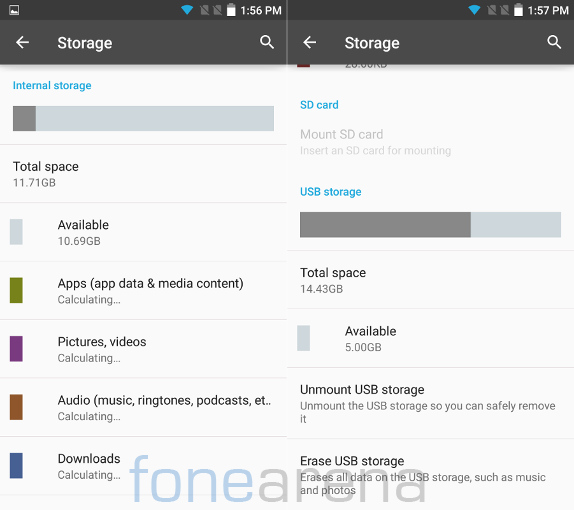 The XOLO Black has 16GB of internal memory that can be expanded using microSD cards. The phone supports microSD cards upto 32GB in capacity. Out of 16GB of storage, the user gets around 10.69GB of free usable space when you first boot the phone. It also has USB OTG support.
The phone has a dual SIM tray with one nanoSIM slot and one microSIM slot. It has a hybrid sim tray and makes use of one of the SIM slots for the microSD card. While it isn't as good as having a dedicated microSD slot, it still is better than having no way to expand built-in storage. It does have support for 4G LTE however it only allows the ability to have 4G enabled on one SIM at a time while the other remains on 2G only mode.
The device supports Wi-Fi b/g/n but doesn't support dual-band Wi-Fi nor does it support ac standard Wi-Fi. It has a microUSB port and supports Bluetooth 4.0.
Music Player and Audio Quality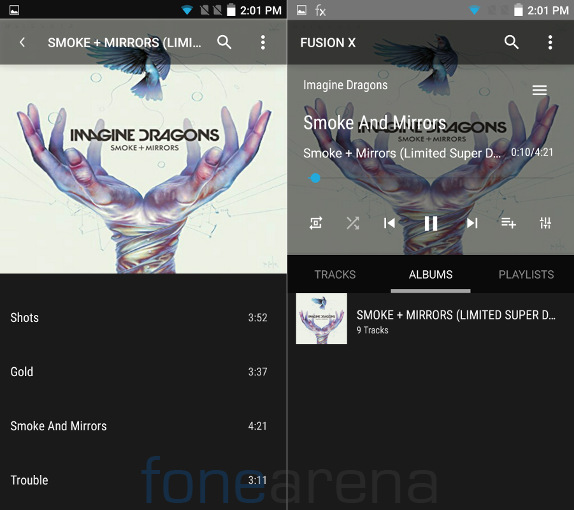 The audio quality is quite good through the headphones and the dynamic range is good too with little to no distortion at high volume levels either. The audio quality through the loudspeaker is good as well but the volume could've been a bit better. Luckily there's hardly any distortion at high volumes.
The built in music player app is called Fusion X and it has a really beautiful design. It is simple to use yet looks futuristic and sophisticated at the same time. Functionality wise, it isn't much different though. You can view songs according to the artist, track, album or playlists and you also get a nice preview of the album art. Users can choose to seek/skip and play/pause tracks along with options to repeat or shuffle the songs. You even have an equalizer that lets you tweak the audio settings to your liking and get the best out of your audio equipment. It also has FM Radio with recording.
Camera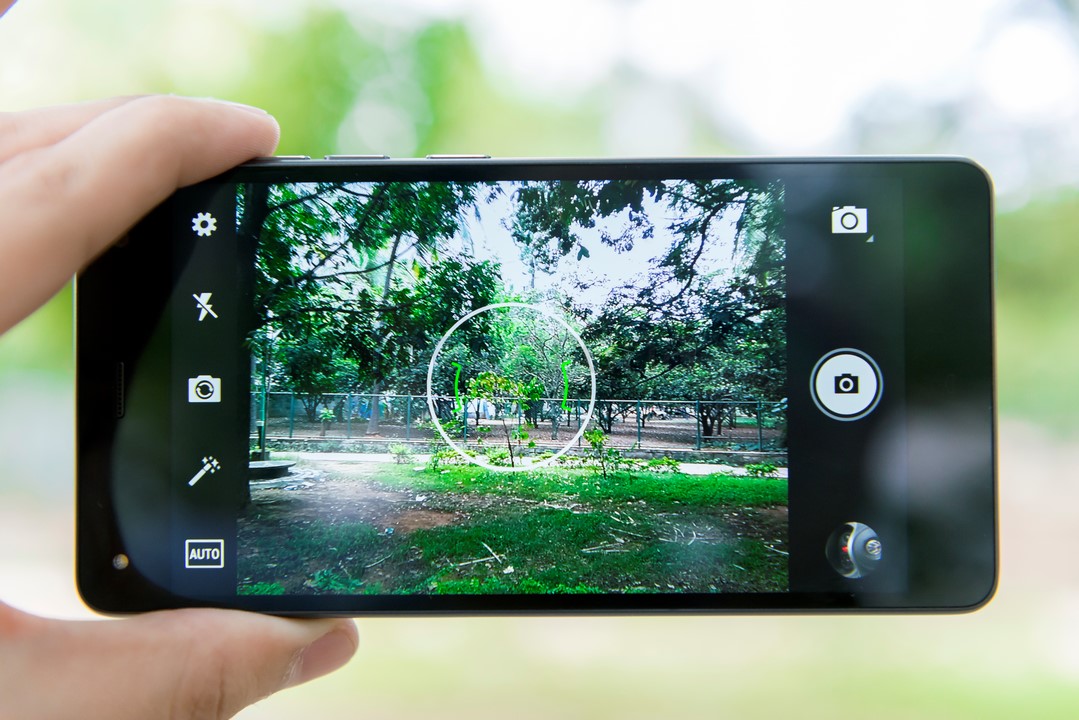 Perhaps the most important feature of the phone is its camera or cameras in plural. The company has paid quite a lot of attention to not just the main camera at the back but the front facing camera as well. The main camera is a 13 Megapixel unit with a secondary 2 Megapixel depth sensing camera and an LED flash. The front facing camera is a 5 Megapixel unit, which also has an LED flash.
Good camera specifications doesn't always mean good camera performance and image quality. To be honest, I hadn't really expected much from the camera but it totally took me back when I saw the quality of photos it produced. The camera captures very vivid and detailed images with good white balancing. It is quick to focus and also is able to focus on subjects that are quite close. The detailing is one of the best we've seen on smartphones recently and especially considering the price range at which this device sells, it makes it more impressive. It also has good dynamic range even without the HDR option enabled and enabling it takes it a step further.
The camera also does a good job at keeping the noise levels at a minimum however, noise does creeps in during low light. The LED flash isn't too powerful but does help a bit in really low light conditions. Low light portaits with the LED flash aren't that good in terms of skin tone as it isn't a Dual-LED flash. However, the ChromaFlash feature does help improve that issue to a large extent. What it does is capture two images one after another quickly, one with flash and one without and combine both to produce more realistic looking images and skin tones. While it does a good job at making the skin tones better, due to two different shots being combined, we did find ghosting issues occasionally especially if you or your friends are a bit too fidgety. The front camera is quite good at capturing details however it does seem to lag a bit when taking photos indoors so you will have to hold it quite steady or else you can make use of the LED flash which works well for group selfies especially.
The OptiZoom feature is something that we felt was a bit of a let down. It works similar to how a regular digital zoom would work but attempts to bring more detailing and sharpness. While the differences are visible, it still isn't that apparent to warrant the need for a separate feature altogether. The images are still quite noisy and don't really have all that much extra detail or sharpness. The camera can record videos at a maximum resolution of 1080p at 30 fps. The video is good in terms of detailing however we felt that there was a bit of colour fringing and the videos are jerky due to lack of OIS (Optical Image Stabilization).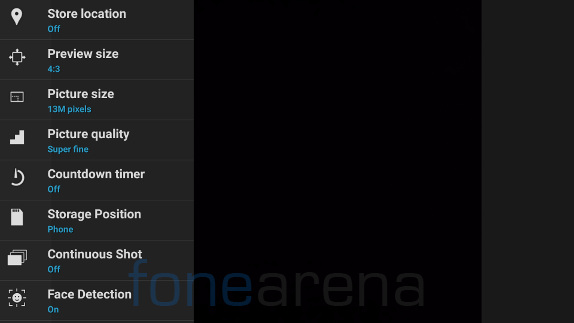 The camera UI is quite detailed as you can choose from various modes, filters as well as change the various settings such as aspect ratio, face detection, location, picture size, picture quality etc.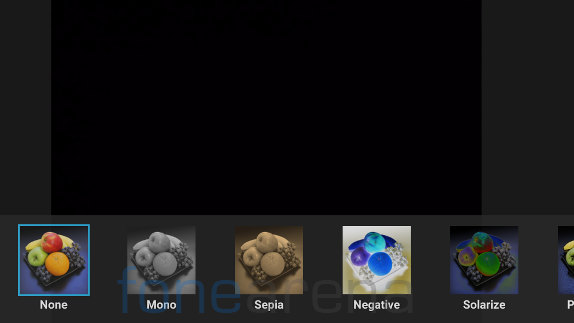 The depth sensor works well too and you have to use the Dual Camera app which exists as a standalone app rather than a built-in plugin to the main application. but the implementation of the UbiFocus software could've been a bit better. It allows you to adjust the depth of field you want be it shallow or deep and also allows you to set a point of focus. However this point of focus is often too narrow and the effect seems a bit too fake as you make the depth of field shallower. Perhaps if there was a way to fine tune the depth of field as a fade effect and even change it from a spot focus to linear focus method, it would've helped.
We also feel that it would be better to have Dual Camera as a feature built into the main app and while XOLO might have their reasons for having a standalone app, it definitely is quite confusing to users. Even I had a tough time figuring where the dual camera feature was. They should've at least included a shortcut to the dual camera app from the main camera application. But since its just software, it is something that can easily be done at a point in the future with a firmware upgrade.
Check out the camera samples (Click the image to view the full resolution sample)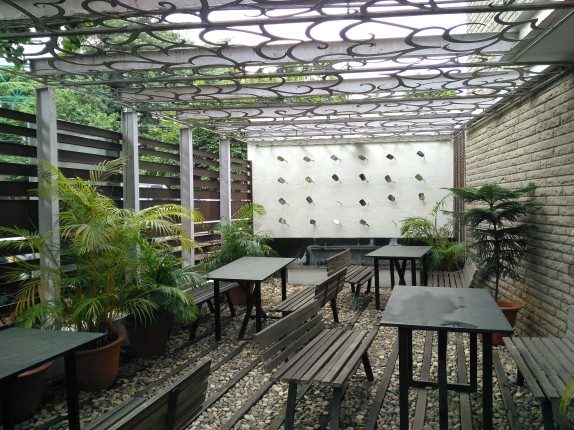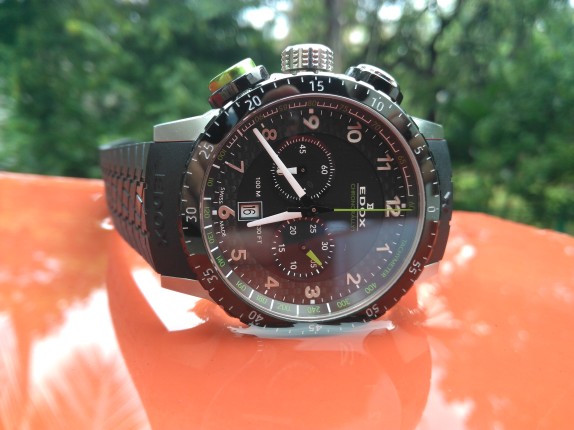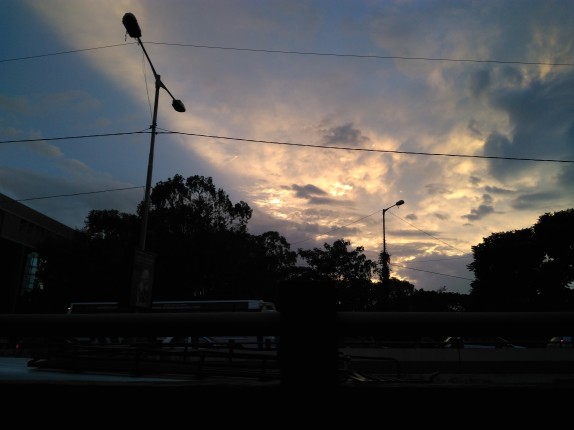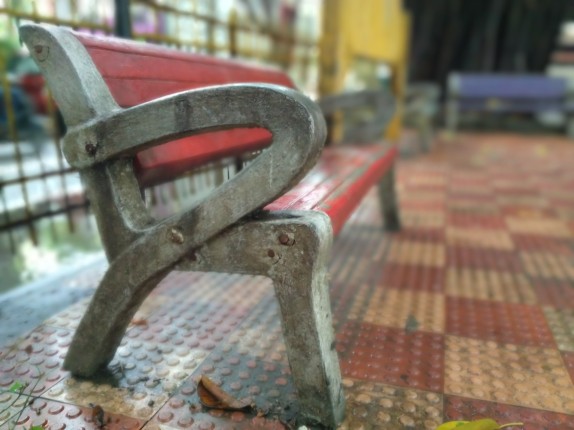 It can record videos at 1080p resolution at 30 fps. Video quality is good. Check out the video sample.
Check out the complete set of Xolo Black's camera samples here.
Battery Life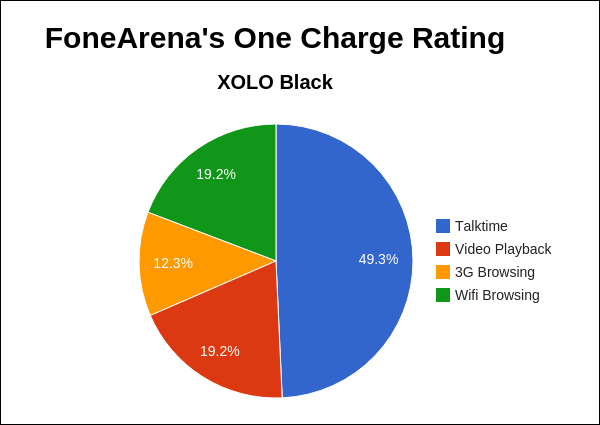 The XOLO Black has a non-removable 3200 mAh battery. Since it is non-removable, you will have to resort to plugging you phone into a wall socket or connecting a portable battery pack since you cannot replace the battery. You will also have to take it to a service centre if you wish to replace it unless you are willing to take the risk. The phone doesn't support fast charging but still manages to charge quite fast. It achieved a One Charge Rating of 8 hours and 29 minutes in our battery test, which is decent, but not the best.
Conclusion
At Rs 12,999 the XOLO Black is a very unique product that offers good value for money. Although it is priced at the same price point as phones such as the Xiaomi Mi 4i, it offers a Dual-SIM slot, microSD expansion (Hybrid Slot), Depth Sensing camera, Front facing camera with LED flash etc. It does have a few negatives particularly in terms of software which needs some tweaking, it still is quite good value for money and more than that, it has a unique set of features that will help you stand out from the crowd. If you are someone who can live with its few shortcomings and embrace its unique features then this is one phone that should keep you happy.
Pros
Good Quality Screen
Solid Build Quality
Great Camera Image Quality
Front Camera Flash
Good Audio Quality
Cons
Laggy UI
Depth Sensing Camera is under-utilized due to software
Loudspeaker isn't as loud as we'd like
Glossy Display
Srivatsan Sridhar contributed to the review