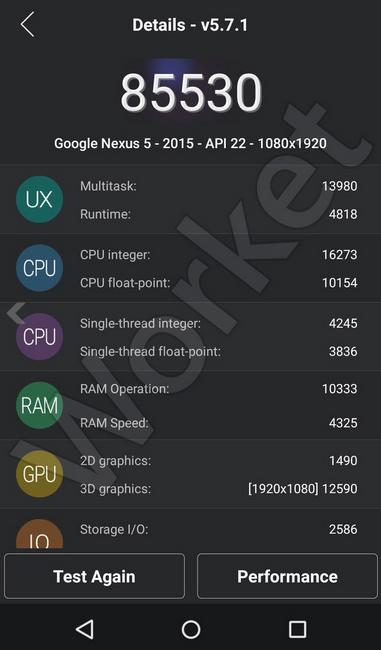 The upcoming Nexus 5 (2015) smartphone has shown up on the AnTuTu benchmark list after posting a really high score of 85,530. The handset is rumoured to be announced alongside one other Nexus device later this year.
One handset, likely to be the Nexus 5 (2015) will be made by LG and the other will be made by Huawei. The Nexus 5 (2015) apparently won't be based on the LG G4 but instead have a different design.
The score posted by the phone is the highest by a large margin and is followed by the Galaxy S6/S6 Edge which posted a score of around 68,000. While the S6 and S6 Edge did perform quite high, the Nexus 5 (2015) takes it to another level and is most likely the result of it packing a next gen processor.
Sources do state that the phone might be packing the upcoming Snapdragon 820 processor. While we aren't sure if any other phone will beat that score too soon, what we do know is that with such a score and stock Android M running on it, it should be pretty fast.
We'll just have to wait and see for further leaks or an official announcement to see what it is actually running and what are the other specification. Whatever it is, we will keep you updated regarding the same.