Google Drive has updated its Android app with some improvements. The latest update bumps the app to version 2.2.233 and adds the ability to download and share multiple files.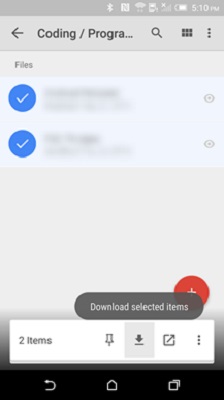 Users can now download multiple files with a single click and also share it with others.  They will need to select multiple files, hold down on one file and then a blue checkmark will appear indicating the file has been selected. Now an option to download or send the files is present when multiple photos are selected and it replaces the star and remove buttons. The update focuses on making it easier for you to manage your files
Some tweaks have been made to the sharing interface. The Add People section has been changed and improves visibility by expanding the invite list and showing chips that are small blocks which  contains a photo, short title string, and brief information. Now users will see email addresses while selecting people instead of full name and email address. Finally, you can view file thumbnails in the details pane for folders and there is the ability to report abuse cases in Settings.