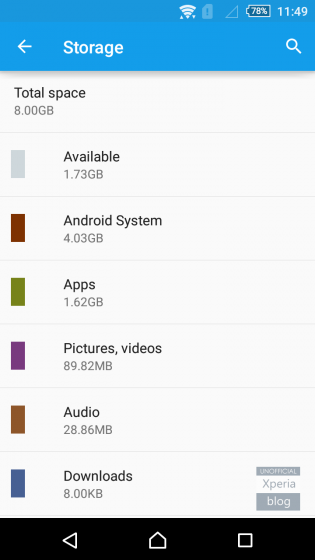 If you were thinking of getting yourself a Sony XPERIA M4 Aqua, particularly the 8GB variant then it's probably time to think again. Apparently the 8GB variant comes with just 1.26GB of free storage out of the box.
Around 5GB of space is taken up by Android 5.0 Lollipop itself and another 2GB is taken up by pre-installed apps. Of course you might be thinking, you could free up quite a lot of memory by uninstalling various unwanted apps. But the issue here is that you wont be able to uninstall many of them as they are set as default apps and at best you can just disable them. Then again it wouldn't really help you free up memory either. Some apps like Facebook etc can be deleted and you can get around 1.7GB of free storage but even that is less in our opinion.
This was found to be true on an unlocked variant of a European M4 Aqua which should be carrying lesser bloatware than carrier locked smartphones. While users can still move apps to the SD card, it still does leave the apk and some data behind on the phone memory itself and with 1.26GB, we feel that users are bound to run out of memory pretty soon enough and it means that it would be mandatory to get a microSD card for your phone as well.