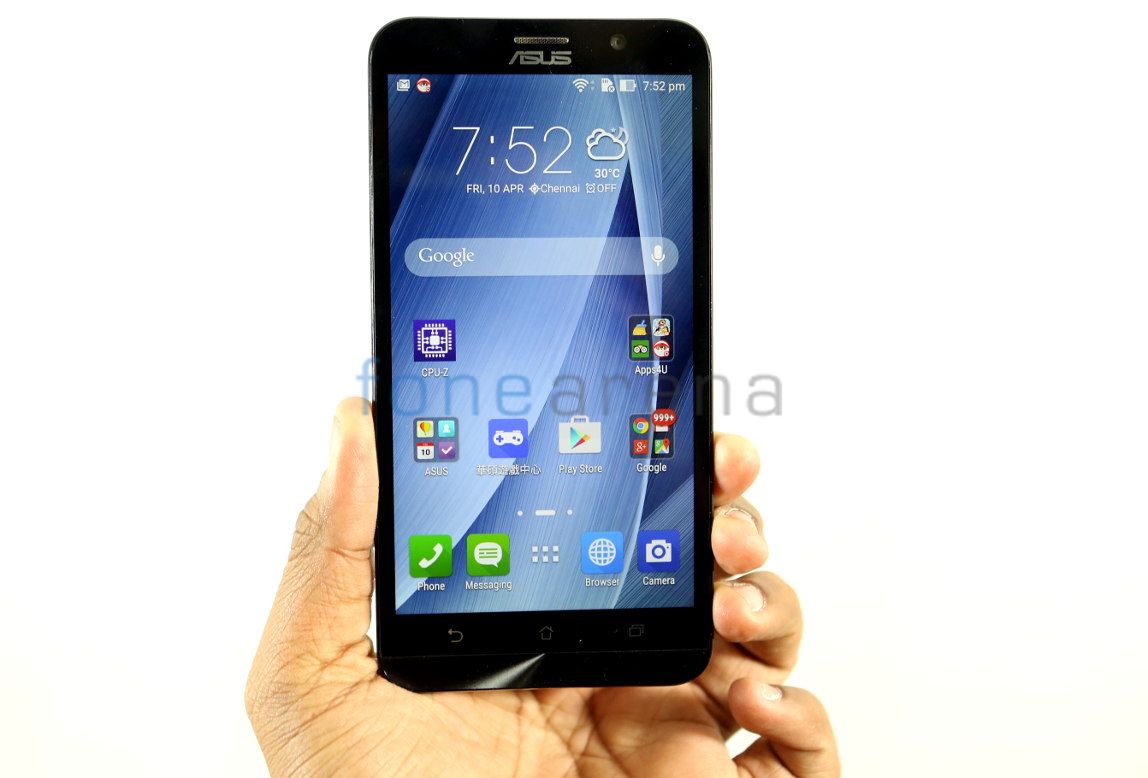 Asus launched its Zenfone 2 (ZE551ML) series with 4GB of RAM in India in April starting at Rs. 19999. The Zenfone 2 is the successor of last year's Zenfone 5 and Zenfone 6 smartphones, which were a huge success for the company. This time the company decided to launch the second-generation Zenfone smartphones as Zenfone 2 in several variants. Here we have the review of Zenfone (ZE551ML) with 4GB RAM that starts at Rs. 19,999. Is the smartphone worth the price? Let us find out in the complete review.
Unboxing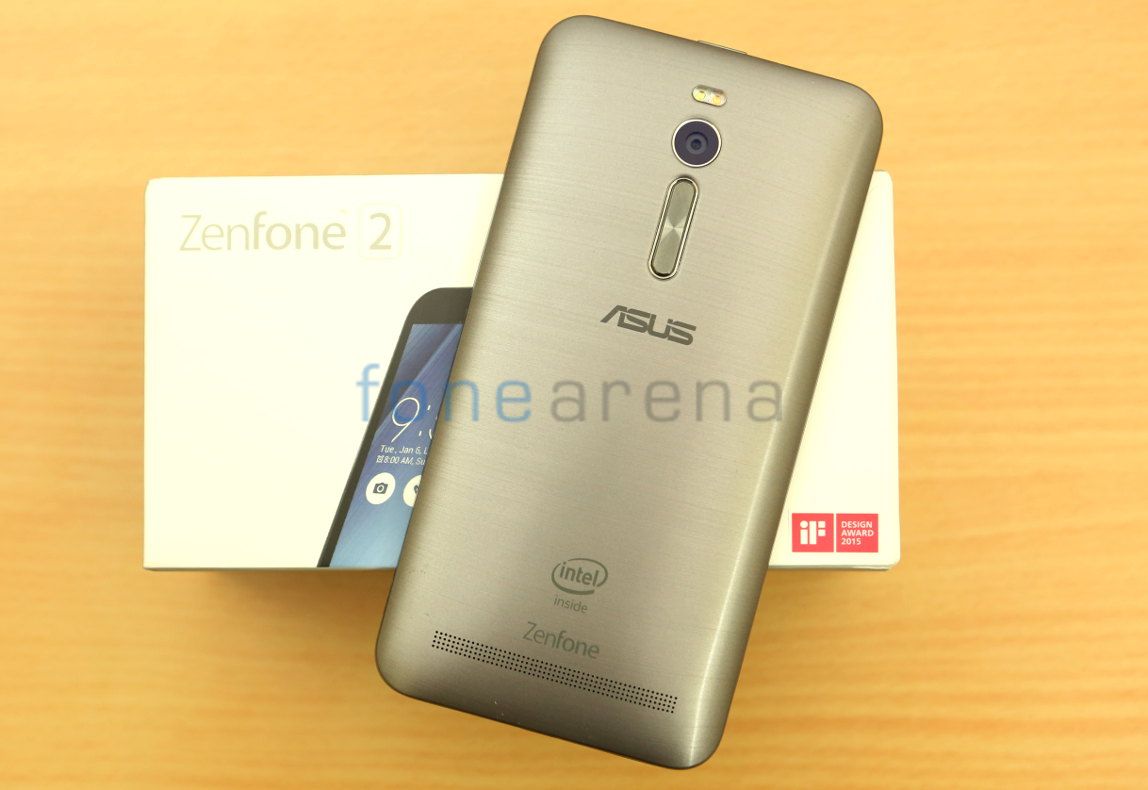 We unboxed the Zenfone 2 recently, check out the unboxing. Box contents in the Indian variant are different compared to the Chinese version.
Display, Hardware and Design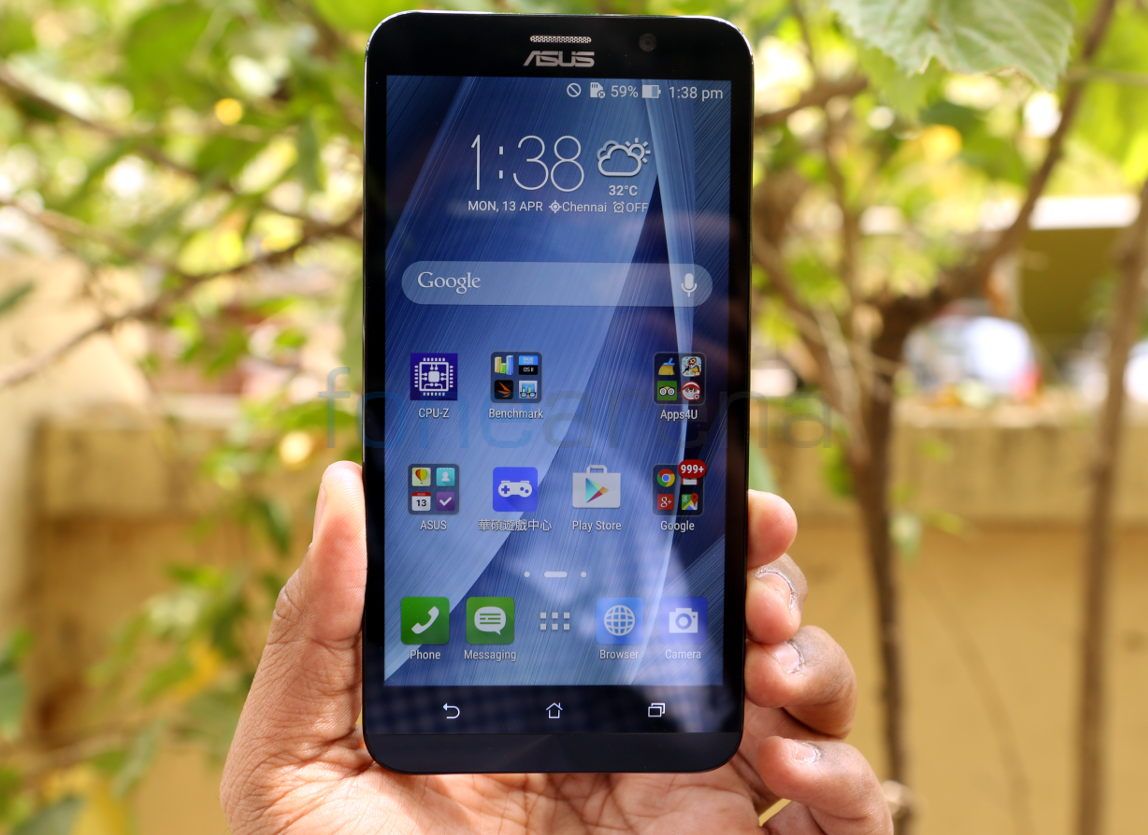 The 5.5-inch full HD display with a resolution of 1080 x 1920 pixels at 443ppi offers 400nits of brightness. It has anti-fingerprint coating that prevents it from attracting fingerprints. It also has Corning Gorilla Glass 3 protection that prevents the display from scratches. The display is bright with good viewing angles, but the sunlight legibility is not the best. The phone has a screen-to-body ratio of 72%. Since the phone is 152.5mm tall and 77.2mm wide, one-handed usage might not comfortable if you have small hands.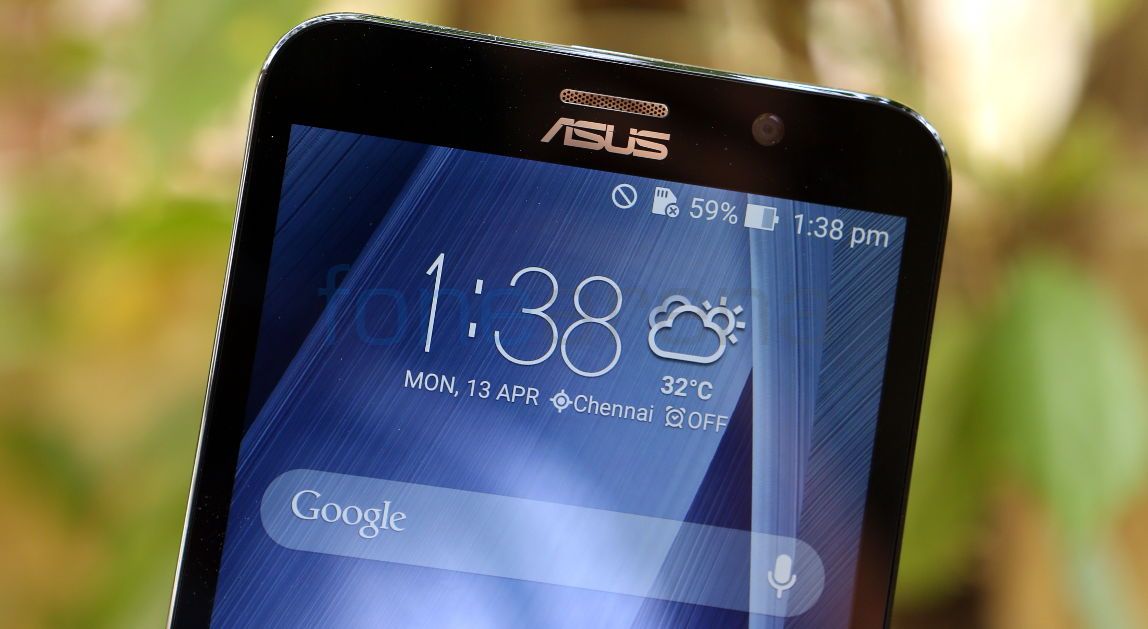 It has a proximity and ambient light sensor on the top. There is also a notification LED. It also has Digital compass. The 5-megapixel front-facing camera with f/2.0 aperture, 85-degree Field of View and 5-element lens is good for selfies and video chats. The volume rocker on the back lets you capture selfies easily. It has several modes, including beautification mode.
There are capacitive touch buttons below the display for back, home and menu/multitasking. These offer haptic feedback when pressed, but these are just colored and not backlit. There is a small bezel below these touch buttons.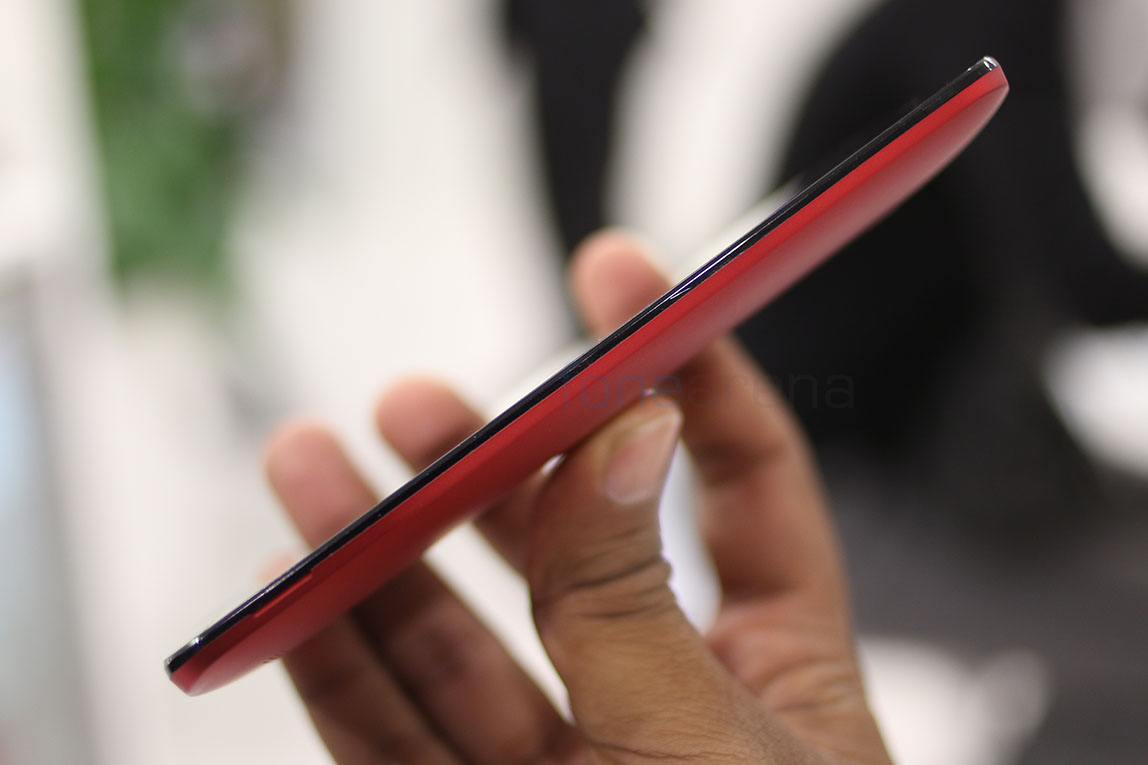 The smartphone is 10.9mm thick, which slims down to 3.9mm at the edges, making it easy to hold and it doesn't slip out of your hands easily. There is a micro USB slot and a primary microphone on the bottom. On the top there is a 3.5mm audio jack, secondary microphone along with a power button that is awkwardly placed on the top. The power button is hard to reach since this is a huge phone, but double tap to wake up option makes up for it.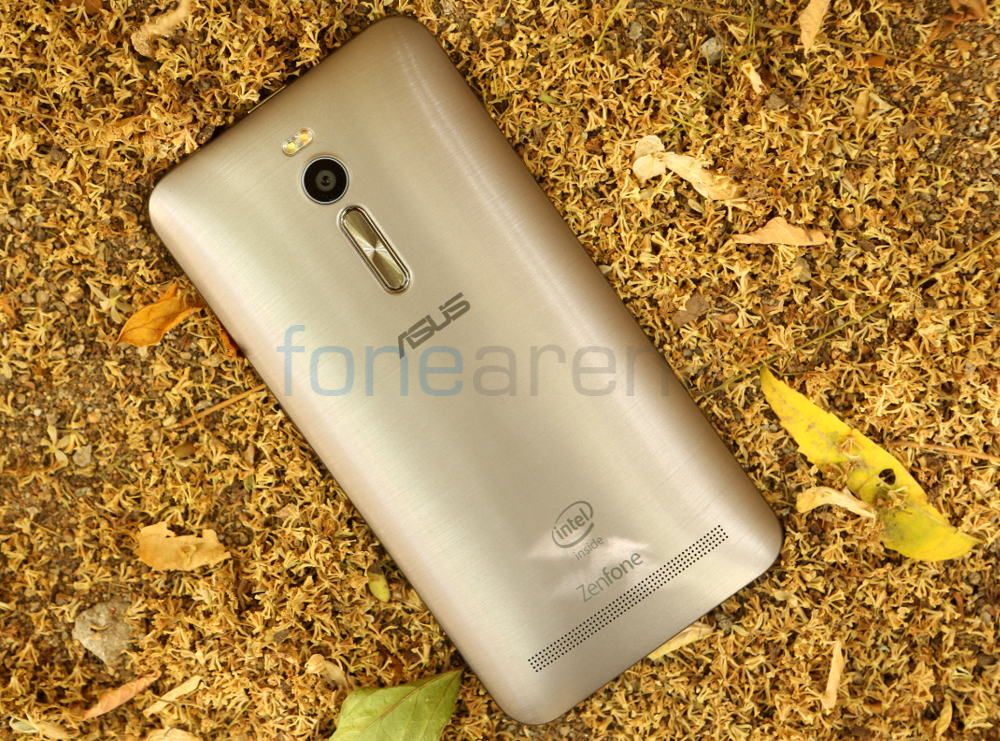 On the back there is a 13-megapixel camera with Dual-Color Real Tone Flash. The Volume rocker on the back is easy to access when holding the phone. There is also a loudspeaker grill on the bottom part of the back.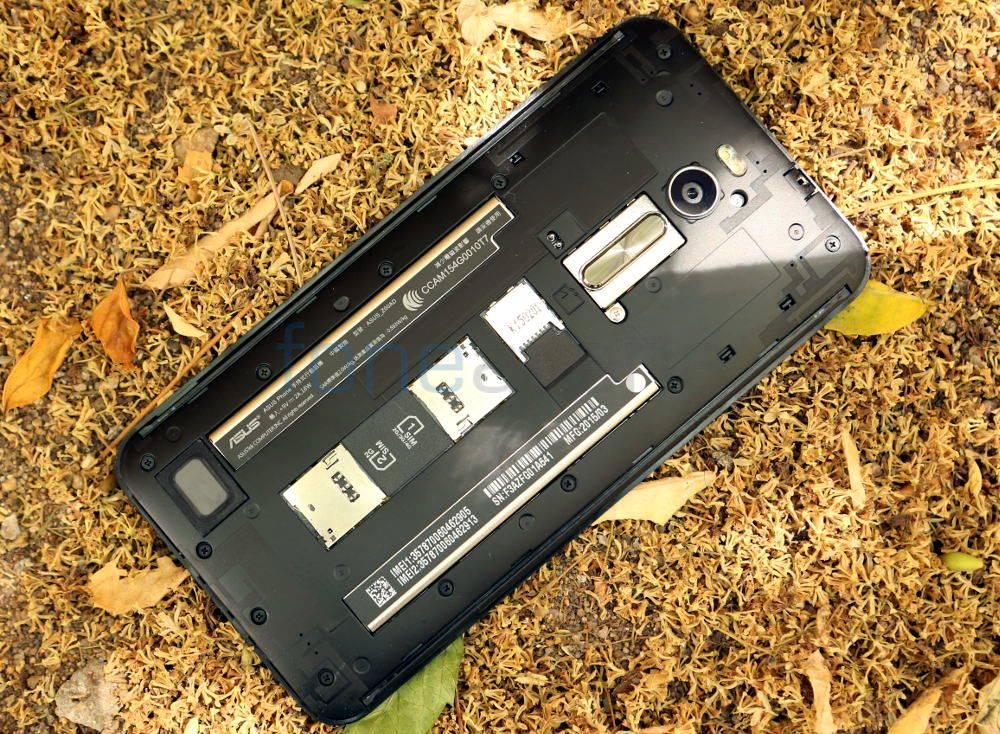 The plastic removable back cover doesn't feel cheap and the phone has solid build quality. Under the back cover there are two micro SIM slots and a micro SD card slot that accepts cards up to 64GB. It has a 3000mAh Li-Polymer built-in battery.
Camera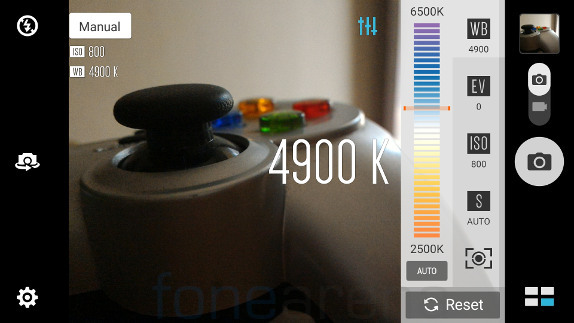 It has a 13-megapixel rear camera from Toshiba with f/2.0 aperture, 5-element Lens, Blue Glass IR-filter and Dual-Color Real Tone Flash. This has Pixelmaster 2.0 camera. It has several modes such as (Auto, Manual, Super Resolution, Time Lapse, Effect, HDR, Panorama, Night, Low light, Selfie, Miniature, Depth of field, Smart remove, All smiles, Beautification and GIF animation). We had already seen most of the features in the Zenfone 5 and Zenfone 6, but some features such as Manual mode (to adjust white balance, Exposure, ISO and Shutter speed manually with live preview) and Super Resolution (Captures 4 13MP images and processes into a 52MP image) are new. The front-facing camera has beauty mode and new modes such as Effect, Selfie Panorama, Low Light, and Time Lapse.
Daylight shots are decent, but the images have highlights and are over saturated with more contrast. Thanks to the f/2.0 aperture, macro shots came out pretty good. HDR shots and the 52MP high-resolution images were good, but you need to hold the phone steady, otherwise the shots end up blurry. The Low light mode uses different image-processing techniques to reduce noise and boosts color contrast, but it reduces the image size to 3-megapixel. Even though low-light mode captures more details, these still have noise. Flash is not overpowering, and the dual-tone flash helps to offer accurate skin tone, the images have a lot of noise. Overall, the Zenfone 2′s camera does a decent job for the price, but it's not the best.
Check out the camera samples (Click the image to view the full resolution sample).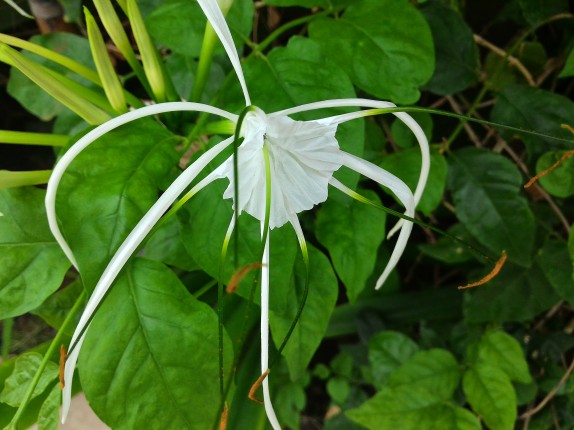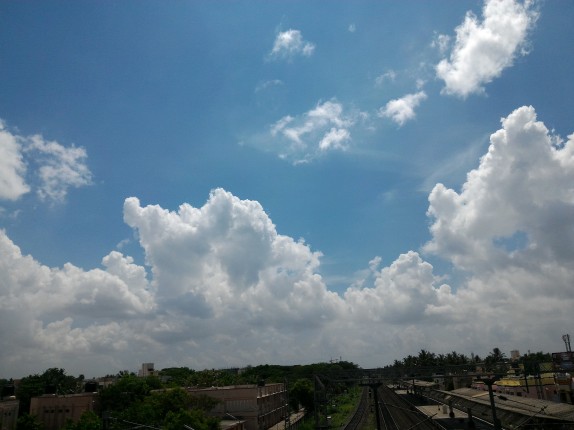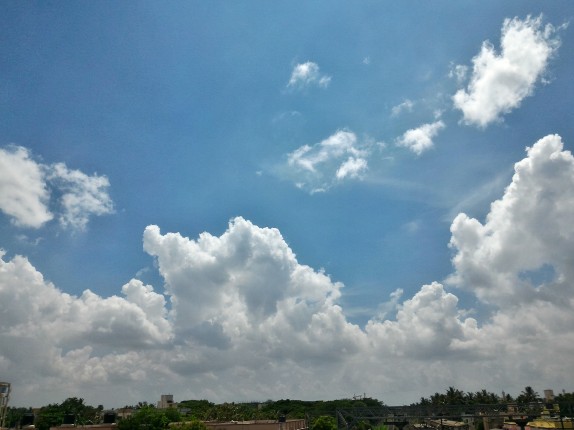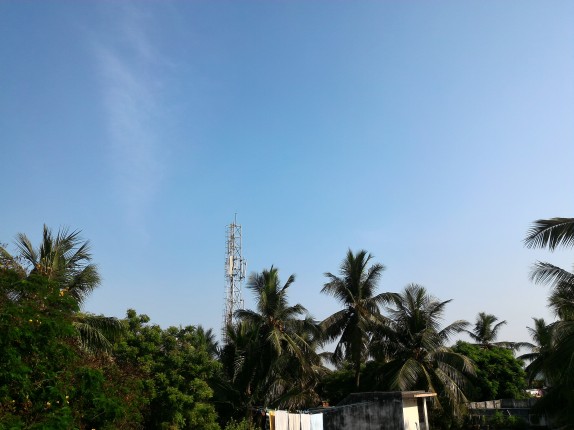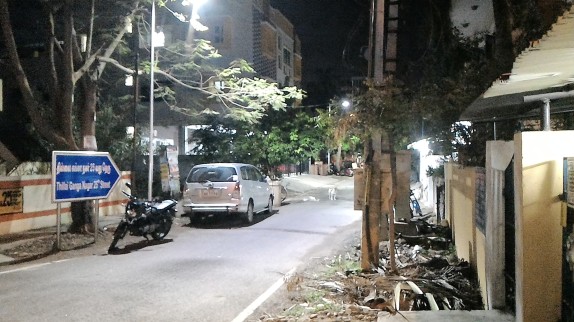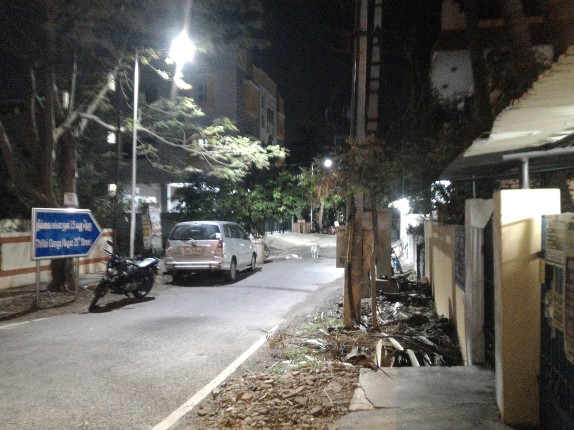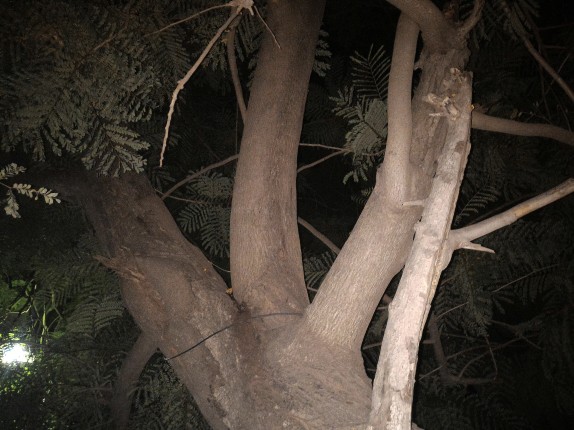 Check out the complete set of Asus Zenfone 2 camera samples here. It can record videos at 1080p resolution at 30fps. Thanks to the secondary microphone, audio is decent. The video quality is also average without much details.
Software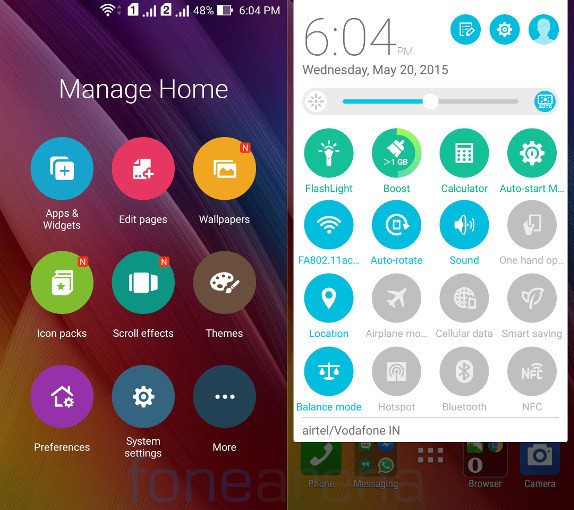 The Zenfone 2 runs on Android 5.0.2 (Lollipop) with Zen UI on top that adds several new features and enhancements. You can add up to 7 homescreens and the customizable quick settings menu has toggles for smart savings, reading mode, one hand operation, WiFi hotspot, Glove mode apart from the usual quick setting toggles. There are default shortcuts in the first row. All these shortcuts can be interchanged or replaced. It has brightness slider on the top with auto brightness option. Lockscreen has Quick access shortcut to launch camera, dialer and messages easily. What's Next is a new app that also offers lockscreen notification about your next calendar events such as birthdays, weather info and more. The One Hand Mode reduces the screen's size so that you can use the phone in a smaller window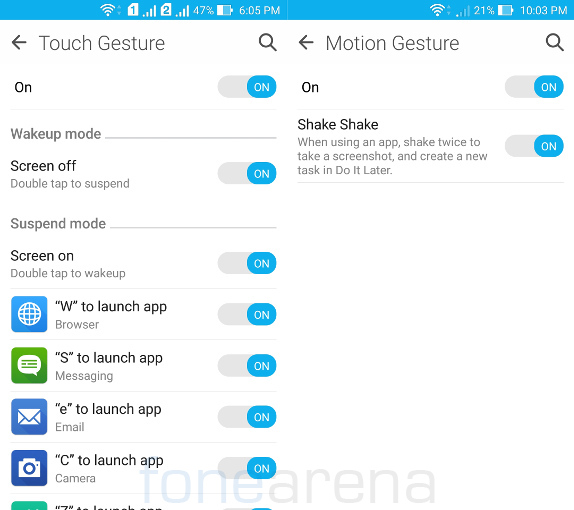 It has touch gestures that includes, double tap to wake up and sleep, which comes in handy since the power button on the top is hard to access. It also has gesture options that lets you draw certain letter on the screen to open the apps in sleep mode.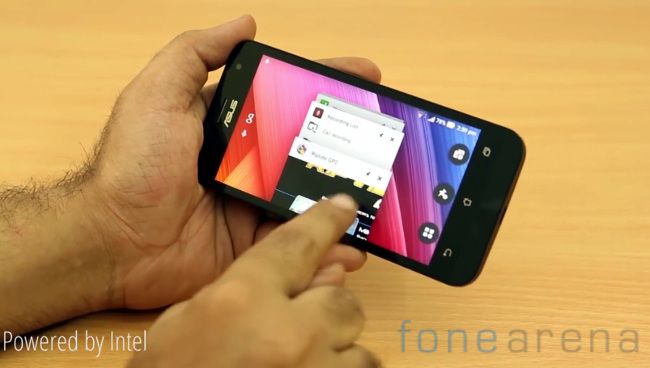 We already demoed some unique features in new Zen UI, including screen pinning in the multitasking screen. You can pin the screen and keep the current screen in view until you unpin. There is a pin icon which you can click to lock the display in a single view. This is more useful when you don't want to get to the homescreen accidentally when you are playing a game. To unlock you can press and hold the back and menu / overview buttons at the same time. It has Kids mode that lets you restrict the apps that you want your kids to use.
It has several modes that includes, balanced mode, reading mode, vivid mode and customized mode. Balanced is the normal mode, reading mode increases the yellow tinge for better reading, vivid mode increases the color and the customized mode lets you adjust the color temperature, hue and saturation manually. Check out the demo on the Zenfone 2 ZE500CL.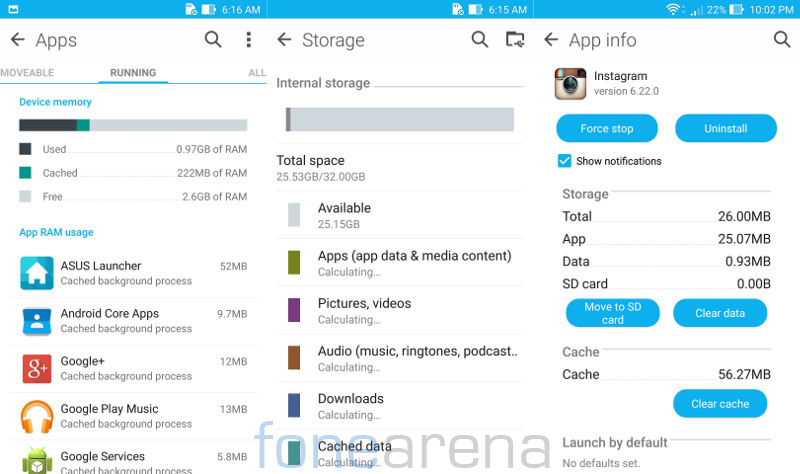 Out of 4GB RAM, about 3.9GB of RAM is usable. About 2.6GB of RAM is free when default apps are running in the background. Out of 32GB of internal storage, about 25.53GB is usable. You can also move the apps to the SD card when you insert one.
Apps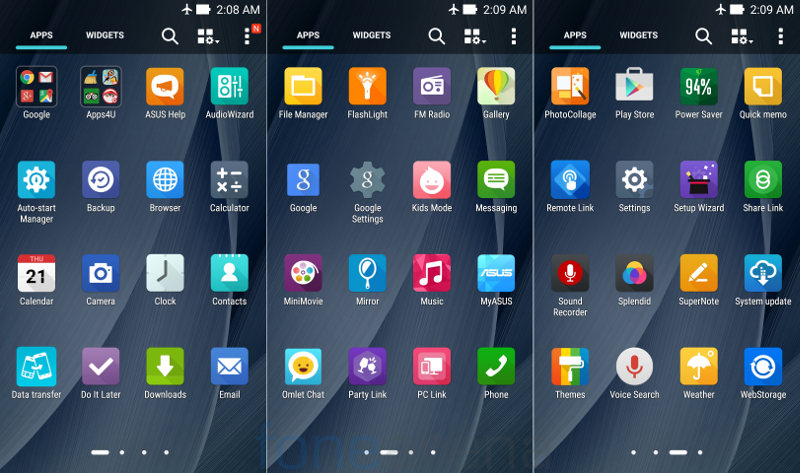 Apart from the usual set of Google apps, the phone comes with a range of apps. Some of these apps include, Do It Later, a simple task manage that has integration with Call log, Email and Messaging that reminds you about the tasks that's coming up next. The Zen Link set of apps comprises of Share Link, PC Link and Remote Link to make sharing easy. The Zenfone 2 also comes pre-loaded with Apps4U set of apps that includes, Clean Master, TripAdvisor, Dr. Safety, Amazon Kindle and Zino.
Music Player and FM Radio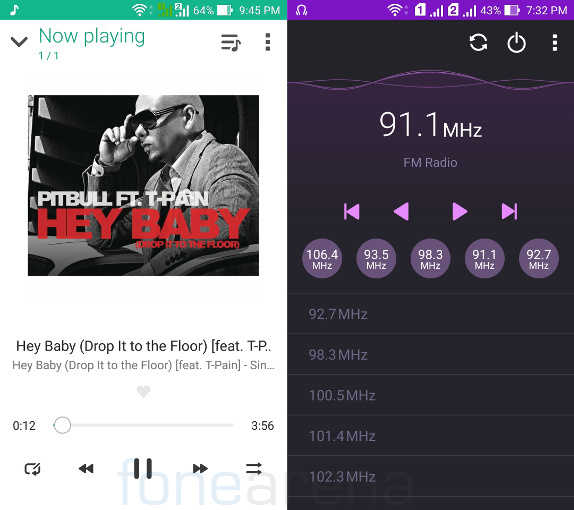 The music player has new UI. You can use the equalizer when the earphones are connected. It has FM Radio that lets you add up to 6 favorite station, but it doesn't support RDS or recording. The UI of music player and FM Radio are different compared to the old Zen UI.
The phone has SonicMaster Audio Technology for a better audio experience. AudioWizard has several audio enhancements such as Smart mode, Music Mode, Movie Mode, Recording Mode, Gaming Mode and Speech mode. You can adjust the audio based on your preference. The phone doesn't come with bundled headset in the box. Audio quality is decent through third-part headsets, but the loudspeaker output is low. The default video player lets you play videos at 1080p full HD videos smoothly.
Dual SIM and Connectivity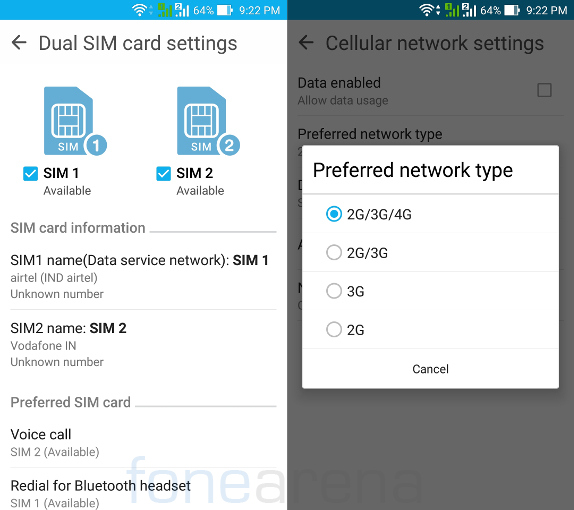 The phone has dual SIM support with Dual SIM Dual Active (DSDA) support that lets you receive calls or SMS from both SIM cards simultaneously. When you get a call on second SIM, you can put call on the first SIM on hold or vice versa any time, easily. Then the conversation with the first SIM can be continued after finishing with the caller on second SIM.
It has 4G LTE only on the first SIM, while the second SIM can only be used for calls and SMS, and not for data, which is a drawback for uses like me who switch data between both the SIMs when required. This is the one feature, which you have to sacrifice if you need Dual Active SIM support. It has WiFi 802.11 a/b/g/n/ac (Dual-band), Bluetooth 4.0, GPS and NFC. It also has USB on-the-go (OTG) support.
Performance and Benchmarks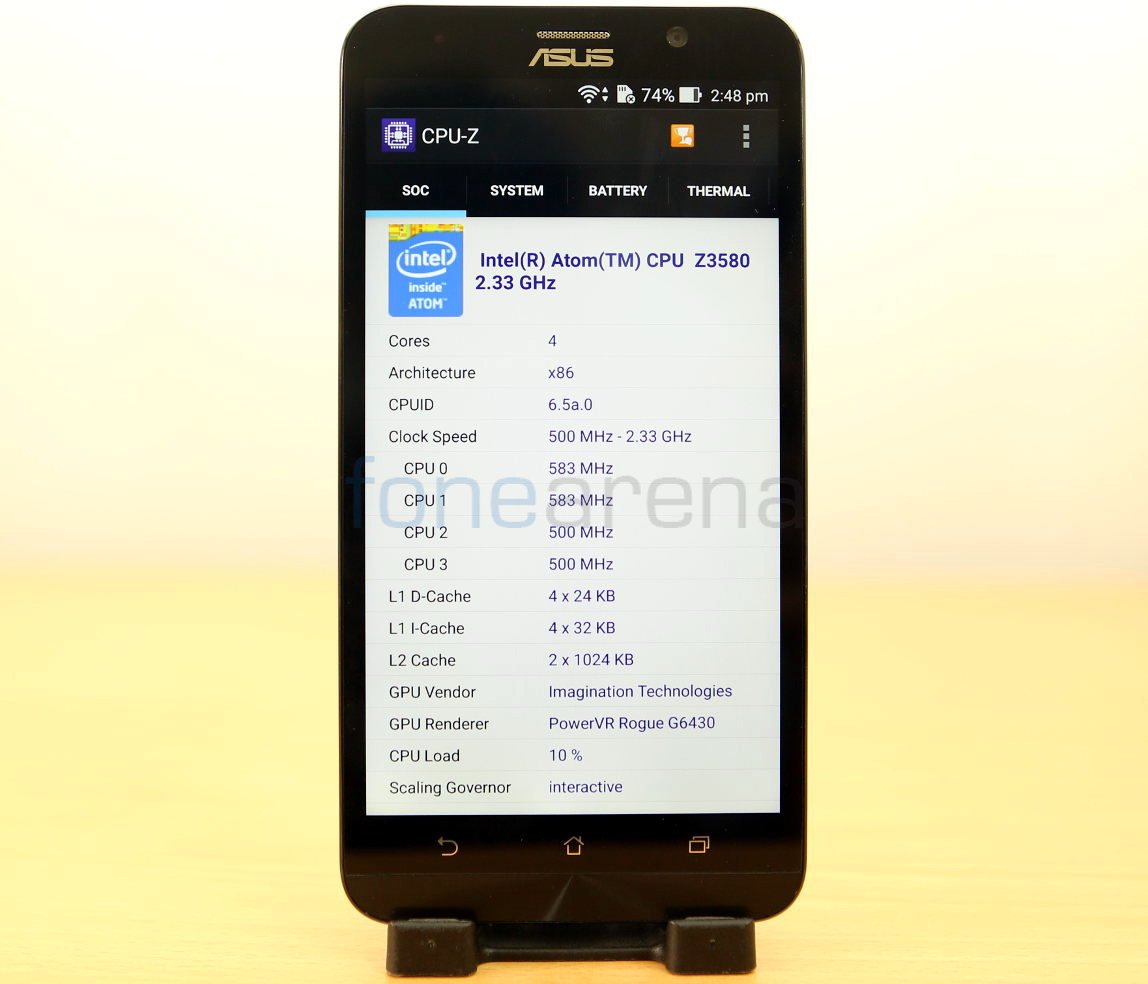 Coming to the performance, the quad-core Intel Atom Z3580 clocked at 2.33 GHz with PowerVR G6430 GPU offers good performance without any lags. This is the world's first smartphone with 4GB RAM. You can run several apps in the background and resume most games immediately. It gets warm when using 4G or 3G in hot outdoor conditions, but it doesn't cross 44 degrees, which is common in most phones. Check out the synthetic benchmark scores below.
Quadrant Benchmark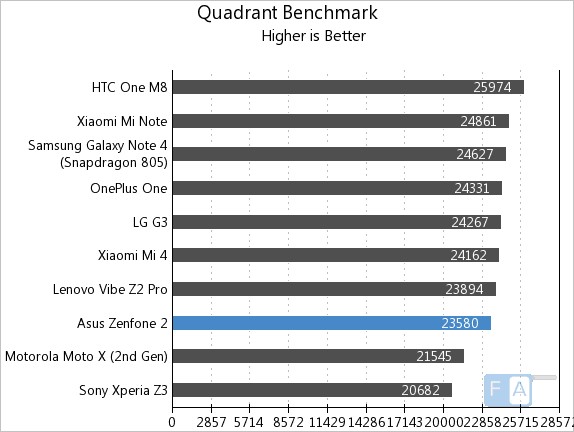 It scored 23580 points in the Quadrant Benchmark, better than Moto X (2nd Gen) and the Xperia Z3.
AnTuTu Benchmark 5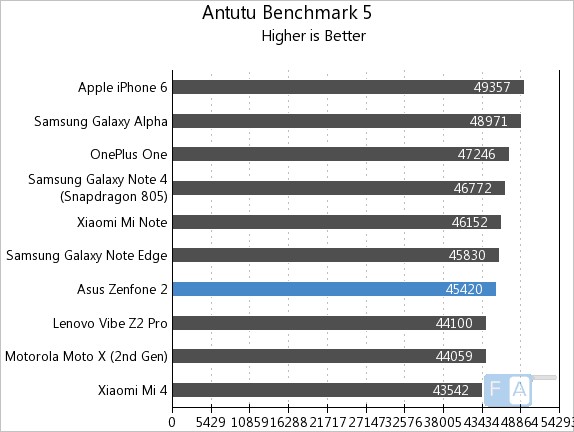 It scored 45420 points in AnTuTu Benchmark, which is good.
GFXBench 2.7 T-Rex (On screen)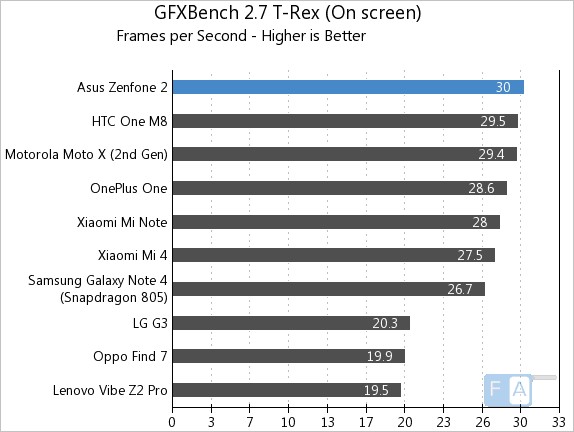 It clocked 30fps and grabbed the top spot in the GFXBench 2.7 T-Rex On-Screen benchmark. Check out the complete set of Asus Zenfone 2 benchmarks here. The PowerVR 6430 at 533MHz offers good gaming performance and graphics. It also supports wired gaming controllers. It scored 5 out of 5 stars in our gaming review. Check out the video below.
Battery life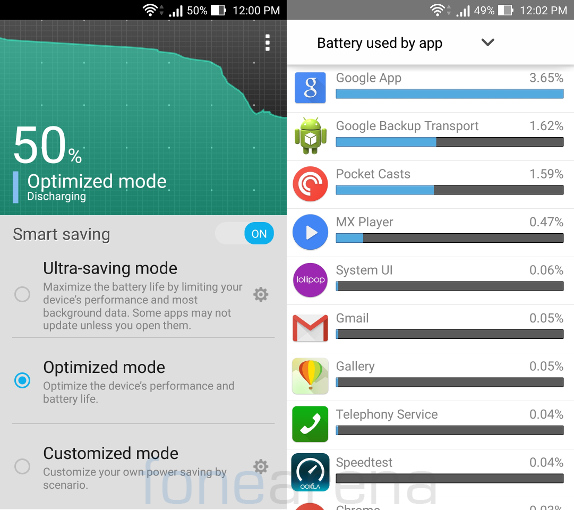 The Zenfone 2 has a 3000mAh built-in Lithium Polymer battery. This version also has BoostMaster support Fast Charging technology that lets you charge the phone up to 60% in just 39 minutes with the bundled fast charger. Then it takes some time charge the phone to 100%. Only the ZE551ML variant with 4GB RAM has the BoostMaster Fast Charging support. The battery is decent, but not the best. With heavy usage on 4G, the battery lasts for less than a day. With average use lasts for a day and more than a day with minimal use without much data connectivity.
There are several Smart saving modes such as Customized mode, Optimized mode and Ultra-saving mode. These modes can extend the battery life by limiting the CPU use and turning off several things. It also shows the amount of battery used your apps and also detect the apps that are draining the battery.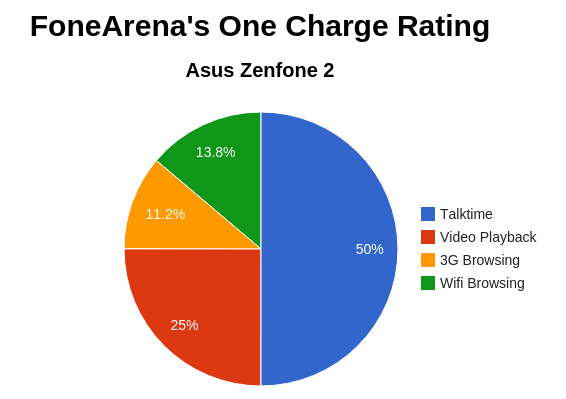 It achieved a One Charge Rating of 9 hours and 59 minutes, mainly due to good talk time and video playback ratings.
Conclusion
Overall the Asus Zenfone 2 (ZE551ML) offers a good value for money, offering good performance and 4GB of RAM at a price tag of Rs. 19,999. There are several improvements in the Zenfone 2 in the display and performance compared to the first Zenfone series. You also get 32GB of internal storage with expansion slot, which is rare to see in smartphones in the price range. Camera and battery life could have been better. Even though it has dual active SIM support, lack of data in the secondary SIM slot might not be preferred by everyone looking for a dual SIM phone.
If you are looking for an Android smartphone with a good performance, gaming and more internal storage, and can compromise on some of these things, the Zenfone 2 is a good choice. If you don't need at 1080p display and 4GB of RAM, you can go for the low-end version that starts at Rs. 12,999.
Pros
4GB of RAM and powerful 64-bit SoC offers good performance
Good gaming performance
32GB of internal storage with expansion slot
Dual Active SIM support
Cons
Average camera
Battery life could be better
No data support in SIM 2