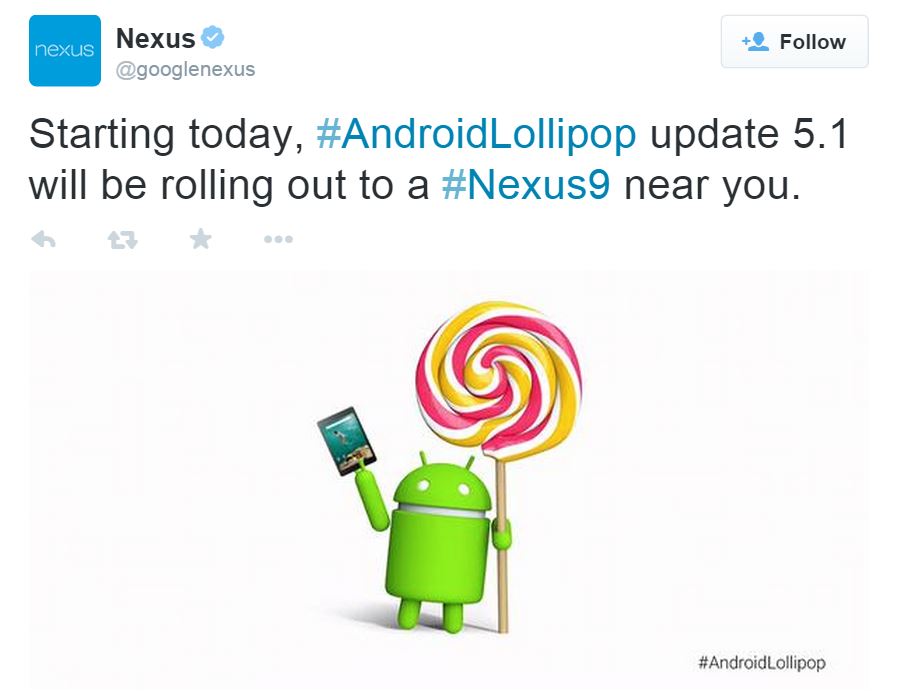 Google has announced over twitter that the Nexus 9 will soon be receiving an update to version 5.1, starting today. Until today, the latest software version that was available for the Nexus 9 was Andoird Lollipop 5.0.2 while most of it's counterparts received 5.1 quite a while back.
In fact the Lollipop 5.0.2 version was only available for download on the Nexus 9 starting from May 5th, so the update to 5.1 wasn't expected so soon even thought most Nexus 9 users were eagerly waiting for it.
The update should bring in a lot of stability and performance improvements. There isn't an official changelog available yet but, we will update you with one as it comes out. Althought the update starts rolling out today, it may take a while before it actually reaches your tablet depending on the region. Also Google hasn't really specified whether the update will be available for both the Wi-Fi as well as LTE versions of the device. Generally the LTE versions receive update a bit slower in comparison but we hope this time both the versions get the update simultaneously.