Google Now is getting more cards as it is expanding its support to 70 new third party apps. The latest addition comes from the company after it added 40 new Android apps to Google Now in January this year.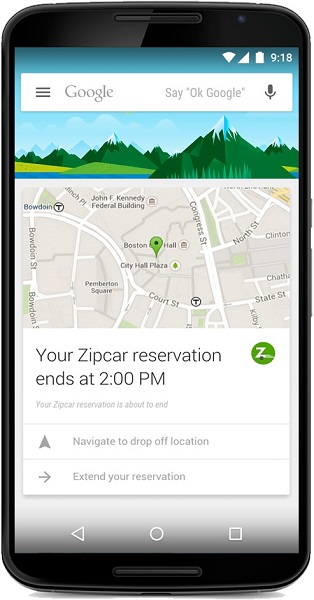 The 70 new Google Now cards includes popular Android apps like Spotify, TuneIn Radio, ABC News, Feedly, RunKeeper, FoodPanda, CommonFloor, Tripadvisor and many others. Check out the full list here.
For example, if you book a Zipcar out for a day hike, you can keep track of your return time and get directions to the drop-off location with Now cards – checking them is as easy as a simple tap on the Google app. Or need a good a playlist on a Friday night? Now cards can recommend playlists and stations from Spotify, TuneIn or YouTube based on your preferences.

posted Aparna Chennapragada, Director of Product Management, Google in a company blog post.
To get all the updates and notifications users will need to grab the latest versions of not just the Google app, but also of all the Android apps that will display these cards. Google did not say when it plans to bring the feature to its iOS app, though it did promise "more apps and functionality" are on the way for Android.