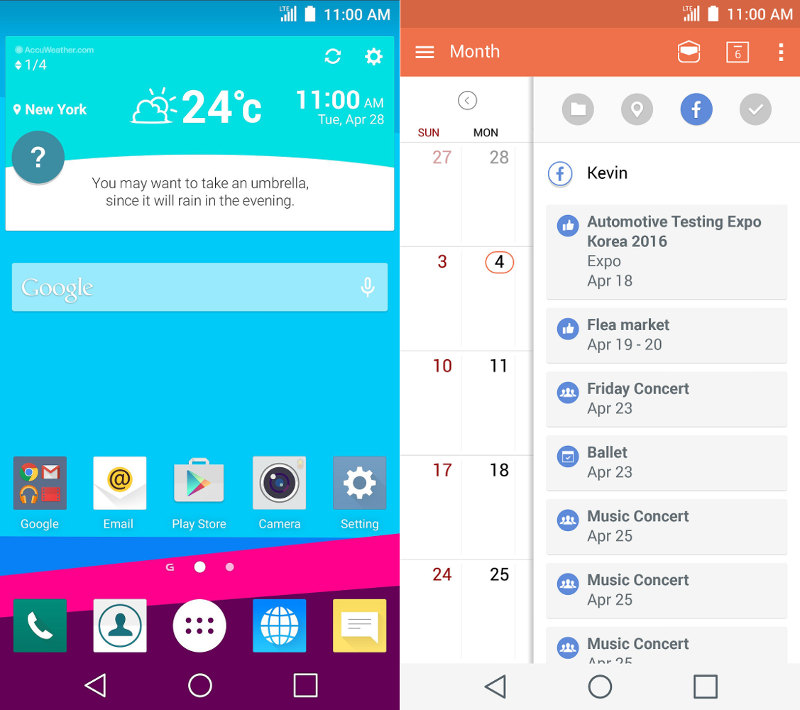 LG has introduced its LG UX 4.0 for its upcoming flagship smartphone, the LG G4 that will be unveiled on April 28th. The LG UX 4.0 will have easy-to-use interface and offer high level of functionality through user settings, says the company. As you can see from the image, this is based on Android Lollipop. The UX 1.0 brought Q memo and Q Slide, UX 2.0 introduce Knock On, Knock Code and Quick Cover support and last year's UX 3.0 on the LG G3 introduced Gesture Shot and Touch and Shoot, the new UX 4.0 brings Quick Shot, New camera modes, new gallery, Smart Notice and more.
New features in LG UX 4.0
Quick Shot – Easily capture scenes often missed, even when the screen is turned off. Press volume down button twice for the camera to capture the moment.
Smart Bulletin – Automatically aggregates vital information from multiple apps such as  calendar, music, health, etc. on the same page for maximum convenience.
Camera modes – Simple, Basic and Manual. New manual mode offers professional-level features through a variety of settings.
Calendar – If you set multiple schedules in one place, those can be managed together. You can also drag an event from SNS such as Facebook to calendar.
Gallery – Images are arranged as event-specific albums based on the location and time each photo was taken
Smart Notice – Personalized notifications for weather, travel and more by analyzing a user's daily routine and travel schedule and combining this information with the user's lifestyle habits
Ring ID –  Automatically composes a unique ringtone for every callerin the user's favorite contact list.
The LG UX 4.0 will first debut on the LG G4 smartphone later this month, but LG says that it will be coming to its other devices in future.
[Update: LG has published the release in English now, offering clear explanation of these features. This article has been updated accordingly.]