The Nokia 5530 XpressMusic is one of the smallest, more affordable, less feature-packed, touchscreen phone to come from Nokia lately. Yet, it's still a convenient and efficient device to own and use, and despite its lack of GPS and 3G, it still packs WiFi, a great screen, a 4Mb memory card, a 3.5mm headset plug, a nice 2.9″ touchscreen, and is compatible with the Ovi Store so you can fill it up with as many free or paid applications as you want.
If you're wondering about how tiny the Nokia 5530 XpressMusic is, here is a comparison with its old brother, the chubby Nokia 5800 XpressMusic, as well as the slim but very wide Apple iPod Touch.
Nokia 5530 XpressMusic vs Nokia 5800 XpressMusic
The Nokia 5530 is slimmer, less wide, and eventually more pocketable than the 5800. The major differences, on an external hardware point of view, are the lack of rubberized back that the 5800 has, a more compact side frame that is more flush with the screen and doesn't create an edge like on the 5800, the use of touch keys for the Menu, Call and End Call instead of physical buttons, and the move of the charging port, USB port, and 3.5 mm headset plug from the top to the bottom of the phone on the 5530. It also has one LED flash instead of Dual-LED on the 5800 for the camera.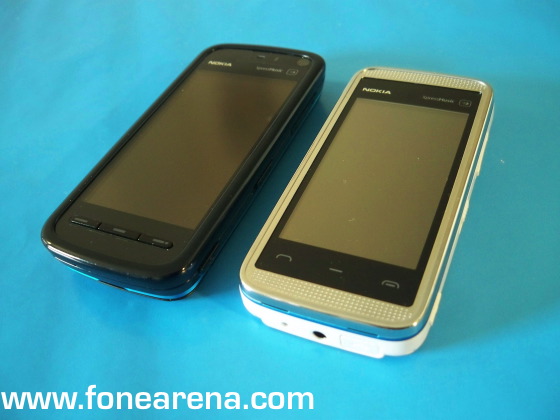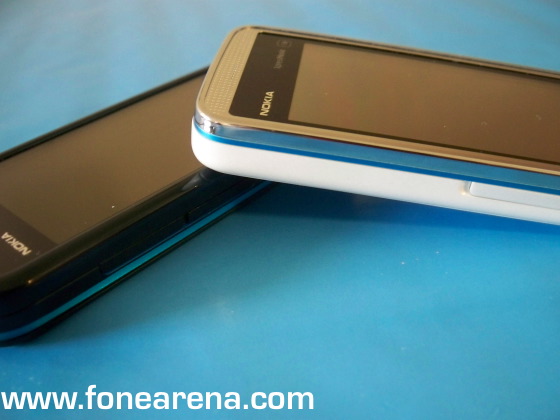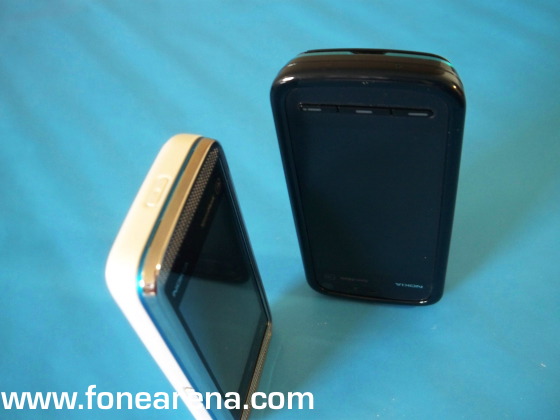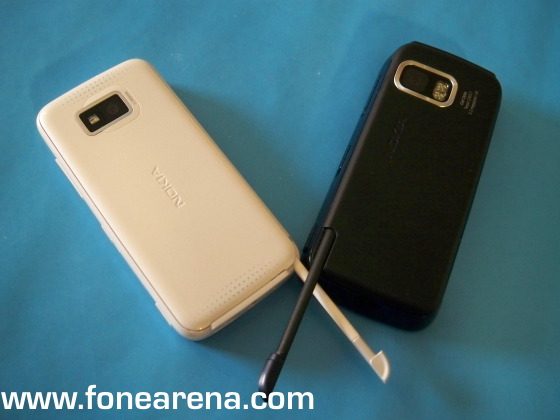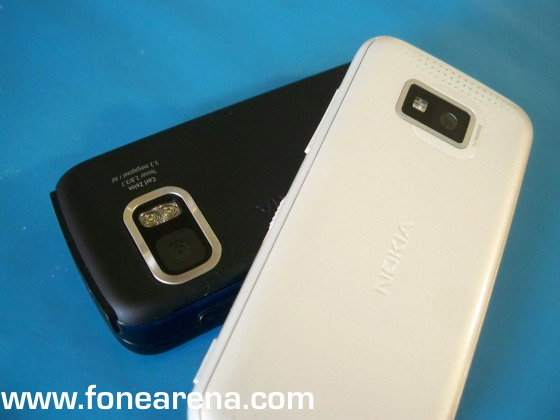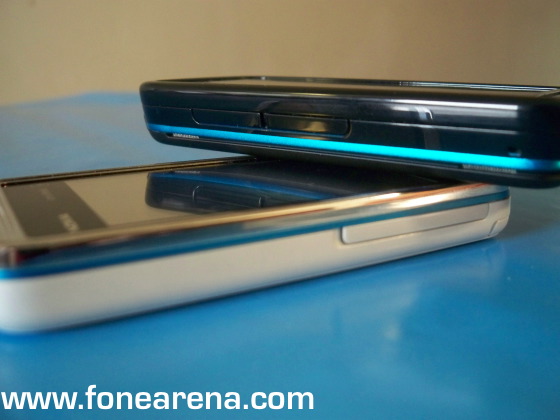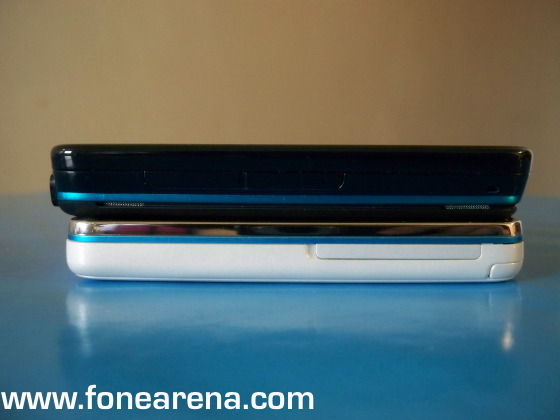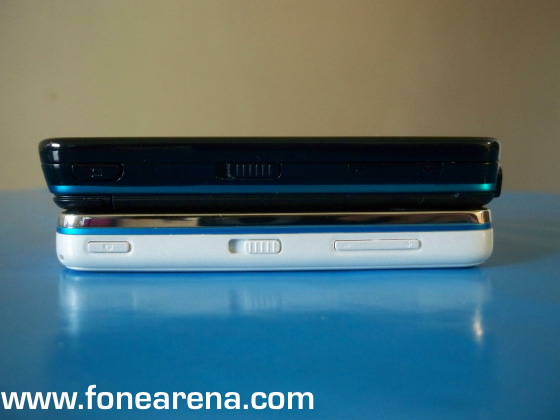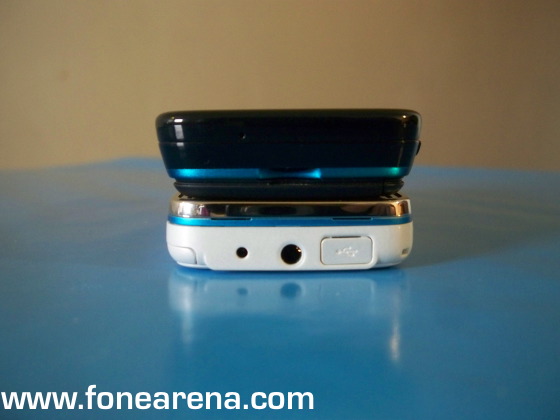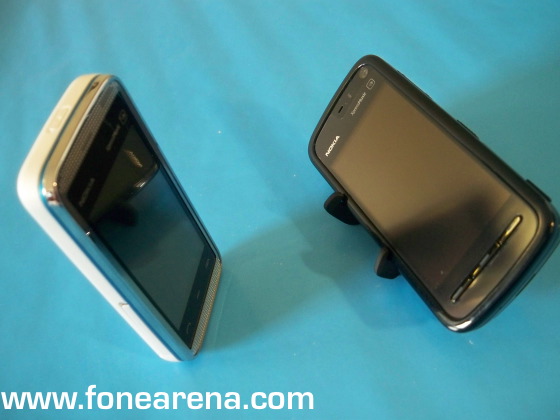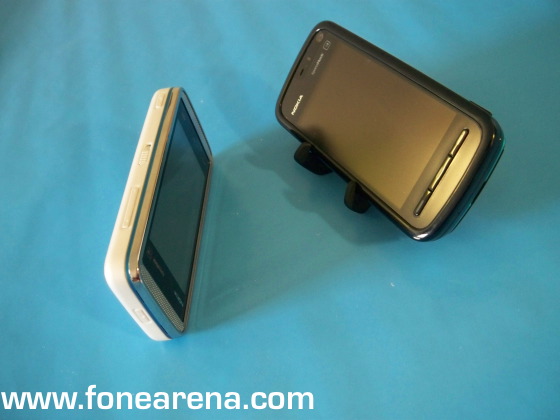 Nokia 5530 XpressMusic vs iPod Touch
Although the Apple iPod Touch is significantly slimmer than the 5530 XpressMusic, it is also a lot wider and a bit taller, making the 5530 look relatively small next to it. The Homescreen on the 5530 XpressMusic lets you set up to 20 favorite Contacts for quick access, show your Email, Calendar, current playing Music, and 4 favorite applications. The homescreen on the iPod Touch is the well known 16 applications icon with the 4 application dock system. As for Music Playing, both have a 3.5mm headset plug, the 5530 XpressMusic comes with a microSDHC storage capacity allowing you to put up to 32GB of music on it, whereas the iPod Touch comes in predefined 8, 16, 32 or 64GB flavors. The Music Player UI is similar between both, showing the Album Art of the current playing song, controls to Pause/FF/RW, as well as a scroll bar for the current song that lets you skip a bit ahead or back.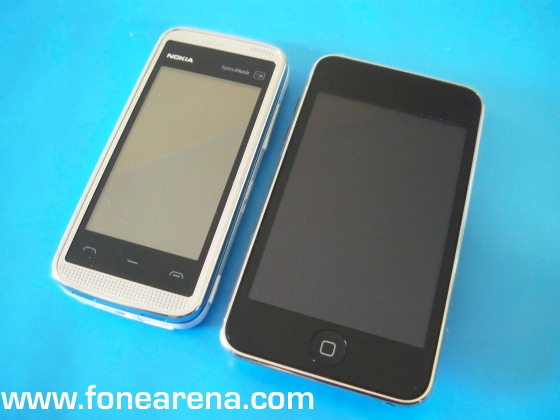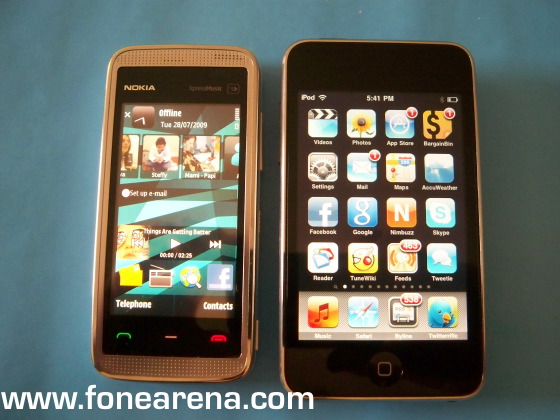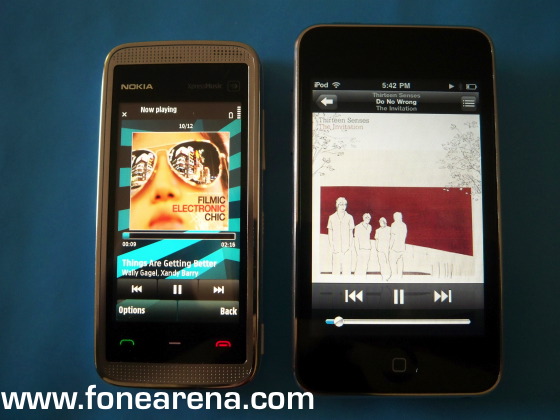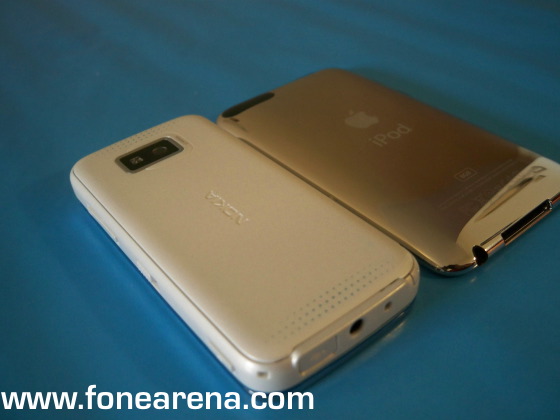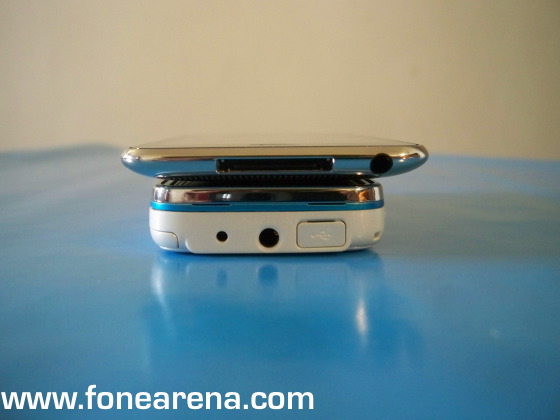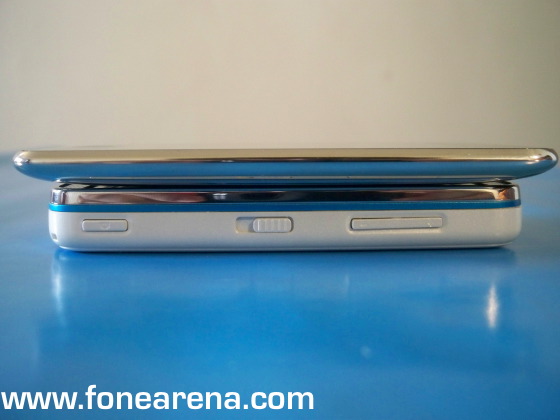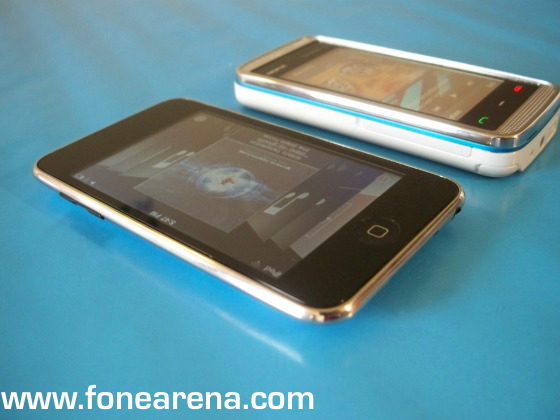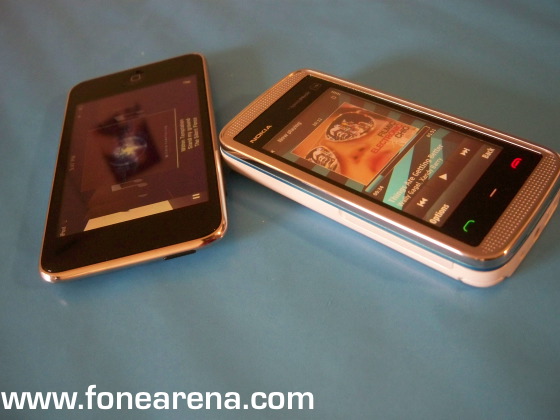 Face-Off: Nokia 5530 XpressMusic vs 5800 XpressMusic vs iPod Touch
Finally, here are a few pictures showing the 5530 XpressMusic next to both of the above mentioned devices, the first Nokia Symbian touchscreen phone, as well as the popular iPod Touch, to give you an idea of how all three stack against each other.