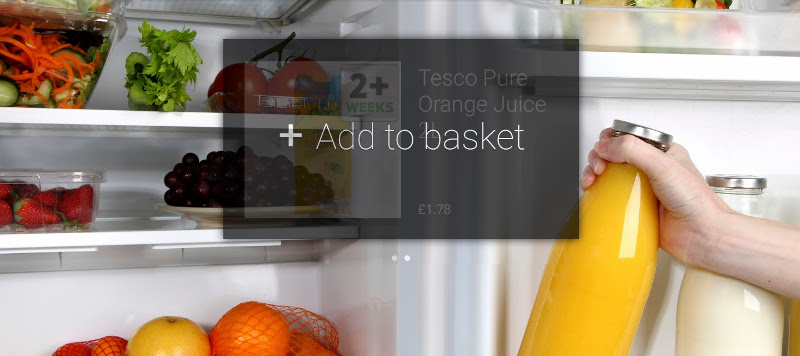 Tesco has embraced another type of wearable technology by becoming the first major UK retailer to launch an app for Google Glass. The new app allows shoppers to browse goods, view nutritional information and add items to the basket and is voice activated like the rest of the Glass experience.
The new app, called Tesco Grocery, works alongside existing Tesco.com grocery accounts and automatically adds products to the online basket. There are two ways to add items to the basket – by doing a voice search and selecting from available items using the button on the side of the headset or by scanning a product barcode using the camera (the latter seems much simpler).
Some potential practical uses of the app include with the weekly shop; for example, if you noticed you were running out of bread, you could scan the barcode using the camera and add it to your basket or if you wanted a bottle of wine, you could do a voice search and select from the extensive range of wines.
Pablo Coberly, Innovation Engineer at Tesco Labs (the experimental technology arm of Tesco), said:
"At Tesco we want to ensure we have the means in place to allow customers to shop whenever, however they want which is why we're testing the possibilities of customers topping up their online basket with Glass," said Pablo Coberly, innovation engineer at Tesco Labs.

"We don't envisage Glass becoming the new platform for shopping as its functionality is different, and more immediate. Instead, it compliments other devices and integrates shopping into everyday life because products can be ordered or added as and when customers realise they need replacing."

"We've intentionally kept functionality very basic given the early stages of customer use of Glass. We're keen to see how customers react to shopping with Glassware and welcome feedback or suggestions from customers using Glass."
The app on Google Glass will also allow users to view nutritional and price information of food items and compare products against other brands. To complete the sale, users can review the basket on a computer, tablet or mobile. To install the app, search for Tesco Grocery through the MyGlass app store.