The tablet market in India has reported a strong quarter-on-quarter growth of 10%, according to a latest report from IDC. A total of 0.94 million tablets were shipped in the Q3, 2014 as compared to 0.86 million at a 9 per cent growth over the Q2, 2014.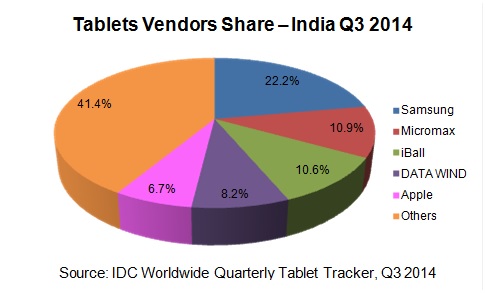 "The initial phase of impulsive buying seems to have faded, as the consumers are more aware of the use case of tablets now. Therefore the current size of the market looks more realistic and stable,"

said Tanvi Mann, Market Analyst, IDC  India.
The research firm stated that the tablet demand in this quarter was fuelled by festive buying and strengthening commercial demand. Android continued to be the leader in the Indian tablet market with more than 90% market share in Q3 2014. The OS from Google is further expected to dominate the market as well while Microsoft's Windows based tablets that are priced under $200 are expected to accelerate the adoption rate, albeit from a low base, added the report.
Giving insights about vendor wise tablet sales, the report revealed that Samsung maintained the top spot with 22.2% of market share followed by Micromax at 10.9% market share. The third spot was obtained by iBall who came in close with 10.6% of market share.
"Due to continuous onslaught from the "Phablets" (which IDC defines as 5.5 inches -6.99 inches screen size smartphones), small screen tablets are taking a hit and there is more uptake on tablets which are screen sized between 8-9 inches. This has however led to an overall improvement of the average selling price for the category,"

said Kiran Kumar, Research Manager, Client Devices IDC India
IDC predicts a slower growth for tablets in the December quarter, while 2015 is expected to see more growth in the commercial tablet segment compared with the consumer market, driven by government projects and government-aided education projects.

"We are likely to see increased activity by PC OEMs in the tablets space with a focus on the 7 inch and 8 inch form factor,"

added Tanvi Mann, Market Analyst, IDC  India.
Yesterday, IDC reported that India is the fastest growing smartphone market in Asia Pacific with 82% of growth in Q3,2014.