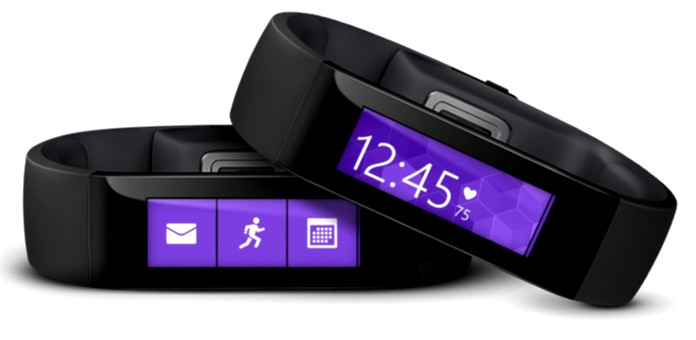 Microsoft just announced the Microsoft Band, the company's first fitness band and the new Microsoft Health platform. The Microsoft Band has 10 smart sensors, including a UV sensor for sun exposure and a galvanic skin response measurement.  It offers heart rate monitoring, fitness tracking, sleep quality tracking and more. It also offers notifications for your including incoming calls, emails, texts and more as well as access to Cortana.
httpv://www.youtube.com/watch?v=CEvjulEJH9w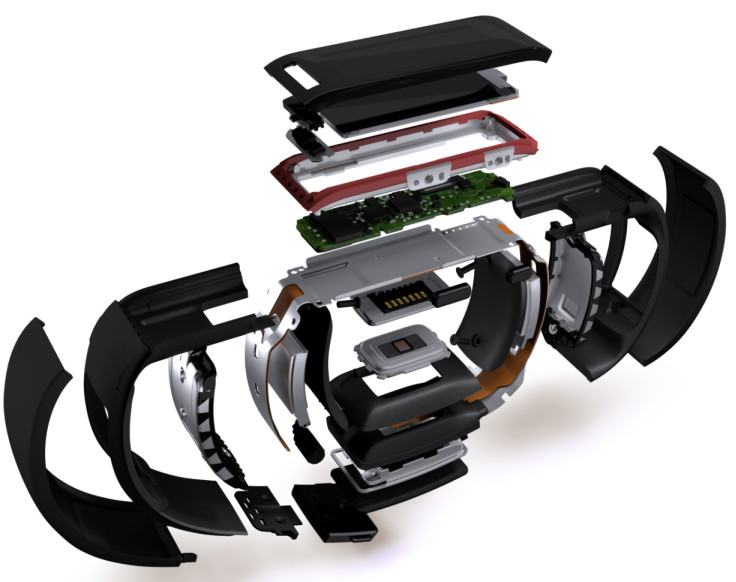 Highlights of Microsoft Band
Guided Workouts: Maximize your fitness with a choice of expert-designed workouts that are just right for your needs.
24-hour heart rate tracking: Monitor your heart rate 24 hours a day so you can perform at your best.
Sleep Tracking: See how long and how well you sleep and how often you wake.
GPS Run Mapping: Map the routes you've run, biked, or hiked and save your favorites.
Microsoft Band specifications
Band: size: width: 0.75″, thickness: 0.34″ (19mm x 8.7mm); Weight: (60 g)
Band materials: Thermal plastic elastomer
Display:AA size: 0.43″ x 1.30″ (11mm x 33mm), Touch-enabled TFT full-color display
Processor: ARM Cortex M4 MCU, 64MB internal storage
Sensors: Optical heart rate sensor, 3-axis accelerometer/gyro, GPS, Ambient light sensor, Skin temperature sensor, UV sensor
Other technology: Microphone, Haptic vibration motor
Connectivity: Bluetooth 4.0 (Low Energy)
Water resistance: Sweat and splash-resistant
Battery: Type: 2 x 100mAh rechargeable Lithium ion with up to 48 hours of normal use
Connector: Magnetically coupled connector to USB
Compatibility: Windows Phone 8.1 update 3, iOS 7.1 and 8, Android 4.3 or later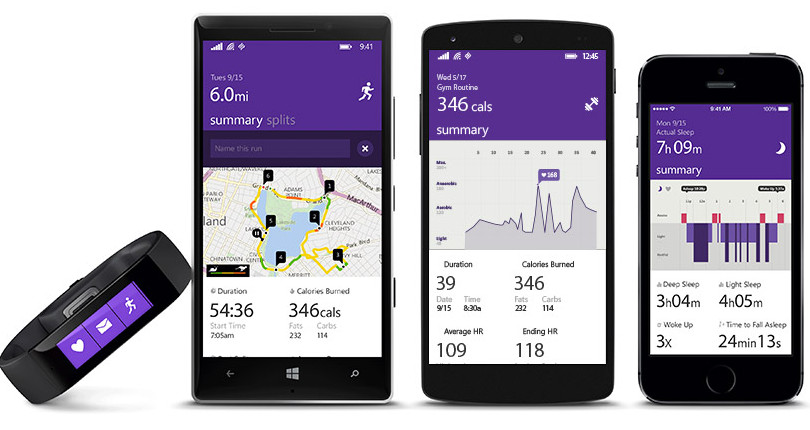 The Microsoft Health platform  includes a cloud service for consumers and manufacturers to store and combine health and fitness data from different health and fitness devices and services in a single, secure location. From the data such as steps, calories, heart rate and more, it offers powerful insights from Microsoft's Intelligence Engine. This includes,
 Which exercises burned the most calories during a workout
The recommended recovery time based on the intensity of a workout
The amount of restful vs. restless sleep
Microsoft also offers APIs as well as cloud storage for the data for start-ups. Microsoft Health will work with UP by Jawbone, MapMyFitness, MyFitnessPal and RunKeeper. It will soon have option to connect Microsoft Health data to HealthVault to share with your medical provider.
Microsoft Health app  is available for Android, iOS and Windows Phone. The Microsoft Band is available in the US in limited quantities from the MicrosoftStore.com for $199 and would arrive in Microsoft Stores from October 30th.