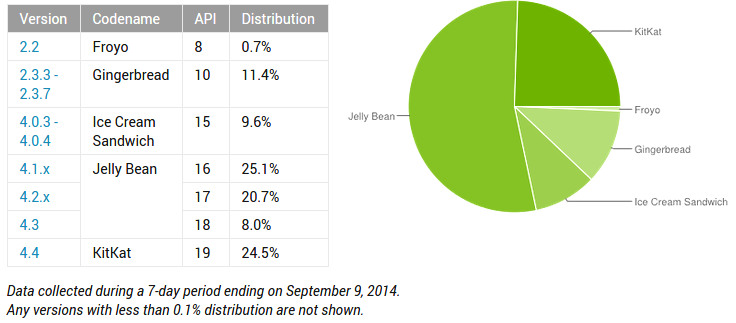 Google has released the Android's Platform Distribution numbers for the period of August to September 2014. This reveals gradual growth in KitKat share that has increased from 20.9% to 24.5% in one month. The growth is just 3.6%. Still majority of Android devices run Jelly Bean, which has a total share of 53.8%, slightly less than 54.2% that was recorded last month.
Several manufacturers including Indian companies now offer Android smartphones running Android 4.4 (KitKat) at affordable cost. This might be one of the main reasons for increase in KitKat share. Several companies like Sony continues to offer KitKat update for most of their old smartphones. Android KitKat share will definitely continue to rise since it is widely being adopted by several OEMs.
Still Android Ice Cream Sandwich (ICS) holds 9.6% share, down just 1% compared to last month and Gingerbread's share is down 1.2% in the last month. Froyo is still the same at 0.7% for the past few months.