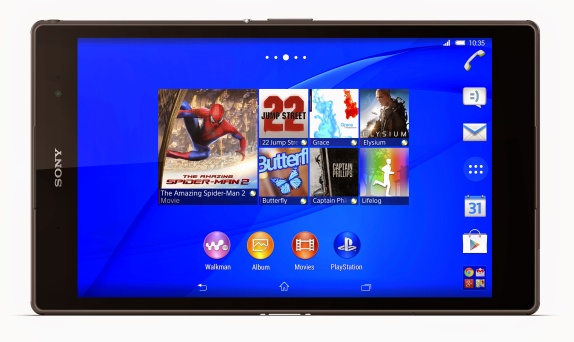 Sony has introduced Xperia Z3 Tablet Compact along with the Xperia Z3 and Xperia Z3 Compact. Sony's first compact slate is said to be designed to complement the company's flagship smartphone, the Xperia Z3.
The hardware specifications of the Xperia Z3 Tablet Compact is quite similar to that of the Xperia Z3 itself, expect of the screen size.
Sony Xperia Z3 compact sports an 8-inch FULL HD TRILUMINOS display and is powered by a Qualcomm Snapdragon 801 chipset with quad-core 2.5GHz CPU, Adreno 30 GPU and 3GB of RAM. The 8.1 megapixel rear camera and the 2.2 megapixel front facing shooter complete the camera department. There's 16GB of internal storage that will try and fit all your content.
However, the most appealing aspect of the tablet is not its powerful hardware, but its design and of course its compact weight. The slate is ultra-slim at 6.4mm, which is thinner even by the standards of Xperia Z1 and Z2 tablets. Sony Xperia Z3 Tablet Compact weighs just about 270 grams.
On the software front, the Z3 Tablet Compact gets to enjoy a lot of software goodies from the Z3 series, like the integrated streaming for PS4 games directly from a PS 4 console among other things.
According to the company, the battery on the tablet will last for about 13 hours on video playback, which is quite amazing considering the performance delivered by its competition.
Sony Xperia Z3 Tablet Compact will go on sale this month and you get to choose from black or white color options.