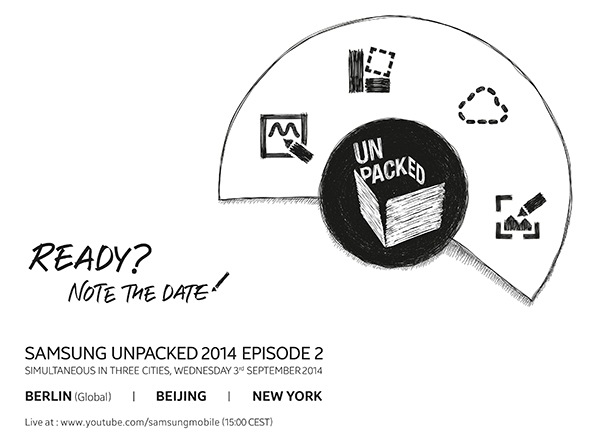 Earlier this week there were reports that said that Samsung has started sending out invitations for its Galaxy Note 4 launch event ahead of IFA in Berlin. Today the company has officially announced its Unpacked 2014 Episode 2 that happens in Berlin, Beijing and New York simultaneously on September 3rd. The invite reads Ready? Note the Date! and there are four app icons around the Unpacked box that clearly says it's going to be the Note 4.
So far we have heard several rumors regarding the Note 4 such as 5.7″ Super AMOLED Quad HD screen,  64-bit Samsung Exynos 5433 processor or Snapdragon 805 processor,  16-megapixel camera with optical image stabilization (OIS), new S-Pen and software features, 3GB RAM, 32 GB storage with expansion slot and more. It is not clear if it would be waterproof like the Galaxy S5.
Samsung unveiled the Galaxy S5 and the Gear series of wearable devices at the Unpacked 2014 Episode 1 in Barcelona earlier this year. Along with the Note 4, Samsung it expected to unveil its Galaxy VR headset at the IFA.
It starts at 3PM CEST (6:30 PM IST) on September 3rd. Samsung would live stream the event on their YouTube channel as usual.